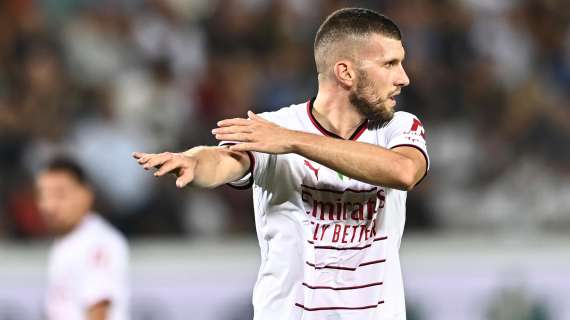 MilanNews.it
© photo by www.imagephotoagency.it
In the last match before the break for the national teams, Stefano Pioli had practically only one striker available, namely Olivier Giroud: Rafael Leao was in fact suspended, while Ante Rebic, Divock Origi and Zlatan Ibrahimovic were out due to injury. Aside from the Swede who, as we know, will only return in January, the Rossoneri coach could find all the attack again when the championship resumes.
ENCOURAGING SIGNALS – As reported by Tuttosport, against Empoli there will certainly be Leao who has served the day of disqualification against Napoli and will therefore be regularly available for the trip to Tuscany on 1 October. There is also optimism regarding the conditions of Rebic and Origi, which are clearly improving: as regards the Croatian, there are very encouraging signs on the return of the small hernia that emerged before the match against Sassuolo. The Rossoneri striker underwent a conservative treatment which fortunately is giving the desired effects. Rebic aims to be ready for the match against Empoli.
BETWEEN EMPOLIS AND CHELSEA – There is also good news about Origi who is being treated in Belgium to resolve the tendonitis of the rectus femoris ligament. The former Liverpool is working with the medical staff of the Belgian national team, which has also been joined by a member of the AC Milan staff. In the next few days, the player will return to Milanello and his hope is to be available again between Empoli's away match in the league and the next Champions League match at Chelsea (5 October).

var banner = []; var now = Math.round(new Date().getTime() / 1000); var bannerok = new Object(); for (var zona in banner) { bannerok[zona] = new Array(); for (i=0; i < banner[zona].length; i++) { var ok = 1; if (banner[zona][i]['scadenza']>0 && banner[zona][i]['scadenza']<=now) ok = 0; if (banner[zona][i]['partenza']!=0 && banner[zona][i]['partenza']>now) ok = 0; if (typeof azione !== 'undefined' && azione !== null) { if (banner[zona][i]['pagine'] == '!index' && azione == 'index') ok = 0; else if (banner[zona][i]['pagine'] == 'index' && azione != 'index') ok = 0; }
if (ok == 1) bannerok[zona].push(banner[zona][i]); }
bannerok[zona].sort(function() {return 0.5 - Math.random()}); } banner = bannerok; var banner_url="https://net-storage.tcccdn.com"; var banner_path="/storage/milannews.it/banner/" function asyncLoad() { if (azione == 'read' && TCCCookieConsent) { var scripts = [ "https://connect.facebook.net/it_IT/all.js#xfbml=1", ]; (function(array) { for (var i = 0, len = array.length; i < len; i++) { var elem = document.createElement('script'); elem.type="text/javascript"; elem.async = true; elem.src = array[i]; var s = document.getElementsByTagName('script')[0]; s.parentNode.insertBefore(elem, s); } })(scripts); } setTCCCookieConsent(); } if (window.addEventListener) window.addEventListener("load", asyncLoad, false); else if (window.attachEvent) window.attachEvent("onload", asyncLoad); else window.onload = asyncLoad; function resizeStickyContainers() { var stickyFill = document.getElementsByClassName('sticky-fill'); for (i = 0; i < stickyFill.length; ++i) stickyFill[i].style.height = null; for (i = 0; i < stickyFill.length; ++i) { var height = stickyFill[i].parentElement.offsetHeight-stickyFill[i].offsetTop; height = Math.max(height, stickyFill[i].offsetHeight); stickyFill[i].style.height = height+'px'; } } document.addEventListener('DOMContentLoaded', resizeStickyContainers, false); // layout_headjs function utf8_decode(e){for(var n="",r=0;r