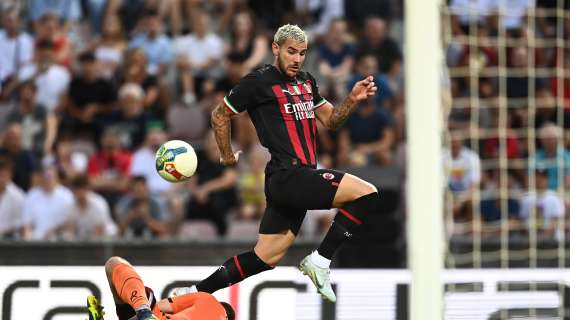 MilanNews.it
© photo by www.imagephotoagency.it
Theo Hernandez was unable to answer the call from France for the Nations League matches against Austria and Denmark due to a muscle problem remedied in the last league match against Napoli. The tests he underwent yesterday showed a strain of the long right adductor that will be re-evaluated again in a week.
BAD NEWS – This is bad news also for Milan and especially for Stefano Pioli who does not yet know when he will be able to have the French full-back available. As reported this morning by La Gazzetta dello Sport, Theo will certainly miss the Empoli away match on 1 October and is also in strong doubt for the next Champions League match at Chelsea (5 October). Instead, there would be more chances of having him available for the championship match against Juventus on 8 October.
TWO OPTIONS – It's a bad tile for the Devil on the eve of three very important big matches (Tuesday 11 October the return match against the Blues is scheduled). Without Theo, there are two options on the table: the first is to rely on his natural replacement, namely Fodé Ballo-Touré, but when he was called into question last season he never completely convinced. The alternative is to move Davide Calabria to the left and Sergino Dest to the right.

var banner = []; var now = Math.round(new Date().getTime() / 1000); var bannerok = new Object(); for (var zona in banner) { bannerok[zona] = new Array(); for (i=0; i < banner[zona].length; i++) { var ok = 1; if (banner[zona][i]['scadenza']>0 && banner[zona][i]['scadenza']<=now) ok = 0; if (banner[zona][i]['partenza']!=0 && banner[zona][i]['partenza']>now) ok = 0; if (typeof azione !== 'undefined' && azione !== null) { if (banner[zona][i]['pagine'] == '!index' && azione == 'index') ok = 0; else if (banner[zona][i]['pagine'] == 'index' && azione != 'index') ok = 0; }
if (ok == 1) bannerok[zona].push(banner[zona][i]); }
bannerok[zona].sort(function() {return 0.5 - Math.random()}); } banner = bannerok; var banner_url="https://net-storage.tcccdn.com"; var banner_path="/storage/milannews.it/banner/" function asyncLoad() { if (azione == 'read' && TCCCookieConsent) { var scripts = [ "https://connect.facebook.net/it_IT/all.js#xfbml=1", ]; (function(array) { for (var i = 0, len = array.length; i < len; i++) { var elem = document.createElement('script'); elem.type="text/javascript"; elem.async = true; elem.src = array[i]; var s = document.getElementsByTagName('script')[0]; s.parentNode.insertBefore(elem, s); } })(scripts); } setTCCCookieConsent(); } if (window.addEventListener) window.addEventListener("load", asyncLoad, false); else if (window.attachEvent) window.attachEvent("onload", asyncLoad); else window.onload = asyncLoad; function resizeStickyContainers() { var stickyFill = document.getElementsByClassName('sticky-fill'); for (i = 0; i < stickyFill.length; ++i) stickyFill[i].style.height = null; for (i = 0; i < stickyFill.length; ++i) { var height = stickyFill[i].parentElement.offsetHeight-stickyFill[i].offsetTop; height = Math.max(height, stickyFill[i].offsetHeight); stickyFill[i].style.height = height+'px'; } } document.addEventListener('DOMContentLoaded', resizeStickyContainers, false); // layout_headjs function utf8_decode(e){for(var n="",r=0;r