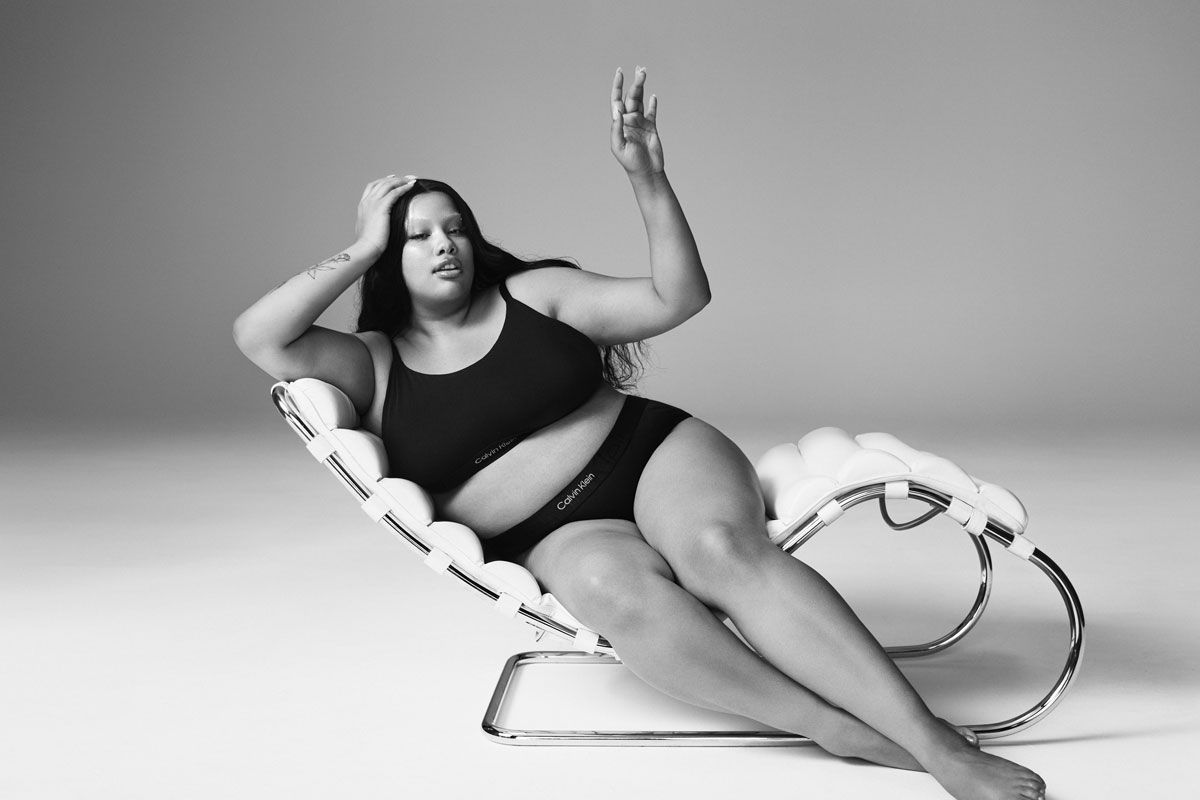 Blane Muise, better known by her stage name Shygirl, is an English rapper, DJ, songwriter, performer and founder of the Nuxxe record label. Together with footballer Romelu Lukaku, actresses Maya Ray Thurman Hawke and Coco Rebecca Edogamhe and tiktoker Nic Kaufmann she is the protagonist of the Calvins or Nothing campaign shot by 20-year-old Gray Sorrenti for Calvin Klein.
The nude is back in fashion. It happens cyclically. When a presumed limit of personal freedoms is lowered, with every restriction on the use of the body (see abortion denied by the Supreme Court in the USA or Law 194 endangered in Italy), with every hint or clash or controversy about the rights of a community, political tension, fashion, in its own way, responds. Sometimes consciously, you see Pierpaolo Piccioli who in his post on Instagram two days before the elections writes "I, a stylist and a leftist, say to young people: vote for rights", but much more often on your gut. After all fashion follows not only the seasons but it is a litmus test of the political and social seasons that we live. It is a means of understanding reality for its continuous investigation of the subterranean and subtle traces of contemporaneity. And so the conservative and self-referential thrust, seasoned with the wave of shame of the politically correct that sticks almost everywhere, has once again pushed the fashion system to use the naked, defenseless body as a public stance. Whether it's out of protest, out of dissent, to push annoyance or hedonism, or to «épater le bourgeois», even if they no longer exist. It does not change. The exposed skin, in its dramatic naturalness, in its being explicit and silent, evidently it is still a tool of concern for the ruling or right-thinking classes. Or, simply, it pushes sales.
It is then back in fashion among creatives to challenge voyeuristic respectability with the nude. And so the campaigns turn to an uninhibited, liberating, post-hippie language, sometimes bordering on soft porn. They insinuate a season of sensuality and open physicality that seemed normalized just a few years earlier. Giant billboards in train stations carry naked bodies of all ages, massive and obsessive campaigns on all media, entire facades subjected to the work of "110 percent" wrapped in naked bodies, images relaunched on social media with dots on nipples and genitals.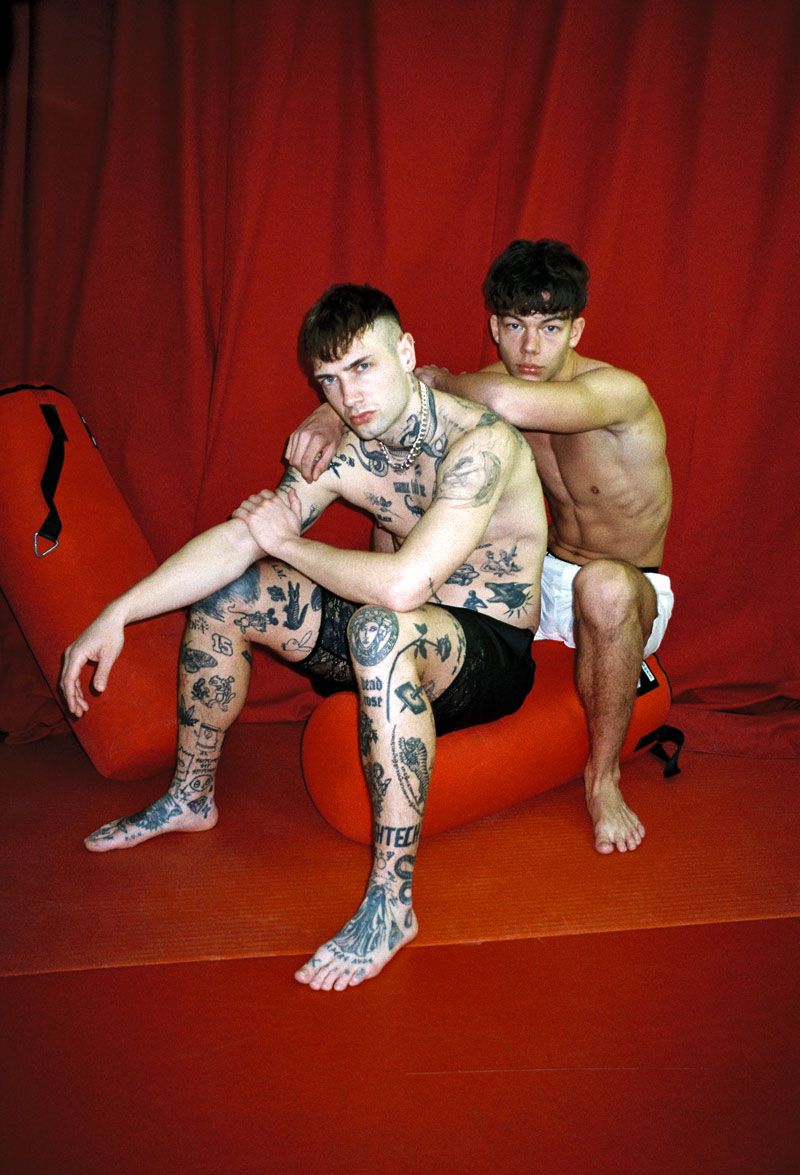 A shot of VTMNS Uncensored, photographic book by Slava Mogutin with the creative direction of Guram Gvasalia. VTMNS is the new spelling of the Vetements brand founded in 2014.
Sometimes it borders on sexism, others on the verge of vulgarity, more often a simple drawer statement because it always «sex sells». A long story that runs through the communication of the last 50 years. From Jesus jeans with Oliviero Toscani's "Whoever loves me, follow me". who in the Italy of the years of lead staged a B-side that spoke on a sentence from the Gospel of John, in the glittering Nineties with Sylvester Stallone and Claudia Schiffer, at the height of success, reprized as Adam and Eve, where the apple of too bad this time it's Versace. A remake that also involved the model-sisters Bella and Gigi Hadid, complete with a sensual snake tangled on the tree of life, with Medusa It-bags covering the off-limits parts. Tom Ford marked an era with Gucci for a sensuality exhibited, in a tension of chiaroscuro that we then also find in his cinematographic direction, an era of which the "G" shaved on Carmen Kass' pubis is iconic in the campaign shot by Mario Testino in 2003. But already in 2001, Ford had had to withdraw the image of his M 7 perfume for Yves Saint Laurent due to a male nude and in 2007, after being accused of misogyny, he withdrew the launch image of the men's fragrance in his name taken by Terry Richardson.
But it was Richardson and Mario Testino who connoted an imaginary with high erotic tension as a stylistic code of those years after the golden age of Bruce Weber. Testino, who had received a Catholic education, discovers that "nude is life"; Richardson, on the other hand, goes further (apparently not only on the set: accused of sexual harassment and banned from the fashion world) reaching the borders with pornography for Sisley in 2001 (where the model Josie Maran is splashed by the milk of a cow's udder ). And yet, the nude does not only mean sensuality but also naturalness and simplicity. As is evident in the recent images by Acne Studios where the dancers neutralize the physical charge in favor of the artistic dimension which becomes the setting for a bag or in that of Cara Delevingne's embrace of Olivier Rousteing, creative director of Balmain, up to the romantic campaign on Jacquemus beach.
The VTMNS Uncensored project was also born to document images of youth culture, queer or marginalized by mainstream culture. The book is a medium-length film of sensual images without filters and without prejudices.
Simplicity and cleanliness instead connote the sexyness of Calvin Klein which works on its fundamentals with Calvins or Nothing. Maya Hawke, an actress and musician, is the guest star along with footballer Romelu Lukaku and others. They are simple black and white portraits of Gray Sorrenti that do not have the political tenor of the courageous campaign for the launch of the Tango shoe by Valentino that has provoked thousands of disgusted messages on Instagram, the true censor of our lives, for an imaginary that is actually poetic and romantic that brings people from the Lgbtq+ community to the stage where identity has nothing to do with sexuality but with freedom.
And we come to the cry «Vive la liberté» that spread at the Pink Paradise Club in Paris during the presentation of VTMNS Uncensored during the last Paris Fashion Week. VTMNS (evolutionary project without vowels by Vetements) presented a logomania book with a series of models in double-band logoed underwear. A medium-length film of sensual images without many filters or mediations taken by Slava Mogutin, photographer, poet, writer, born in Siberia, the first LGBTQIA+ activist to receive political asylum in the United States. «I have always considered myself a citizen of the world and all my work is to break down political and ideological barriers, taboos and stereotypes» says Mogutin of his work which for 20 years has been collecting and documenting young and queer culture, minorities, outsiders and outcasts, people on the margins and marginalized by mainstream culture. The book has the creative direction of Guram Gvasalia, brother of Demna, which arranges nudes against repetitive backgrounds of barcodes, in that sense of homologation and commodification that the brand wants to fight and challenge on the same field. Obviously the book immediately sold out and has already entered the generational mythology. Meanwhile, as Hans C. Andersen reminds us, with fairy-tale lightness, the "king is increasingly naked".