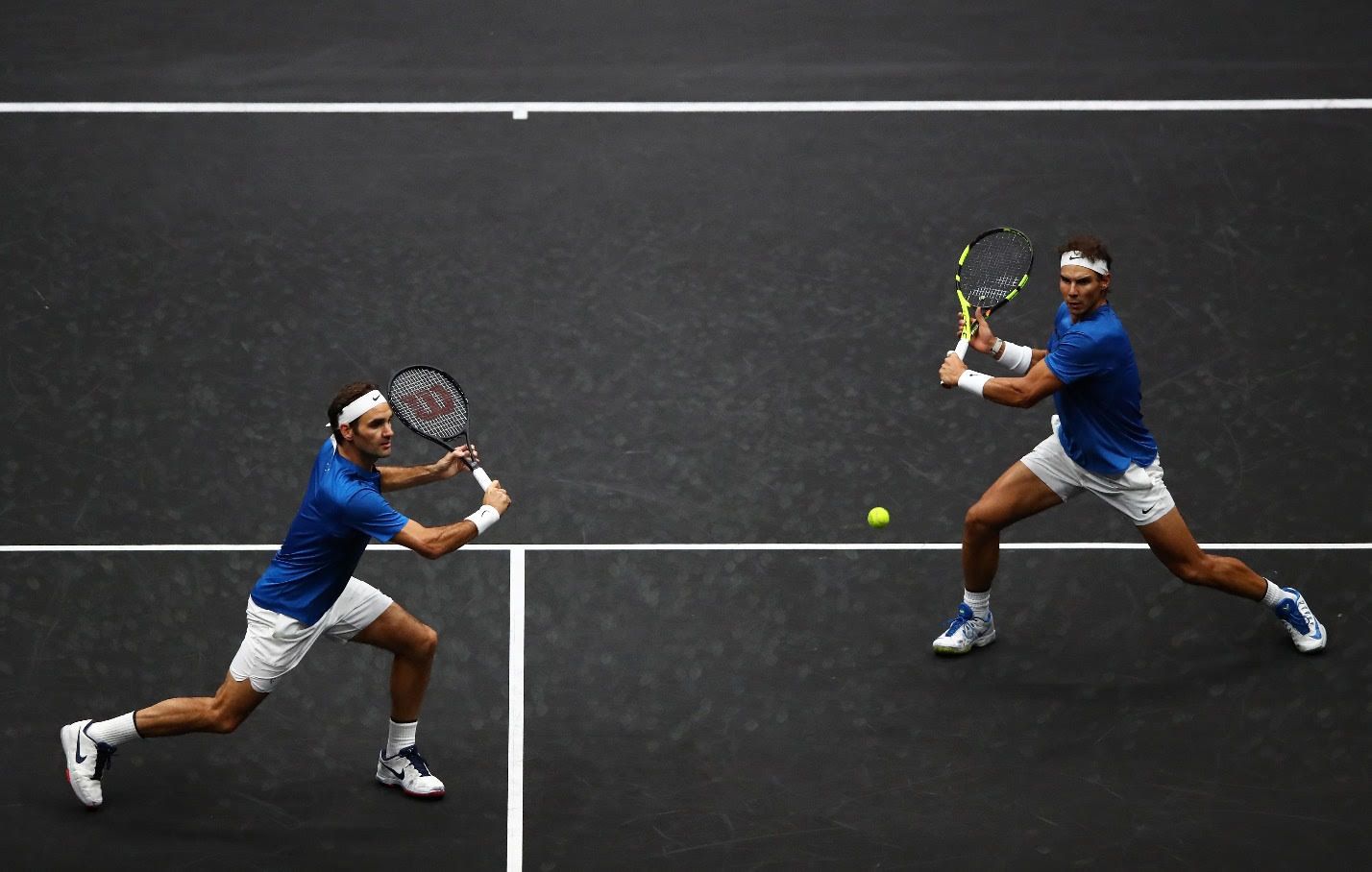 Roger Federer and Rafael Nadal doubles at the 2017 Laver Cup, Getty Images
The last match of Roger Federer's career will be an Italian exclusive on Eurosport 1 and Discovery +, which will broadcast the Laver Cup from Friday 23 at 14:00 to Sunday 25 September.
At the O2 Arena in London, which hosted the ATP Finals for twelve years from 2009 to 2020, Team Europe is ready to defend the title won in Boston by fielding the Fab Four for the highly anticipated fifth edition: Roger Federer, Rafael Nadal, Novak Djokovic and Andy Murray who together marked an era, led by Björn Borg and his deputy Thomas Enqvist, with Stefanos Tsitsipas, the recent US Open finalist Casper Ruud and an exceptional reserve such as Matteo Berrettini.
Team World will challenge the reigning champions represented by Felix Auger-Aliassime, Taylor Fritz, Diego Schwartzman, Jack Sock, Alex De Minaur and US Open semifinalist Frances Tiafoe, who was the only one in New York this year to have beaten Nadal in the Grand Slams, under the guidance of brothers John and Patrick McEnroe.
THE PROGRAMMING OF LAVER CUP 2022
Friday 23 September from 14:00 two singles matches on Eurosport 1 and Discovery +
Friday 23 September from 20:00 singles and doubles on Eurosport 1 and Discovery +
Two singles matches on Eurosport 1 and Discovery + on Saturday 24 September from 14:00
Saturday 24 September from 20:00 singles and doubles on Eurosport 1 and Discovery +
Sunday 25th September from 13:00 two doubles and two singles on Eurosport 1 and Discovery +
The Laver Cup was born in 2017 from an idea of ​​Roger Federer and his agent Tony Godsick. Very fond of Rod Laver, the only tennis player in history to complete the Grand Slam by winning the Australian Open, Roland Garros, Wimbledon and US Open in the same season (1962 and 1969), Federer wanted to celebrate him with this team tournament that brings together the best tennis players in the circuit.
Some time ago, Federer told the starting point of the Laver Cup: «I was inspired by golf, where legends are always on the fields to follow the career of new champions and advise young talents. For this reason, in tennis, an event like the Laver Cup is a way to draw on myths like Rod Laver and many others (Bjorn Borg and John McEnroe are the selection captains of the two teams, ed) who have paved the way for us ».
After winning 20 Slams, including 8 Wimbledon among his 103 ATP titles from Milan 2001 to Basel 2019, as well as Olympic gold in the double in Beijing 2008 and the first and only Davis Cup of Switzerland in 2014, a few days ago Roger Federer announced the end of his career after the Laver Cup, where he will play his last match. The doubles match that Roger Federer and Rafael Nadal won against Sam Querrey and Jack Sock in 2017 is memorable.
Now in its fifth edition, the Laver Cup has always been won by Team Europe in Prague 2017, Chicago 2018, Geneva 2019 and Boston 2021.