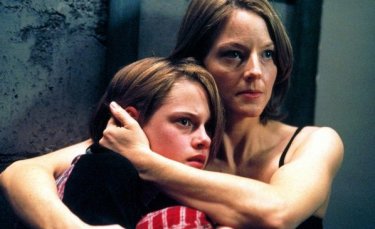 Panic Room it probably has only one flaw. Having arrived, in the filmography of David Fincherafter two huge films like Seven And Fight Cluband before another great movie like Zodiac. This may perhaps have led him to be a little underestimated, and it is a film that, speaking of David Fincher's filmography, we often tend to forget. To see it again today, 20 years after its release (it arrived in American theaters on March 29, 2002), Panic Room it seems to us one of those very well aged films. It is a film that is a perfect suspense machine, which keeps you glued to the screen for its entire duration. Compared to movies like Seven or Fight Clubin which the adrenaline-pumping direction of David Fincher is combined with indelible, disturbing and meaningful stories, Panic Room it is a more mechanical game, of pure entertainment. But it is really a mechanism where everything works perfectly. We can already understand that everything is well-finished from the opening titles, with the characters of the writings constructed in perspective, positioned parallel to the buildings in New York, as if they were affixed to their facades. They were made by a design studio, The Picture Mill, and a special effects production house, ComputerCafe. It took a year to complete the job, and this alone is enough to make people understand what it is Panic Room. What for David Fincher had to be a low-budget B-movie, a movie in one location, since Fight Club had foreseen 150, it has become a titanic undertaking. Panic Room is the story of a mother and daughter (Jodie Foster And Kristen Stewart), just moved, after the woman divorced, to a new big house in New York, which has a "panic room", a safe and armored room where it is impossible to access. When three thieves break into the house, looking for something that belonged to the previous owner, that room becomes the key to the story. Let's go and see 5 reasons to rediscover David Fincher's film.
1. Directed by David Fincher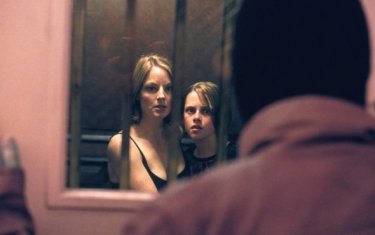 The first reason is, of course, David Fincher. In the nineties the director had confirmed himself as one of the most important filmmakers in American cinema, and above all a master of thriller. And since then, every film of him has created a great anticipation among fans. With Panic Room Fincher confirms himself as a great director. The touch of him is noticeable by some choices and by camera movements that strike immediately. We think of the opening lines and that downward movement of the camera that goes from the room where the protagonist is to the ground floor where we discover that there are people entering the house. It is a movement that serves to explain how close those men really are, and what is happening while the protagonist is still unaware. We know those men are in the house, she is not. It is the classic suspense scheme, as Hitchcock said: if we know that a bomb is about to explode under a table, we experience the scene with great tension. Or again, let's think of the slowdown in the cell phone recovery scene. It is not a habit for an end in itself, but it serves to make people understand how, in this story, every second, every fraction of a second, is vital to stay alive. Fincher wanted the film to be as realistic as possible. And that's why the budget of what was a small film has soared, and the shootings have taken a lot longer than expected (120 days). The apartment was completely rebuilt (in Los Angeles, although the action takes place in New York) and the panic room was modeled on the existing safe rooms. The sequences were also shot very realistically, with no special effects and this also caused several minor injuries to the actors. And this too is David Fincher.
David Fincher tells himself: "Writing is not the director's job"
2. A Magnetic Jodie Foster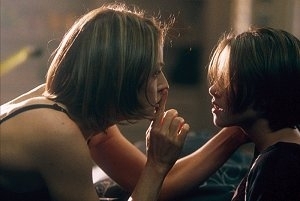 Panic Room it is also an opportunity to see a Jodie Foster in great shape. The interpretation of her is at the same time physical, muscular, but also very psychological, magnetic. In addition to her athletic physique and her determination, they are also struck by certain looks in the car, with those blue eyes aimed at the camera like those of her Clarice Sterling from The Silence of the Lambs. Her is a sharp, shrewd look. There is no doubt that the actress fills the film, every shot, with her presence, her charisma. Yet Jodie Foster wasn't supposed to be in the movie. Nicole Kidman, who had already started shooting, was cast for the role of Meg Altman. But, eighteen days into filming, she had to leave the set due to the after-effects of a knee injury during the filming of Moulin Rouge!. So came Jodie Foster (who was supposed to be in The Game in the role played by Sean Penn). Jodie Foster's performance is even more incredible when we think she only had nine days to prepare for the role. But with her, the sense of the character and the tone of the film changed. Nicole Kidman, in Fincher's plans, would have been the classic blonde and icy Hitchcockian heroine, in the style of Grace Kelly. Jodie Foster has taken Meg elsewhere, to a more gritty, more physical heroine. Jodie Foster was pregnant with her second child during filming and she had to return to the set in the fall of 2001 after giving birth to her to complete some scenes. Nicole Kidman somehow remained in the film: she is the voice of Meg's husband's girlfriend answering her phone …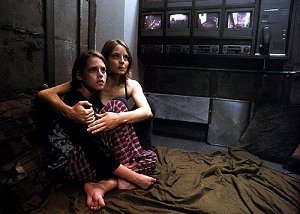 Fincher Girl: the figure of the woman in David Fincher's cinema
3. A very young Kristen Stewart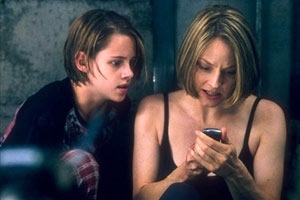 But, we would have understood this only later, in Panic Room there was also a future movie star. Playing Sarah, Meg's daughter, is a very young Kristen Stewart, who would become the Beauty of Twilight and now Spencer's Lady D. Stewart is a rebellious little girl, a little bit punk, in the Sid Vicious of the Sex Pistols t-shirt. Her haircut is what we would often see later, a little masculine, with the tuft falling on the source. Her face is still that of a little girl, but we can see that she is transforming into that girl who, in her own way, has become a model for many young people and then a style icon (the look, sexy and cheeky at the recent Oscar night , is there to testify). A big hand is given to her by her script, which portrays Sarah not only as the daughter to be saved, but as a real ally able to actively participate, alongside her mother, in the fight with the attackers. Sarah is diabetic, and the crisis scene is one, in which she acts with her whole body, from head to toe, is one of the strongest moments in the film. Kristen Stewart, between the beginning and the end of the shoot, has grown a lot. She was smaller than Jodie Foster when production began, but in the end she was practically taller than her.
David Fincher's 5 best movies (+ 1 bonus)
4. David Koepp's screenplay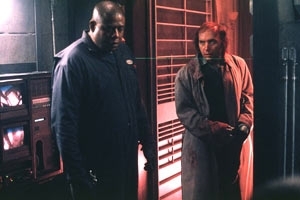 As they said, David Koepp's script is a real clockwork machine that highlights the character of the protagonists, and, at the same time, is effective at creating obstacles to make life difficult for them. He shows us the panic room, a place where we are safe, but then, in there, he makes us understand that the private telephone line has not been activated. He makes us believe that we can retrieve a cell phone, but then, in there, the cell phone has no range. They are small details, and we do not want to reveal any more, but this makes us understand the game that the writer has staged. We also think about how, in the first part of the film, he makes Meg visit the whole house, leaving the great protagonist, the panic room, at the end of the tour. David Koepp got the idea from an article in the New York Times about these safe rooms, and the fact that he got stuck inside an elevator. And that script was paid a record $ 4 million for that script. Panic Room somehow it takes up the plot and characters of The Eyes of the Night (1967). in which there are three criminals, with similar characteristics and those of Panic Room, who break into the home of a blind woman. David Koepp wrote the first draft of the script in six days.
5. Jared Leto, just the word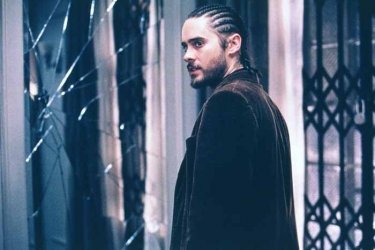 One such villain is Jared Leto, not yet the Joker but still insane and psychotic. Not a star yet, too, but already charismatic and histrionic. Still together with David Fincher after Fight Club, also in Panic Room he is a presence that does not go unnoticed at all. Hair combed with braids gathered backwards, a destiny that, after Fight Club still wants him disfigured, for the last few times he is a non-protagonist, but he is a presence that leaves his mark. As is normal, Jared Leto is the crazed splinter, the violence, the element you can't deal with among the three who break into Meg's house. He too would be destined for a great career.