On the website of the Ministry of Finance, you can find the current PIT-2 form. As the Infor.pl portal points out, this is its seventh version.
PIT-2 (7). Since when is it valid?
However, on the website of the Tax Portal (taxy.gov.pl) next to the PIT forms you can find an annotation that the new PIT-2 formula applies to forms submitted from January 10, 2022.

See also: Confusion with the "Polish Order". Witucki: Officials committed an offense
This may raise some concerns for taxpayers. Therefore, it should be remembered that the latest form of the form applies to people who submitted their PIT-2 after January 10, 2022. Whoever did it earlier had to use the previous formula, which, by the way, does not differ much from the current one. Only the reference to the tax-reducing amount in force in 2021 has disappeared from it – points out Infor.pl.
What is PIT-2?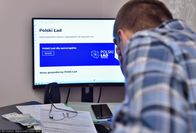 After making such a request the employer pays tax on our salary, taking into account the free amount. This means that we pay lower tax, but then we do not have a PIT refund.
People who have submitted PIT-2 to their employer have monthly income tax advances reduced by 1/12 of the reducing amount. Before the entry into force of the Polish Deal, it was PLN 43.80, and currently – PLN 425.

We should submit the PIT-2 form to our employer before the first salary in a given calendar year.