The film will be broadcast in prime time on Italia 1 The Chocolate Factory from Tim Burton starring the multifaceted actor Johnny Depp.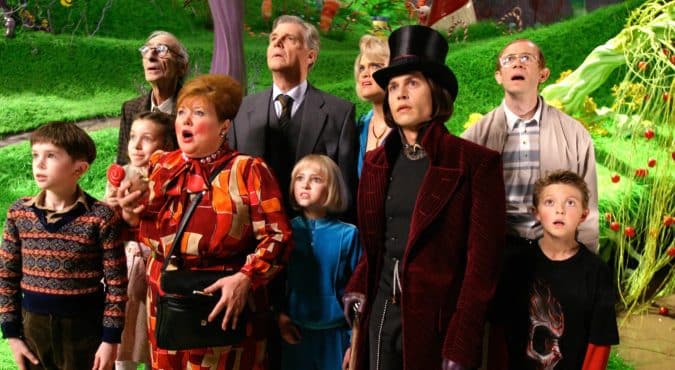 The Chocolate Factory: plot and setting
The Chocolate FactoryItalian title of Charlie and the Chocolate Factoryis a film of Tim Burton dated 2005 which has as its protagonist Johnny Depp. The film is based on the novel of the same name by Roald Dahl. As early as 1971, the novel had lent itself to a film adaptation when it was released Willy Wonka and the Chocolate Factory from Mel Stuart with Gene Wilder. Burton, however, said he was not inspired by the 1971 film to make his film and instead attempted to return to the original spirit of Dahl's work.
The plot is all about Charlie Bucket a poor child who lives with his family made up of his maternal grandparents Joe and Josephine, his mother a housewife and his father who works in a toothpaste factory in a ruined house. Given the family's poverty, its seven members eat only cabbage soup. Little Charlie, however, has a sweet tooth for chocolate but can only eat one bar a year, when one is given to him for his birthday. One day, the owner of the top secret chocolate factory Willy Wonka from an announcement that concerns not only the city in which they also live in Bucket but the whole world. Wonka, in fact, announces a competition claiming to have hidden golden tickets in five bars of chocolate of his own production. Whoever finds the tickets will be able to win a special prize. Among the five lucky children there is also Charlie…
Cast and Umpa Lumpa of the film with Johnny Depp
As for the film which will be broadcast in prime time on Italia 1 on the evening of Sunday 23 October, the cast is made up of the following actors:
Johnny Depp: Willy Wonka;
Freddie Highmore: Charlie Bucket;
David Kelly: Grandpa Joe;
Noah Taylor: Mr Bucket;
Helena Bonham Carter: Mrs Bucket;
AnnaSophia Robb: Violet Beauregarde;
missi Pyle: Scarlett Beauregarde;
Julia Winter: Veruca Salt;
James Fox: Mr Salt;
Christopher Lee: Dr. Wilbur Wonka;
Deep Roy: Umpa Lumpa;
Jordan Fry: Mike TV;
Adams Godley: Mr. TV;
Philip Wiegratz: Augustus Gloop;
Franziska troegner: Mrs Gloop;
Blair Dunlop: Willy Wonka (child);
Liz Smith: Grandma Georgina;
Eileen Essell: Grandma Josephine;
David Morris: Grandpa George;
Nitin Gana: Prince Pondicherry;
Shelley Conn: Princess Pondicherry;
Oscars James: Shopkeeper;
Annette Badland: Ms. Jolly.