About forty people, some with signs in their hands bearing slogans such as "Capitol (o) closed" attracted the attention of those who, on the evening of Friday 24 June, were walking in via Tasso or had decided to spend the first evening of the end week at the cinema. The mobilization, an unauthorized but peaceful demonstration, was already in the air and stems from the controversies and discussions that arose around Capitol's choice to screen the film Unplanned – The true story of Abby Johnson, a film scheduled for June 24th. To take sides against its projection, among others, the movement "Non una di less Bergamo", which with a letter was among the first to mobilize against the film defined as "a form of disinformation that hurts women and their rights "; the association "Bergamo Pride" and Pacì Paciana.
In recent days, the film has ignited the fuse of controversy in Bergamo, but overseas, in the United States, where the film, made in 2019, was distributed in theaters by an evangelical Christian studio, the film was already an occasion for discussion, so much to be labeled "political propaganda" by various newspapers and commentators.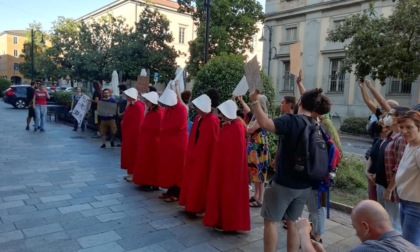 «The submission of women and the various means that politics employs to enslave the female body and its reproductive functions to its own ends, this is how the theme of Margaret Atwood's novel is described. From today it is a reality for women forced in twenty-one states (presumably twenty-six at the end of the year) to seek clandestine or illegal solutions to maintain control and self-determination over their bodies and their choices ". These are the words with which "Non una di less" presents its speech, alongside that of other groups, associations and private citizens, yesterday at the Capitol. Atwood's text to which they refer is the dystopian novel "The Handmaid's Tale", the story about a woman who became a handmaid named Difred (played by Elisabeth Moss in the television adaptation of Hulu) in the Republic of Gilead. Difred exists to serve his commander and barren wife, as a slave and incubator for their children. The "ritual" of conception to which the maids are subjected weekly is a real rape. Atwood writes: "Let's say that women" give birth. " And mothers who have chosen to be mothers give birth and feel it as a gift. But if they have not chosen, birth is not a gift they give; it is extortion on their part against their will. ' Hence the symbolism of women dressed in red cloaks, "the handmaids", also present (there were five) at the Capitol last night.