Fan stopped by security for shirt in support of Mahsa Amini during Wales Iran.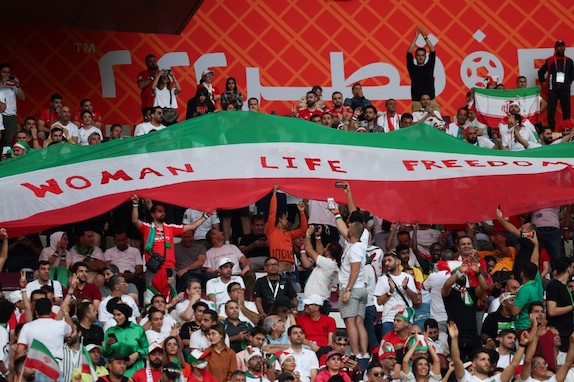 Iran supporters wave their national flag bearing the word "Woman, Life, Freedom" as they cheer during the Qatar 2022 World Cup Group B football match between England and Iran at the Khalifa International Stadium in Doha on November 21, 2022. (Photo by FADEL SEINE / AFP)
New unfortunate episode in the stands of the World Cup in Qatar. During the second match of group B of Qatar 2022, with on the field Iran and Wales, a shirt praising Mahsa Amini was removed by the intervention of the security. As reported by David Harding, journalist of the Independenton Twitter, and confirmed by some photos, the fan who displayed the shirt, on which the young woman who died a couple of months ago was remembered, was approached by the security who tried to take it away from her. Iranian fans in Qatar have shown closeness to the Mahsa Amini facts.
Iranian fan has shirt with name of Mahsa Amini removed by security at Iran v Wales game pic.twitter.com/8wstcZAqnQ

— David Harding (@DM_Harding) November 25, 2022
The team, unlike what happened in the match with England sang the anthem. The national team had also been rebuked by the Iranian federation and there would have been consequences if they hadn't sung the anthem. Some players only moved their lips but others decided to sing the national anthem during the match between Wales and Iran at Qatar 2022.
On September 16, 22-year-old Mahsa Amini died after being arrested in Tehran by the religious police for not complying with the law on the obligation to wear the veil and slipping into a coma 3 days earlier under suspicious circumstances. Her death, caused according to the first reconstructions by a beating by the authorities, had outraged public opinion and was taken as symbol of the fight against violence against women in the country of Iran. Millions of people had taken to the streets to protest the incident.
Napolista
ilnapolista © reproduction reserved