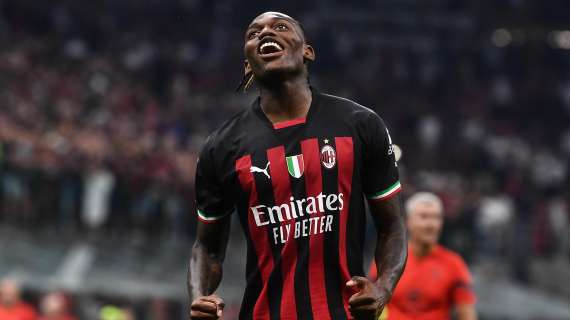 MilanNews.it
© photo by www.imagephotoagency.it
On Tuesday evening, Milan beat Dinamo Zagreb 4-0 and took an important step towards the Champions League round of 16 (the Rossoneri will only need a point in the last match of the group against Salzburg). At the end of the match against the Croatians, Rafael Leao, before returning to the locker room, stopped in front of the visitors' sector with the fans who started singing his personalized choir. The player stayed there for a few seconds to listen to them, before saying goodbye to the Curva Sud Milano beating his hand on his heart (a bit like Kakà did a few years ago).
LEAO AND AC MILAN – The video published on the Milan social pages immediately made the rounds of the phones of the Rossoneri fans who saw a boy who, with this gesture, once again confirmed his love for these colors and for this club. The question of his contract renewal (expiring in 2024) continues to hold ground in via Aldo Rossi where the Milan leaders have been working for some time to reach an agreement and thus secure their champion. Unfortunately, for now, the definitive turning point has not yet arrived and therefore we will still need a little patience.
RENEWAL – But that moment at the Maksimir stadium is a good sign that gives a little more confidence to the Rossoneri people who are anxiously awaiting the renewal of Leao. As explained by Paolo Maldini a few days ago, Milan would like to close the issue before the World Cup, but it will hardly be the case also because it is a negotiation in which there is a lot of confusion (the Devil with whom should he speak? Mendes or the French lawyer ?) and complicated obstacles to overcome (the well-known compensation to Sporting Lisbon). But Rafa's gesture in Zagreb and his firm will to renew are a good starting point.