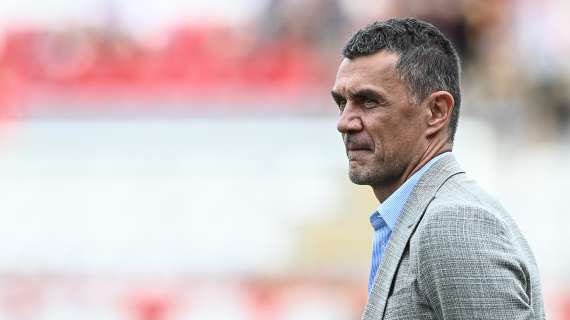 MilanNews.it
© photo by www.imagephotoagency.it
Paolo Maldini spoke to Prime Video in the pre-match of Chelsea-Milan:
Seedorf and Nesta joke about a possible return to the field: "We lack a bit of the ball and a bit of mobility (laughs, ed)".
Who broke the boxes the most during the warm-up? "Warming up is a very personal thing, everyone has their moments and breaks".
On injuries: "We have many injuries, even very serious ones. Three players will only be available from January onwards. What we have done in these two and a half years is not to make excuses and to make everyone protagonists: this is one of our secrets" .
What would you like to see this year? "The team was very brave last year, we believed in it from the start. When you win for the first time, the hardest thing is trying to win back. I expect and hope to see our confirmation in the Italian league and to go through to the Champions League. It's hard to win back because you always have to keep that kind of attention ".
What do you expect from this match? "It's all to be discovered. What we have done over the years is to be brave. If we are afraid we distort ourselves, growth also passes through such a difficult game. Maybe you lose it, I obviously hope not, but you play with the idea of ​​going to compete. There must be no sense of inadequacy against a team that is still world champion ".
On Leao: "He has a raw talent. He arrived at 20, I remember that at 20 I didn't have all these certainties. Each of us has a different path: I remember feeling the pressure, I would need a pat on the back, a word in difficult times. These kids need support, the same support you would give a child. These guys need this from my point of view ".
On Leao's renewal: "There is a will, to renew him, Bennacer, Kalulu. The will is there, then of course you have to sit at the table and negotiate. For Rafa's complete development, Milan is the best club, in my opinion ".
var banner = []; var now = Math.round(new Date().getTime() / 1000); var bannerok = new Object(); for (var zona in banner) { bannerok[zona] = new Array(); for (i=0; i < banner[zona].length; i++) { var ok = 1; if (banner[zona][i]['scadenza']>0 && banner[zona][i]['scadenza']<=now) ok = 0; if (banner[zona][i]['partenza']!=0 && banner[zona][i]['partenza']>now) ok = 0; if (typeof azione !== 'undefined' && azione !== null) { if (banner[zona][i]['pagine'] == '!index' && azione == 'index') ok = 0; else if (banner[zona][i]['pagine'] == 'index' && azione != 'index') ok = 0; }
if (ok == 1) bannerok[zona].push(banner[zona][i]); }
bannerok[zona].sort(function() {return 0.5 - Math.random()}); } banner = bannerok; var banner_url="https://net-storage.tcccdn.com"; var banner_path="/storage/milannews.it/banner/" function asyncLoad() { if (azione == 'read' && TCCCookieConsent) { var scripts = [ "https://connect.facebook.net/it_IT/all.js#xfbml=1", ]; (function(array) { for (var i = 0, len = array.length; i < len; i++) { var elem = document.createElement('script'); elem.type="text/javascript"; elem.async = true; elem.src = array[i]; var s = document.getElementsByTagName('script')[0]; s.parentNode.insertBefore(elem, s); } })(scripts); } setTCCCookieConsent(); } if (window.addEventListener) window.addEventListener("load", asyncLoad, false); else if (window.attachEvent) window.attachEvent("onload", asyncLoad); else window.onload = asyncLoad; function resizeStickyContainers() { var stickyFill = document.getElementsByClassName('sticky-fill'); for (i = 0; i < stickyFill.length; ++i) stickyFill[i].style.height = null; for (i = 0; i < stickyFill.length; ++i) { var height = stickyFill[i].parentElement.offsetHeight-stickyFill[i].offsetTop; height = Math.max(height, stickyFill[i].offsetHeight); stickyFill[i].style.height = height+'px'; } } document.addEventListener('DOMContentLoaded', resizeStickyContainers, false); // layout_headjs function utf8_decode(e){for(var n="",r=0;r