In Italy, 5.2 million families live in rent (20.5% of the total). The average cost of a rent, calculated by the Italian Labor Union (UIL) is 538 euros per month, equal to one fifth of the purchasing power of a family (19.9%).
Numbers that refer to a 100 square meter apartment stacked as a residential (A / 2) and economic (A / 3) dwelling in semi-central areas in the provincial capital cities. Overcoming the national average value, which includes values ​​of very different entities, it turns out that the country is divided in two.
The average rent in Rome and Caltanissetta
In Rome the highest rents, in Caltanissetta the lowest ones. In the capital the monthly rent is 1,415 euros (equal to 52.4% of the family budget) while in the Sicilian municipality it is 218 euros.
Milan is the second largest city in Italy in terms of rental costs, the value of which is € 1,358 (50.3% of the purchasing power of a family).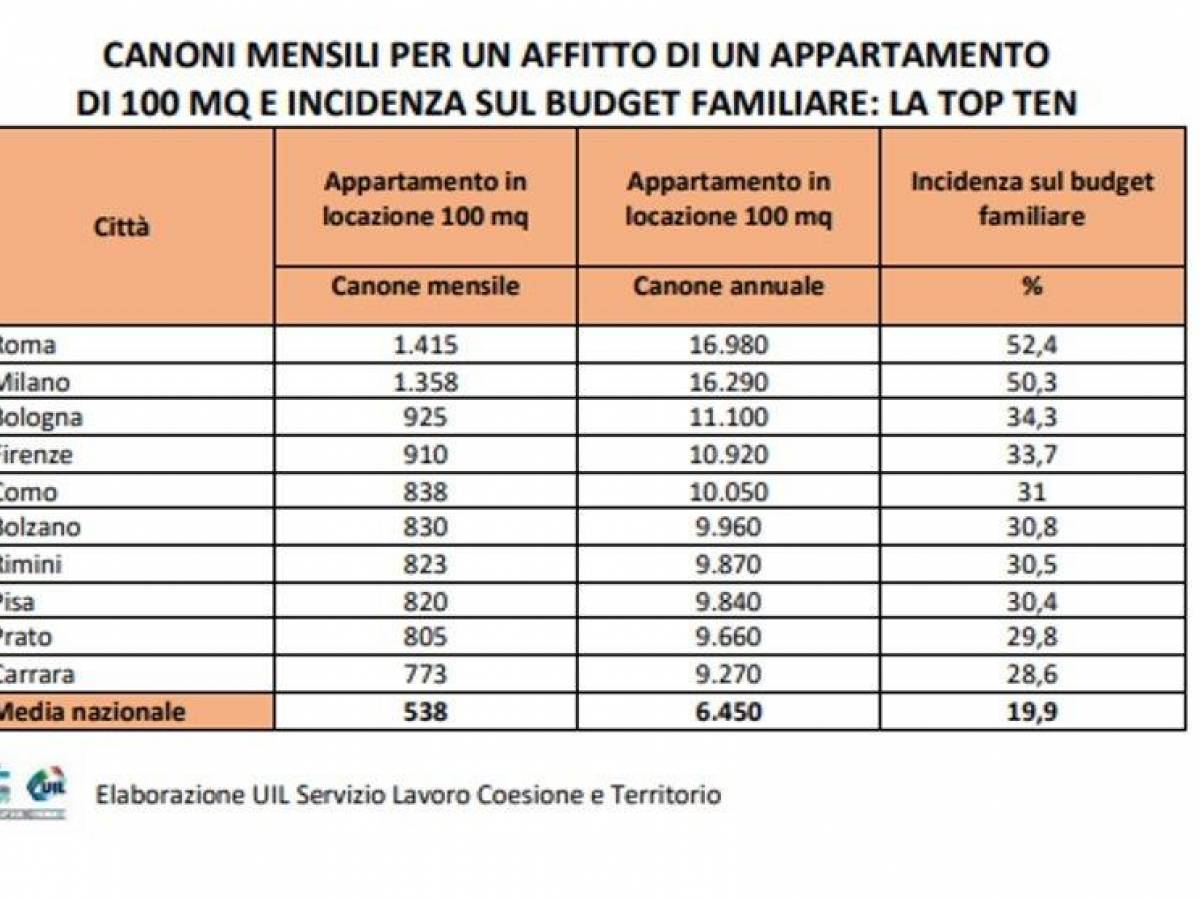 The report, drawn up by the Work, Cohesion and Territory Section of the UIL, shows that among the 10 most expensive cities there are 4 Tuscan ones (Florence, Pisa, Prato and Carrara) but it should also be noted that between Carrara, the tenth city for price of rents, and Rome (the most expensive) there is a difference of over 45%. What in Carrara costs 773 euros in Rome costs 1,415.
An even more interesting fact, beyond the cost of rents, is how much these affect family incomes. In Rome and Milan (respectively with a weight on the budget of 52.4% and 50.3%), rents take on a considerable weight that has no similar weight in the rest of Italy.
The increases
According to the Foi index published by Istat which processes consumer prices, in August prices increased by 8.1% and this, if reversed on the rents, translates into an increase of 32.70 euros for a rent of 538 euros, or 392 euros each year.
Confederal secretary Uil Ivana Veronese draws attention to the fact that housing is a voice that has a significant impact on citizens' budgets and that the cost of housing adds to that of bills. The hope is therefore that, Veronese concludes, that wages and pensions will be adjusted to the real costs of living.
At the same time, those who are forced to live away from home or have children at university are confronted with an increase – in some cases unsustainable and unjustified – in rents.