Today, Sunday 8 May, while the eyes of the cross country specialists were all on Red Bull TV to watch the World Cup in Albstadt, those who run long distances were around Italy where today there were so many granfondo and marathon . We bring you the unofficial results of some of the main racing events in Tuscany, Veneto, Umbria and Lazio.
COAST OF THE ETRUSCANS EPIC | MARINA DI BIBBONA (LI)
Marina di Bibbona (LI): This morning in Tuscany there was an important race, the Etruscan Coast Epic, the national team has chosen it as one of the indicative tests in which the blue coach will draw information on the names of the riders to be sent to the European marathon championships scheduled for next month in the Czech Republic. For this there were all the main top teams. On the longest climb there was the attack of the former world champion, the Colombian Leonardo Paez, the only one who managed to keep up with him was the former pro "Nando Casagrande".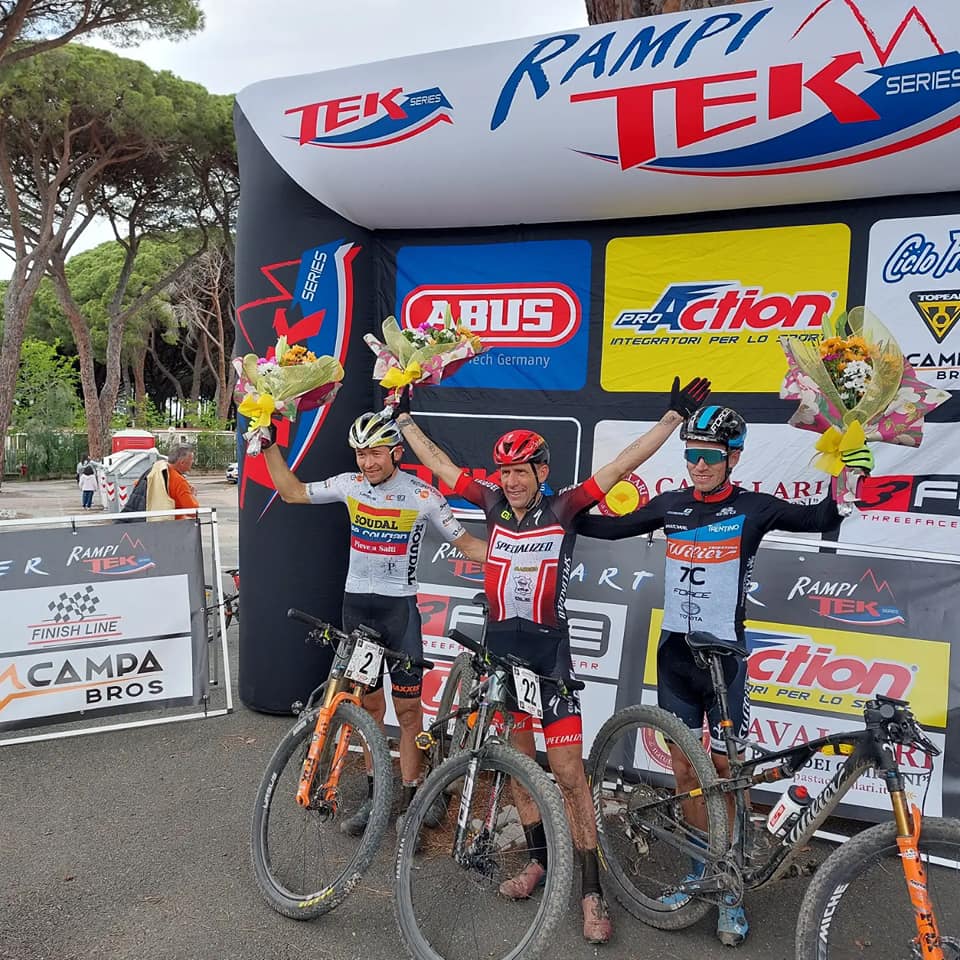 Then the escape was resumed by Porro, Chiarini, Billi and the Norwegian Hem. «In the last 15 km on a tear he forced Paez, Hem followed him and then I also followed suit. – tells us the winner Francesco Casagrande – The last 10 km were flat and we "led" together to the finish. There we fought it in the sprint and being fast enough I managed to win. "According to Paez, the Norwegian was third.
Among women, however, it is Sandra Mairhofer to win the Etruscan Coast Epic with a solitary ride. Second is Claudia Peretti, while the third is conquered by Debora Piana.
Men's Marathon finish order – unofficial
1 CASAGRANDE FRANCESCO | ASD CICLI TADDEI | EL | 2: 50: 12.55
2 PAEZ LEON HECTOR LEONARDO | SOUDAL LEECOUGAN INTERNATIONAL TEAM | EL | st
3 HEM OLE | WILIER 7C FORCE | EL | st
4 CHIARINI RICCARDO | ASD CICLI TADDEI | EL | +1: 00.74
5 PORRO SAMUELE | WILIER-PIRELLI FACTORY TEAM MX | EL | +1: 01.89
6 BILLI JACOPO | SCOTT RACING TEAM | EL | +2: 44.19
7 LONGO TONY | SOUDAL LEECOUGAN INTERNATIONAL TEAM | EL | +2: 50.10
8 BONETTO FRANCESCO | BOTTECCHIA FACTORY TEAM | EL | +5: 27.78
9 SAMPARISI NICOLAS | KTM ALCHEMIST POWERED BRENTA BRAKES | EL | +5: 28.20
10 CHERCHI DARIO | KTM ALCHEMIST POWERED BRENTA BRAKES | A | +5: 28.57
11 SIFFREDI ANDREA | SCOTT RACING TEAM | EL | +5: 58.41
12 VALDRIGHI STEFANO | SOUDAL LEECOUGAN INTERNATIONAL TEAM | EL | +6: 14.30
13 LAPOSSE LORENZO | BOTTECCHIA FACTORY TEAM | EL | +6: 56.28
14 FROM THE GREAT STEFANO | OLYMPIA FACTORY TEAM | EL | +7: 25.78
15 VALERIO DOMENICO | BOTTECCHIA FACTORY TEAM | EL | +7: 25.96
Order of finish of the women's Marathon course – unofficial
1 MAIRHOFER SANDRA | RDR ITALIA LEYNICESE RACING TEAM | DE | 3: 22: 42.23
2 PERETTI CLAUDIA | OLYMPIA FACTORY TEAM | DE | 3: 28: 43.98
3 PIANA DEBORA | TRACK TEAM | DE | 3: 30: 07.64
4 SCIPIONI SILVIA | ASD CICLI TADDEI | DE | 3: 33: 11.64
5 BURATO CHIARA | OMAP CYCLES ANDREIS | DE | 3: 33: 43.60
Order of arrival Classic male course – unofficial
1 VANNI TOMMASO | ASD CICLI TADDEI | M2 | 2: 06: 28.01
2 BERTELLI LUCA | GS AVIS PRATOVECCHIO | M1 | +2: 42.19
3 BARABESI MATTIA | DONKEY BIKE CLUB SINALUNGA | M1 | +2: 43.93
4 NOCENTI SAURO | ARRETIUM TEAM SPECIALIZED | M5 | +2: 56.57
5 CORSETS FRANCESCO | GS AVIS PRATOVECCHIO | M3 | +3: 00.89
6 PORCIATTI GIULIO | CYCLING BIKE TEAM | ELMT | +3: 03.50
7 CLAUDIO POLLINI | CYCLING BIKE TEAM | M2 | +3: 06.77
8 MONTELLA ENRICO | CYCLING BIKE TEAM | M6 | +3: 17.62
9 GARGIANI LUCA | ASD CICLI TADDEI | JU | +4: 34.23
10 SERCECCHI ANDREA | BOMBARDIER TEAM RACES ASD | M4 | +4: 57.10
Order of arrival Classic female – unofficial
1 DE LORENZO POZ LUISA | TEAM ESTEBIKE ZORDAN | W3 | 2: 33: 07.31
2 FEDERIGI ELISA | SPEEDY BIKE WORK SERVICE | W1 | +4: 56.64
3 FAZIANI DENISE | TEAM BE | W1 | +7: 39.59
4 VERNACCINI CHIARA | LIVORNO TEAM BIKE ASD | W2 | +11: 28.25
5 CERVINI SILVIA | CICLI BRANDI ELBA TEAM | W1 | +12: 30.63
6 PALADINI MARTINA | ASD GIOVO TEAM | EWS | +14: 57.34
7 CATASSI CATERINA | ASD CICLI TADDEI | W1 | +22: 40.14
8 MORINI NICOLE | IMOLA BIKE | EWS | +23: 37.88
9 ELIZABETH SWEATER | BIKE CAMOGLI GOLFO PARADISO | W3 | +29: 14.95
10 MORNING CAMILLA | ZEROZERO IKI SPORT | DJ | +30: 56.26
Complete rankings: LINK
MTB GARDA MARATHON | GARDA (VR)
Men's Marathon finish order – unofficial
1 CASEY South | OPEN (1) TORPADO FACTORY TEAM 02:18:05
2 BERTONE Filippo | OPEN (2) HUBBERS – POLIMEDICAL +1: 35
3 DEPAUL Gabriele | M1 (1) TEAM TODESCO +2: 52
4 BONELLI Efrem | M2 (1) TEAM TODESCO +2: 59
5 CARATIS Adriano | OPEN (3) TABROS RACING TEAM +4: 00
6 RIGHETTINI Andrea | OPEN (4) OLYMPIA FACTORY TEAM +4: 58
7 CERUTTI Gregorio | OPEN (5) TABROS RACING TEAM +5: 07
8 CANAL Adolfo | OPEN (6) TEAM TODESCO +5: 28
9 CANDEAGO Andrea | OPEN (7) TORPADO FACTORY TEAM +5: 32
10 ZOCCARATO Nicolo '| OPEN (8) OMAP CYCLES ANDREIS +6: 57
Order of finish of the women's Marathon course – unofficial
1 PIETROVITO Vittoria | DE (1) OMAP CYCLES ANDREIS 02:46:31
2 PELLIZZARO Jessica | DE (2) TRACK TEAM 02:49:24
3 TOSATO Karin | W2 (1) LISSONE MTB ASD 02:53:34
4 CE 'Simona | W2 (2) MTB LOW PERT ASD 02:58:01
5 ROMANELLO Patrizia | W2 (3) TORPADO FACTORY TEAM 02:58:33
6 MAZZUCOTELLI Simona | DE (3) GS MASSI 'SUPERMARKET 03:05:18
7 NGOs Simona | W1 (1) ASD BICISCOUT RACING TEAM 03:09:32
8 FERRERO Nicoletta | DE (4) ASD ROERO SPEED BIKE 03:23:08
9 VANIN Angela | W2 (4) NORD BIKE TEAM PADUA 03:26:27
10 CHIARELLO Elena | W2 (5) TREVIMAC BIKE TEAM ASD 03:27:21
357 1006 SASSI Elena | W1 (2) NEW MOTOR BIKE 03:33:16
Order of arrival of the men's Granfondo course – unofficial
1 ZAMBONI Andrea | M3 (1) UNTER – BRAO COFFEE 01:46:22
2 VESENTINI Andrea | ELMT (1) VELO CLUB GARDA +4: 10
3 ROSSI Daniele | ELMT (2) TEAM TODESCO +5: 02
4 HINTNER Thomas | M2 (1) RH RACING KRONPLATZKING +5: 40
5 BARDINI Emil | M3 (2) VELO CLUB GARDA +6: 09
6 MAGAGNOTTI Daniele | M6 (1) ASD AVESANI +7: 46
7 CARNIELLI Davide | M1 (1) TEAM BSR +8: 02
8 PERSICH Dario | M3 (3) VEE TIRE CO TEAM RACE +8: 04
9 AVOGADRO Riccardo | JU (1) MTB STARTS +9: 04
10 FANTON Andrea | M2 (2) TEAM TODESCO +9: 52
Order of arrival of the men's Granfondo course – unofficial
1 NEGRA Cecilia | W2 (1) ASD BIKE AND FUN TEAM 02:25:16
2 PELLIZZARI Mara | W1 (1) TREVIMAC BIKE TEAM ASD 02:32:49
3 PELLIN Fabiana | W1 (2) ASD GUS BIKE TEAM 02:35:55
4 DISARO 'Alessandra | W1 (3) ASD BICIVERDE MONSELICE 02:35:56
5 LONARDELLI Francesca | W2 (2) ASD VENTI-VENTI BIKE TEAM 02:38:13
6 SARTORI Fabia | W2 (3) TEAM TODESCO 02:39:45
7 LAZZARI Sofia | W1 (4) LORETO LE MARMOTTE USD 02:42:44
8 ARVANI Giada | W1 (5) SC BARBIERI 02:48:52
9 CESTONARO Ilaria | W1 (6) ASD RACING BIKE 02:49:52
Complete rankings: LINK
GRANFONDO OF SOURCES | NOCERA UMBRA (PG)
Long-unofficial male arrival order
1 DOMINICI EMILIANO | GS CICLOTEC | M3 | 2: 08: 10.683
2 GIACOMO ABROAD | ASD ZEROEMEZZO RACING | ELMT | +45.750
3 ROCCHETTI LEOPOLDO | BIKE THERAPY ASD | EL | +1: 19.250
4 BY MARCO DAVIDE | BIKE THERAPY ASD | EL | +2: 30.752
5 TOMAS SAWS | BIKING RACING TEAM ASD | ELMT | +3: 51.252
6 ANGELETTI MICHELE | BIKE THERAPY ASD | EL | +3: 53.752
7 ROSELLI FRANCESCO | BIKING RACING TEAM ASD | M3 | +3: 54.003
8 BIZZARRI STEFANO | BIKE THERAPY ASD | M1 | +5: 53.005
9 DESANTIS ALESSANDRO | MTB CLUB SPOLETO | EL | +6: 14.004
10 TINI FRANCESCO | UC PETRIGNANO ASD | M1 | +6: 52.254
Long-unofficial female finish order
1 STEFANELLI DANIELA | TRACK TEAM 1 W2 2:46:40
2 GAUDENZI CRISTINA | BIKERAS NOCERA UMBRA W2 3:11:00
Order of arrival Classic male course – unofficial
1 CARACCIOLO LEONARDO | TRIONO RACING SC CENTROBICI | M1 | 1: 30: 01.964
2 MARIANESCHI EMANUELE | DI GIOIA CYCLING TEAM | M3 | +1: 44.001
3 NOBLES GIANMARIO | MARTANI TUDERBIKE TEAM | M2 | +2: 53.252
4 PANTI STEFANO | ASD TEAM SIENA BIKE | ELMT | +5: 04.254
5 OTTAVIANI VINCENZO | ASD BETTONA MTB | M4 | +5: 05.016
6 NOTES FRANCIS | ASD GS POPPI BP MOTION | M2 | +6: 09.254
7 MARCO LEONCINI | ASD TEAM SIENA BIKE | M2 | +6: 09.255
8 BASTIOLI MARCO | ASD BETTONA MTB | ELMT | +6: 20.005
9 CHANNELS ALESSANDRO | ASD LARIS BIKE | ELMT | +8: 09.699
10 FRAGAI GIANLUCA | ASD CICLISMO TERONTOLA | M5 | +12: 47.702
Order of arrival Classic female – unofficial
1 BEDENDI NADIA | ASD GS POPPI BP MOTION | W2 | 2: 07: 53.182
2 CHRISTIAN PALLUCCA | ASD BRIGANTI D'ABRUZZO | W1 / EWS | 2: 13: 55.436
3 CASTIGLIONE MAILA | TRIONO RACING SC CENTROBICI | W2 | 2: 16: 29.938
4 MANGIATERRA NEFELLY | SUPERBIKE BRAVI PLATFORMS TEAM | DU | 2: 55: 40.464
5 D'ANGELO ANGELA | CASTELTROSINO SUPERBIKE | W1 / EWS | 3: 00: 45.717
Complete rankings: LINK
MONTE CALVO MARATHON | AMESANO (FR)
Men's Marathon finish order – unofficial
1 FOLCARELLI ANTONIO | RACE MOUNTAIN FOLCARELLI TEAM | OP | 2: 28: 58.470
2 GIUSERI SAMUELE | PIESSE CYCLING TEAM | ELMT | +1: 50.492
3 CAPPONI STEFANO | PRO BIKE RIDING TEAM | OP | +3: 22.744
4 GIORGINI DAVIDE | DAMA_PASOLINI_BIKEPRO | OP | +3: 43.245
5 PIACENTINI MATTEO | ASD TEAM BIKE PALOMBARA SABINA | ELMT | +9: 47.003
6 TORELLI PIERLUIGI | ASD TEAM BIKE PALOMBARA SABINA | ELMT | +9: 47.521
7 LUCIANO ADRIANO | CPS PROFESSIONAL TEAM | M1 | +9: 50.753
8 RICCARDO BOWLS | PIESSE CYCLING TEAM | M1 | +12: 53.757
9 JOHN CATS | ASD GM BIKE | M2 | +12: 54.507
10 CELLINI MARCO | CTM CENTER DEDICATED TO CYCLING ASD | M2 | +14: 14.019
11 TANZI TOMMASO | MTB PICO LUPI DEGLI AURUNCI | M2 | +15: 57.764
12 CELLINI ALESSIO | CTM CENTER DEDICATED TO CYCLING ASD | M3 | +16: 26.524
13 SCIPIONE LORENZO | DAMA_PASOLINI_BIKEPRO | OP | +17: 25.744
14 BOSSIS FERDINANDO | CYCLING CAFE 'RACING TEAM | OP | +17: 50.515
15 ALESSANDRINO LUIGI | ASD GS PONTINO SERMONETA ita OP | +17: 51.514
Order of finish of the women's Marathon course – unofficial
1 COSTANTINI FABIA ROMANA | ASD TEAM BIKE PALOMBARA SABINA | W1 | 3:33:43
Order of arrival of the men's Granfondo course – unofficial
1 BASTIANELLI GABRIELE | PIESSE CYCLING TEAM | M1 | 2: 08: 38.432
2 THOUGHT JOHN | ASD HGV CYCLES CONTE FANS BIKE | M3 | 2: 08: 38.942
3 PIANCATELLI VALERIO | ASD TEAM BIKE PALOMBARA SABINA | ELMT | 2: 08: 39.186
4 GALLI MAURIZIO | ASD ROCCA DI PAPA BIKE | M4 | 2: 11: 52.937
5 TOTI PALMIRO | APD CIOCIARIA BIKE | M4 | 2: 12: 08.187
6 RINNA ROBERTO | PIESSE CYCLING TEAM | M2 | 2: 14: 54.950
7 SCARSELLA SIMONE | ALATRI BIKE | ELMT | 2: 18: 36.946
8 RUSSO PASQUALE | ASD HGV CYCLES CONTE FANS BIKE | M5 | 2: 19: 42.178
9 PROTANI PIERLUIGI | CYCLING FOR LIFE ASD | M5 | 2: 19: 42.178
10 PANELLA DAVIDE | ASD ANIENE BIKE TEAM | M3 | 2: 19: 49.948
11 PISANU VALERIO | RACE MOUNTAIN FOLCARELLI TEAM | JU | 2: 21: 15.699
12 CARZOLI CIALLI MIRKO | ASD PROVIS BIKE | M1 | 2: 21: 25.209
13 OLD WALTER | ASD ANIENE BIKE TEAM | M2 | 2: 21: 26.459
14 STEFANO FIORINI | ALATRI BIKE | M2 | 2: 21: 46.950
15 CALICCHIA MATTEO | TONI BIKE ASD | M1 | 2: 21: 50.450
Order of arrival of the men's Granfondo course – unofficial
1 BY LORENZO SABRINA | PRO BIKE RIDING TEAM | W1 | 2: 49: 05.237
2 SANTORO MARTINA | TRIONO RACING SC CENTROBICI | W1 | 3: 04: 10.509
3 CALDAROLA ROSALBA | ASD LIKEMTB | W3 | 3: 17: 41.028
4 CLEAR PEDACE | ASD TEAM CIVITA BIKE | W2 | 3: 45: 25.796
Complete rankings: LINK