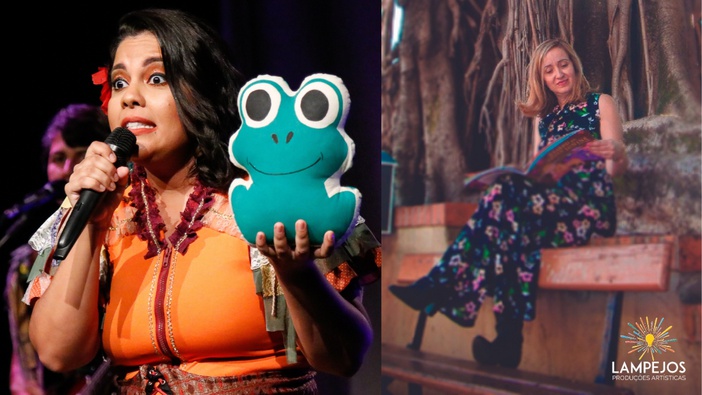 Writer and coordinator from Recife, Sertanezina is the protagonist of a cultural movement whose main theme is Brazilian folklore.

August 14, 2023 11:00

On Tuesdays and Fridays, August 15th and 18th, Lampejos Produções Artísticas will promote a series of free workshops in the A Fábrica space.
On the 15th at 8:30 am and 4:00 pm, Cordelist Mariane Bigio from the State of Pernambuco will lead the workshops "Cordell Literature for Teachers and Educators" and "The Art of Storytelling".
Eliana Manzan will publish her book Memorias Brincantes on the 18th at 9am with the participation of illustrator Semi Paterno and a series of conversations. This book will be presented to participants at the launch. From 2pm on the 18th, Marianne Biggio will be in charge of the "Storytelling" workshop.
All events are free and registration for workshops can be done using the form on Instagram @lampejosproducoesartisticas.
Marian Biggio
Writer, storyteller, singer and broadcaster Marianne Bigio departs from Recife (PE) and travels around the country with workshops, shows and conversation circles on education, literature and art. In 2007, he published his first cordell leaflet "AMãeque Pariu o Mundo" and received an award from the Recife City Hall. He began by reading to the bohemian masses of Recife at the city's public market. Although her current specialty is Cordell literature written for children, Marianne continues to take the opportunity to read aloud to an 'adult' audience, rhyming and exposing the anxieties and dilemmas of everyday life.
Eliana Manzan
Folklorist, educator, researcher of Northeastern popular culture, popular festivals and Brazilian folklore, the Sertanezina writer devotes himself to works for children and young people. Author of the books Campo de Festa Junina (2018), Tempo de Festa Junina (2019) and Minha Vida na Colonia (2020) in color and Braille. . She is a teacher, educator, comprehensive children's educational project coordinator, cultural producer, and arts and crafts instructor.
Photo: Disclosure