Fifteen years after the release of the last episode on Wii, Samba de Amigo returns with an opus entirely dedicated to the Nintendo Switch, the Joy-Cons here replacing the Wiimote and the maracas of yesteryear. So, will it feel the same as the old shutters? And is the fun there? Let's see it together!
If you missed it, the Samba de Amigo license comes straight from the famous Sonic Team. A first part was also available in 1999 on Arcade, before being exported a year later (2000) to Dreamcast. A arrival on Dreamcast which allowed you to play with a beautiful accessory instead of traditional controllers: maracas. Suffice to say that fans of the console and the game greatly appreciated this "new thing".
Subsequently, in 2008, a Wii version was released, this time with Wiimotes as pads. The Nintendo Switch version therefore follows this same trend by using this motion sensor via the Joy-Cons, but don't panic, because if you are not very comfortable with moving your body, your controllers and doing poses while dancing -at least at first-, it remains entirely possible to play by simply focusing on the buttons. We certainly lose interest but at least you will be able to soak up the atmosphere, the difficulty and the game elements before launching fully if you feel like it.
The trends
Let's start right away with the available game modes. Firstly, we have " Rhythm Game ", in other words this is the single-player mode where you simply have to choose the difficulty, as well as the title of your choice from around forty songs accessible during this launch.
Without mentioning all the titles and artists, you are free to ignite the "track" by dancing to Tik Tok (Kesha), The Cup of Life (La Copa de la Vida) by Ricky Martin, Break Free (Ariana Grande), Moves Like Jagger (Maroon 5 and Christina Aguilera) or Pompeii (Bastille), but also on two themes taken from Sonic, namely Escape From The City from Sonic Adventure 2 and Fist Bump (Sonic Forces). Obviously other music will arrive through various DLCs. On the other hand, we must admit that we regret the lack of information on this playlist compared to other software, we would have liked the integration of several types of choices, for example rankings by artist, by musical genre, etc. …
After this musical aside, let's continue with the second game mode: World Fiesta. Roughly speaking, in this mode we face a dozen amigos (robots) and seven other players on three titles chosen at random. All while bringing some penalties to others during their own game. So, like a "Battle Royal", the best one simply wins in the end.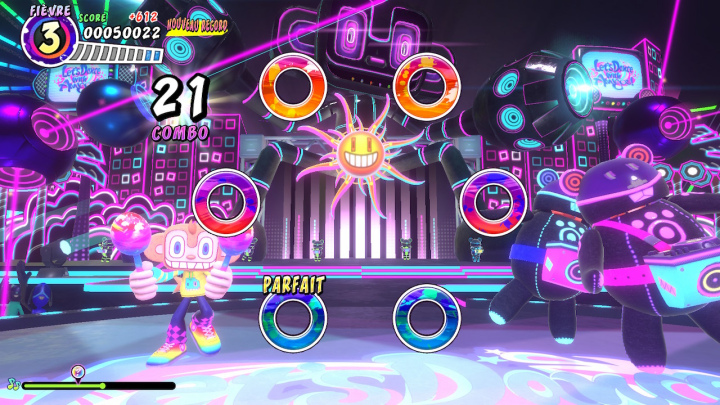 Then place " Two is Better ". You may have understood, this mode is in fact linked to locally playable games, here up to two as its name suggests. Several sub-variants are available, such as competing or "Amourometer", meaning being in rhythm as a duo, playing mini-games or simply launching the tracklist. On the other hand, we would have liked to play with more people locally, it's quite a shame at the moment, even if this can be understood with the fact of having to play with a pair of Joy-Con each, but also in tabletop mode.
To continue, now place StreamiGo corresponding to a "mini-campaign" pretext, or at least a challenge mode. The goal is simple: shake your hips and make the maximum score in order to gain followers from social networks. Among the whopping 80 missions, you can also try to complete several challenges/sub-missions in order to glean some money. A method to be favored for collecting this money elsewhere.
Because these funds, as you may have suspected, are simply used to virtually "purchase" multiple accessories to personalize/dress up Amigo in the " Gallery » with hats, clothes, among others, or even customization elements in Sonic style, yes the blue hedgehog is of course there! Finally, let us point out that there is also access to a mode online accessible to two to four players.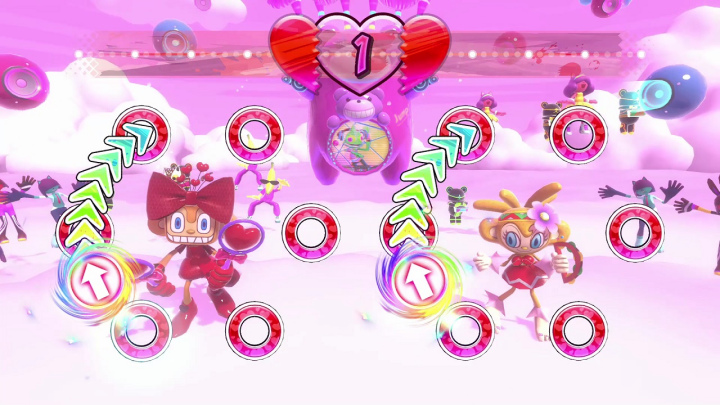 Accessible gameplay
Now that the modes have been covered, it's time for the gameplay of the software which, in addition to its "buttons" mode only, ideal for people who are completely new to the subject, logically offers the "shake" function.
Very accessible, intuitive but also remaining permissive although we sometimes find a great lack of precision, that is to say that it happened to us that certain of our movements were not taken into account (and vice versa) , everyone can quickly get involved and have fun by shaking the Joy-Cons, whether up, down, left and right depending on the location of the "balls/spheres".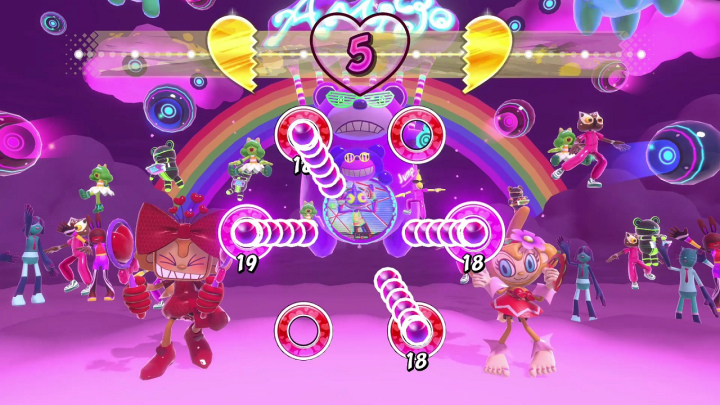 Incidentally, the controls, which are very easily assimilated, correspond to a very simple rhythm: sometimes you simply have to shake a single Joy-Con, both at the same time or via multiple rapid shakes like maracas. Added to this are precise poses of Joy-Cons in one direction, or gesticulation (remembering that body movements are not really counted but no longer the orientation of the Joy-Cons as a result), or even following directions. trajectories, all in rhythm of course!
If you really move your body and not just your arms, the activation of a "?" » in the middle of the game brings nice variations via a roulette, like mini-games or even, not to mention them all, an acceleration of the tempo of the rhythm for a predefined period of time; enough to spice things up a little more.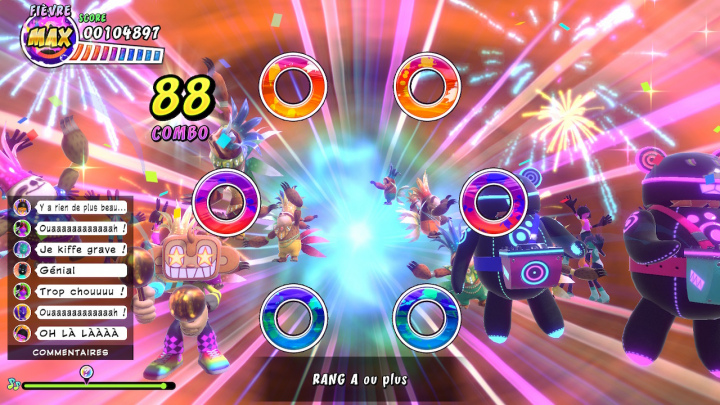 Festive
For its visual palette, Samba de Amigo obliges, the tone borrowed is necessarily joyful and even festive we would say, all with a host of effects and different "stages" depending on the musical themes chosen. Obviously, the whole thing remains very clean and pleasing to the eye, although it is sometimes possible to get lost in the readability between the decorations and the movements to be made.
Question of sound, we repeat, there are therefore around forty songs available at the launch of the game before the appearance of unfortunately paid DLCs, coming from several backgrounds and musical genres. Yes, if we could logically expect, given the title "samba", Latin sound themes as at the time in short, here we feel more of a desire to open up to a larger audience in the way software like Just Dance or Let's Sing for example. We thus find pieces like Just Dance (Lady Gaga feat. Colby O' Donis), Good Time (Owl City and Carly Rae Jepsen) or the essential Macarena, La Bamba and of course I Will Survive by Gloria Gaynor, here via the mix by Eric Kupper.
Tested on Switch
In conclusion, we could say that Samba de Amigo – Party Central with its "permissive and free" side, is particularly aimed at people who appreciate musical/dance software (Let's Sing, Just Dance, etc.) but also at groups of friends wanting to have a good time and have fun quickly. Not that there isn't a challenge for scoring lovers (despite certain precision concerns), but we really find that the title of Sega and the Sonic Team is particularly appreciated during moments festive or for immediate amusement.