In second consecutive fourth place Juventus responded this summer with three powerful hits: Di Maria, Pogba and Bremer. Three excellences, one for each department, it doesn't rain on this. And yet it is an ancient way of doing the market, if compared, for example, with the Maldini-Massara method, which at the moment is undoubtedly the most creative, effective and far-sighted. It is not so much the fact of age that qualifies a shot as more or less 'current', it is the underlying ratio. The Juve market goes for absolute, at least when it comes to key roles. And perhaps, indeed certainly, this happens because it reflects a certain vision of his coach's football. Individuals make the difference.
Was Bremer or was he not the strongest central player of last season in Serie A? Certainly. Is Pogba in Italy dominant or not? But also lame. Do you know of another outsider who is more indisputable than Di Maria in terms of pure talent? Here, too, I find it difficult to object to anything. And Vlahovic, before these three, in January, was or was he not the most desirable center forward in the Italian league? As you can see, the criterion behind it is always the same: you choose a player for absolute skills, regardless of the context of arrival and departure. And what does it matter if Bremer only came out last year with Juric's style of play, or if Vlahovic was what he was in Florence, perhaps mostly thanks to the Italian.
WITH POGBA IN THE FIELD – Now, with Pogba on the pitch, Juve this time was so 'exaggerated' that all these doubts about the method were forced into the background. Summing up enormous talents it is clear that in the end the ball somehow goes inside. Maybe with one of those impromptu shots from distance that both the Frenchman and the Fideo are capable of. (In the image below a great sudden blow by Pogba in Las Vegas, against Chivas beaten 2-0 at the first exit. Note the reference 4-3-3 immediately).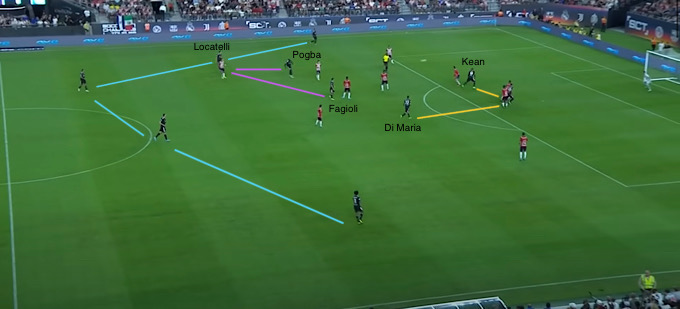 Allegri thinks this, and he was about to be able to convince us again. Then Pogba broke. Then against Barcelona, ​​in Dallas, Juve held out for a while (2-2), after which they fell thunderously with Real in Pasadena (a 2-0 net), and finally were trampled by Atletico del Cholo at Continassa on Sunday afternoon. . A 4 to 0 that could not help but make noise, also because in the field there were the other two big players, Bremer and Di Maria, both obviously already the target of the first criticisms on social networks. After all, De Ligt, before Bremer, has already been made to pass for any defender who needs to always learn a lot more from Juve's DNA. This idolatry of nothing which is always talked about too much.
One thing must be said: in the only game played together, Di Maria and Pogba were looking for each other which was a pleasure. This in the following image is a touch of the Argentine for the insertion in the area of ​​the Octopus, after Di Maria was found opened in the band by a throw of the same Pogba. Like the two strongest on the pitch who always have a hard time with each other.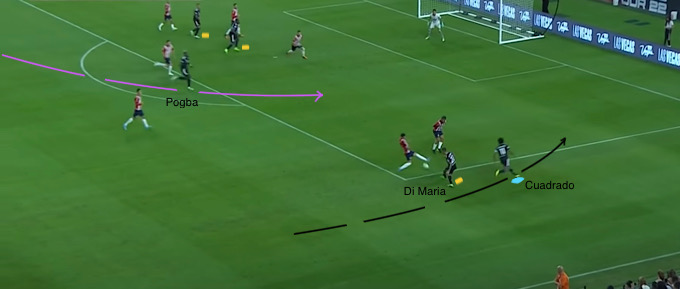 WITHOUT POGBA DI MARIA IS SAD – It should not be surprising then that without the French, Di Maria's inspiration has barely faded, and gradually. At least for what we have seen so far. Perhaps Pogba is more necessary for this Juve than for her excellence Di Maria. Already with Barcelona, ​​the Argentine felt the need to focus more strongly to get to the heart of the game. Don't be shocked to see Di Maria picking himself up and leaving the right wing despite the 4-3-3. In PSG his freedoms were coordinated with those of his comrades in the department (Mbappé, Messi, Neymar…), promoted by Pochettino and shared by all.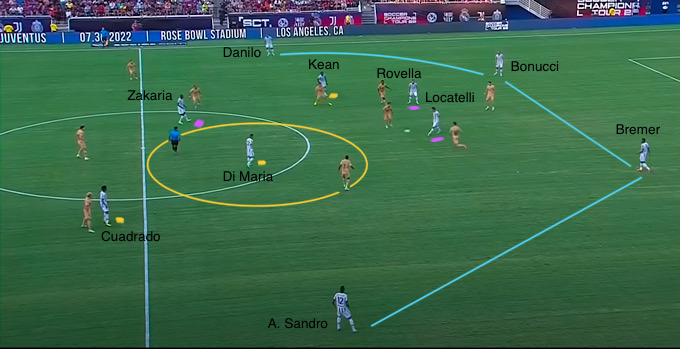 Allegri is realizing well what this entails in his Juve. Here is highlighted in yellow the trident Soulé-Vlahovic-Di Maria during the first half of Atletico-Juventus. Di Maria is used to going around the field to form associative groups with his companions. He is now much more than a winger … Only that while he does so, still mindful of the Parisian experience, at Juve there is a traditional striker who is there.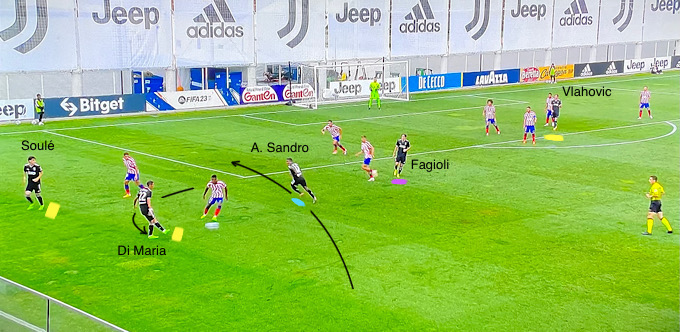 And then how is the defensive transition organized afterwards? It is one thing to have a center forward who is also a winger (see Mbappé in PSG), it is another thing to have someone like Vlahovic do this race in retreat. Either it's an exception or it risks making less sense, I think.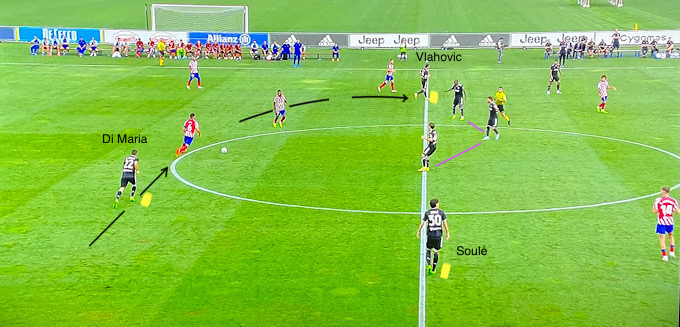 But Di Maria can't keep him all on one side, when Juve struggles to keep the ball since Pogba's technical depth is lacking in the middle of the field. Also because Angel is not there, he goes to take her in the center or on the opposite side rather.
IS 3-5-2 A TEMPORARY REMEDY? – It certainly was against Atletico, from the middle of the first half up (with no major improvements, to tell the truth). It is a clever way of leaving Di Maria equally free without running into the imbalances that such tactical behavior generates if practiced by an outside player in 4-3-3. Or rather, in the 4-3-3 with which Juve started that game. The difference between the bianconeri and PSG is that everyone is free there (but it is not that they move randomly), here instead, Di Maria alone is allowed maximum freedom, which immediately changes the characteristics of that same freedom. Against Atletico it was an empty, isolated, sterile freedom, in a sad word. Disconnected from the rest, absolute indeed.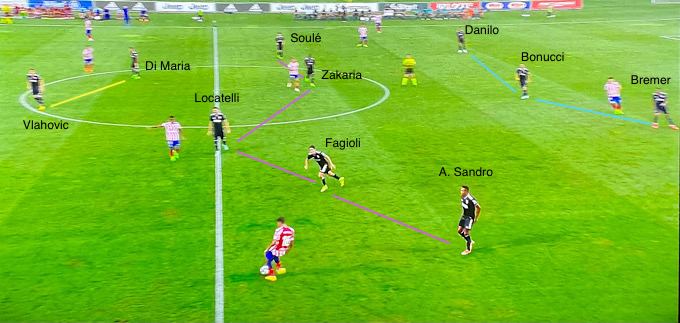 BREMER, THE OTHER EQUIVOCAL – The other misunderstanding concerns Bremer. Both four and three, it changes a lot for him compared to what he did with Juric. Already only for the hyper-aggressive style of Torino. I'm not saying it won't settle down. I don't even think that for Di Maria, for that matter. I am both convinced that they will do well, and Bremer will certainly know how to be appreciated. But Bremer at Juventus at the moment has been set up as central left in the four-man line and arm (always on the left) at three. Meanwhile, he is right, so building on that side he will have some more hindrances. Furthermore, he became the best center-back in Serie A as a center-back in Juric's 3-4-2-1. Against Atletico instead in the middle of the three (in 3-5-2) was Bonucci. Another legacy of a football that was. Translated: at Juve in the center is the defensive director, the one who makes the launch beautiful to see. But then this player in that precise position is the same one who conditions everything else, because one thing is if the last man does Bremer, another if Bonucci does it (one on one with Morata …).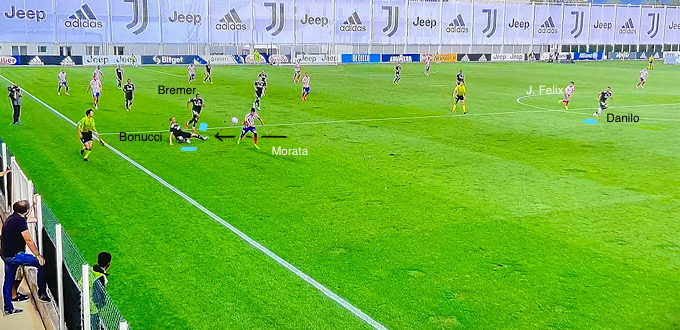 KOSTIC – Ah, I forgot Kostic. Isn't Kostic the one who does the most cross ever? Perhaps this will be enough to make Vlahovic smile again, who started as badly as he had finished, that is, by not hitting a bank (against Real it was his wrong back pass that gave rise to the penalty action). On the one hand, Di Maria's assists, on the other, Kostic's crosses? Even in football, one plus one equals two, according to the Livorno coach. In short, if everything is simple in this sense, then the 'ancient' method of the Juventus market is still effective, Allegri's wisdom still relevant.