Cumbre Vieja volcano is still restless. Another eruption took place on Tuesday. Lava infiltrated the ocean and made the water smoke.
Another eruption of the Cumbre Vieja volcano took place on Tuesday. Because of this, the air quality on the Canary Island of La Palma has deteriorated significantly. Volcanic ash from the crater made the air unbreathable. The smoke spreads all over the island and reaches every corner of it.
"The airport has been closed and is likely to remain so for 48 hours due to unfavorable weather conditions," said Miguel Angel Morcuende, technical director of the Spanish committee created to minimize volcanic risk (Pevolca). He urged the residents of Santa Cruz to wear face masks due to the high concentration of sulfur dioxide in the air.
Another lava tongue from Cumbre Vieja reached the ocean around noon, a few kilometers north of where the two previous streams hit the water. Lava enlarges the area of ​​the island near the port in the municipality of Tazacorte.
>>> READ. "Cumbre Vieja volcano devoured San Juan"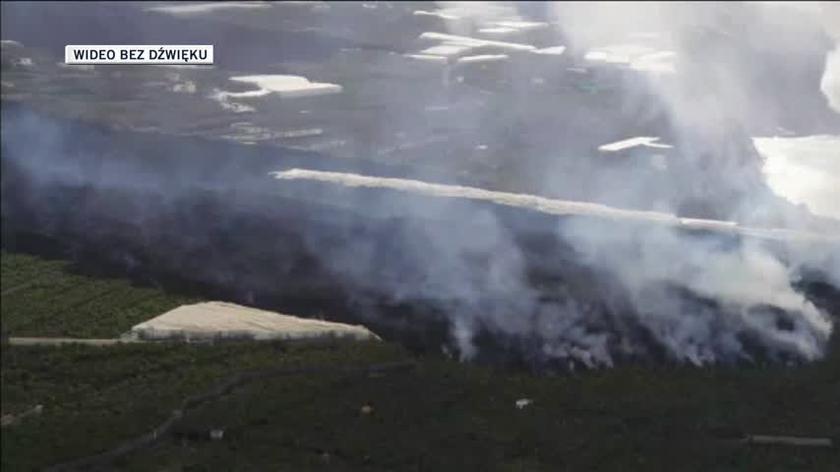 Cumbre Vieja volcano. Destruction on the island
The eruption of the Cumbre Vieja volcano, which started on September 19, caused more than two thousand buildings to be destroyed, and over a thousand of them are residential houses. Lava consumed over 1065 hectares of land. The authorities evacuated about eight thousand residents.
Main photo source: PAP / EPA / MIGUEL CALERO