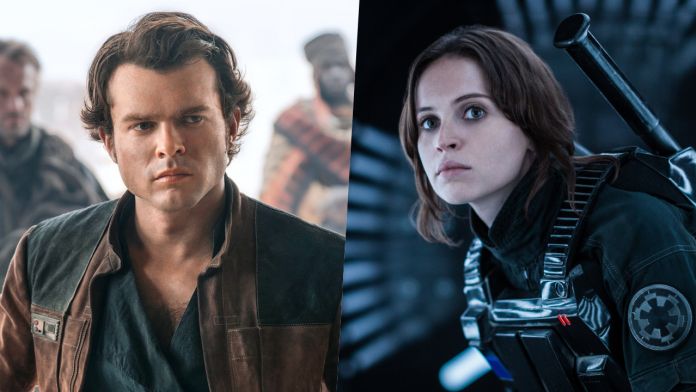 The arrival at the cinema of the sequel trilogy of Star Wars it was interspersed with the distribution of the first anticipated spin-offs of the saga. The acclaimed Rogue One: A Star Wars Story focused on the famous theft of the Death Star plans came in 2016 and was followed by Solo: A Star Wars Storyfocused on the young Han Solo, in 2018.
The latter did not have the expected success, having suffered a certain ostracism from fans since its announcement, net of a final product anything but shoddy. Now four years later the screenwriter of the film Jon Kasdan has revealed that he would be very interested in writing one sequel if Lucasfilm offered him the job:
«I think the motivation to make a possible Solo 2 should be really good but, if there is, I would like to be involved. With the first film we were able to bring many great characters to life. In my opinion, the focal point of any Solo 2 should be the personal journey by Alden Ehrenreich (interpreter of the young Han Solo, ed.) to earn the investiture. And finally I think if she deserved it, and that he deserved to be involved in further films as well. So yeah, I'd love to see it again».
Arrived on the big screen in May of 2018, Solo: A Star Wars Story marks the debut of Alden Ehrenreich as the beloved smuggler played by Harrison Ford in the franchise's original and sequel trilogy. The film quickly became known for its troubled production which led to no-designate directors Christopher Miller and Phil Lord to abandon the project after only four months of shooting citing the choice to unspecified creative differences. Then he took over from them Ron Howard which almost radically changed the final cut of the film.
In the current state of things, a possible sequel to Solo doesn't seem to be Lucasfilm's priority, currently committed to planning the cinematic future of the franchise. Corridor rumors that emerged in January 2022 however reported the development of a series totally focused on one of the key characters presented in the spin-off.
From the outset the prime suspect appeared to be Qi'ra, Solo's romantic interest played by Emilia Clarke. We know how Lucasfilm is also focusing strongly on limited series for streaming, however the rather lukewarm appreciation reserved for the film seems to have definitively precluded the creation of a possible series on the character of Emilia Clarke.
We remind you that Solo: A Star Wars Story is currently available on Disney+.
Photo: MovieStillsDB
Source: CBR
© REPRODUCTION RESERVED