Story
Subaru unveils the new Crosstrek 2023 in Chile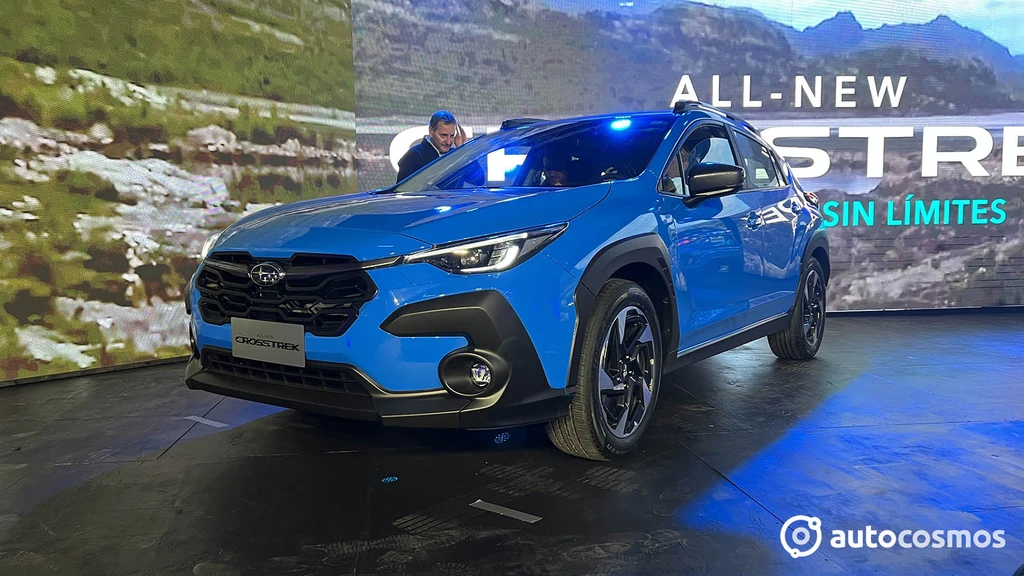 japan firstThen America And now the rest of the world. He The Subaru Crosstrek begins its internationalization and of course that includes Chile.
The Crosstrek, a pun between "crossover and trekking", is no other car than the most recent generation of the Subaru XV, only from now on, the Crosstrek name, which was used in some markets (such as the United States), is now used in all Works for the countries in which it is sold.
Subaru Crosstrek: Evolution
The third generation Crosstrek (not counting the Impreza XV) is, strictly speaking, a deeper variant of the XV that is already sold in Chile. However, the changes are so relevant that they deserve to be the talk of a new generation.
For example, it uses Subaru's famous global platform, but with significant enhancements that go hand in hand with improved soundproofing and insulation technologies, extensive reinforcement work to increase torsional stiffness and strength, improved suspension mounts , and the method for building a new chassis, is called full-inner-frame construction, which involves assembling the car's main structure into the chassis before all exterior panels are placed, rather than assembling the car separately in different areas. This, according to the brand, allows for a more rigid construction as it allows the integration of reinforcements and structures in a more comprehensive way, improving safety in all aspects, as if it were a cage.
Subaru Crosstrek: Dimensions and Design
Length: 4,480 mm

Width: 1,800 mm

Height: 1,600 mm

Wheelbase: 2,670mm

Clearance: 220mm

Load Capacity: 328L
Since the bodywork remains the same, Subaru put its hands on all the exterior panels to give it a more offroad look.
We can spot a new bumper with C-shaped plastic moldings, a new, more integrated hexagonal grille, and smaller spotlights, which are joined by two "wings" from the Subaru logo. There are new character lines on the front doors, a redesign of the plastic wheel arch mouldings, new 3D-effect taillights (Outback-style) and a bulkier bumper with a diffuser and angular shape that looks overdone from certain perspectives, which is a departure Improving the angle of
Despite the fact that the car has grown marginally in length and the wheelbase is a millimeter larger, the trunk capacity has decreased and we do not like it, because the biggest negative point of the model was its size.
As this is the model that is manufactured in Japan, its development is separate from the model that is assembled in the United States, so color options and decorative accents like the expected Jungle Edition are not present; Being a model produced in the United States, its export to Chile is denied.
Subaru Crosstrek: Interior and Equipment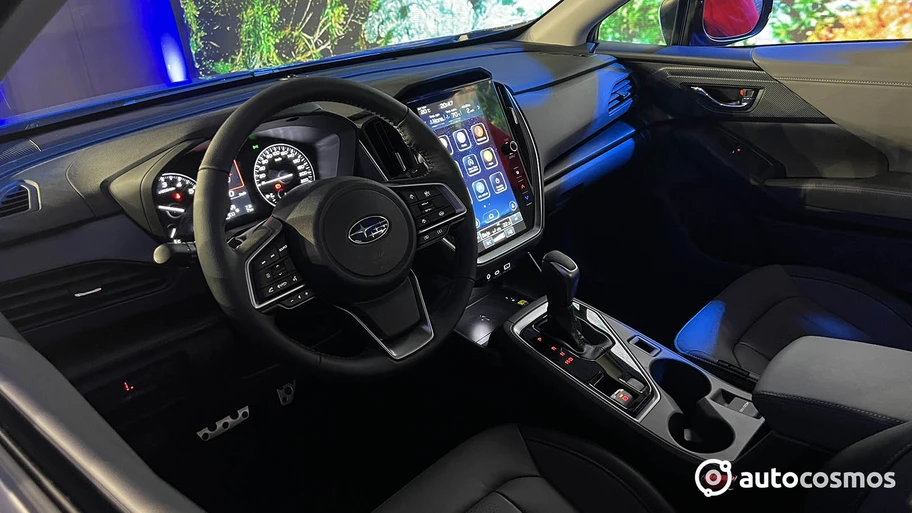 As Subaru has done well in recent times, the interior is technically the same for all its models, with minor adjustments depending on the format of the car. So the main dash is probably interchangeable with the WRX or Outback, though with a new center console where we see a spot for wireless charging, as well as a center console with cup holders and other buttons.
The lower back, in particular, has been redesigned to achieve a more comfortable posture.
Currently Subaru offers three levels of equipment. The base model offers:
full led lighting

bulb washer

Front and rear fog lights

electrically folding side mirrors

electric windows and mirrors

light and rain sensor

17″ wheels

failed

roof bars

Two-axis adjustable multifunction steering wheel

Multimedia system with two 7″ screens

CarPlay and Android Auto

4 speakers

Bluetooth

aux and usb input

reverse camera

dual climate control

keyless access

button start

60:40 Folding rear seats

On-board computer with 4.3″ screen

combo meter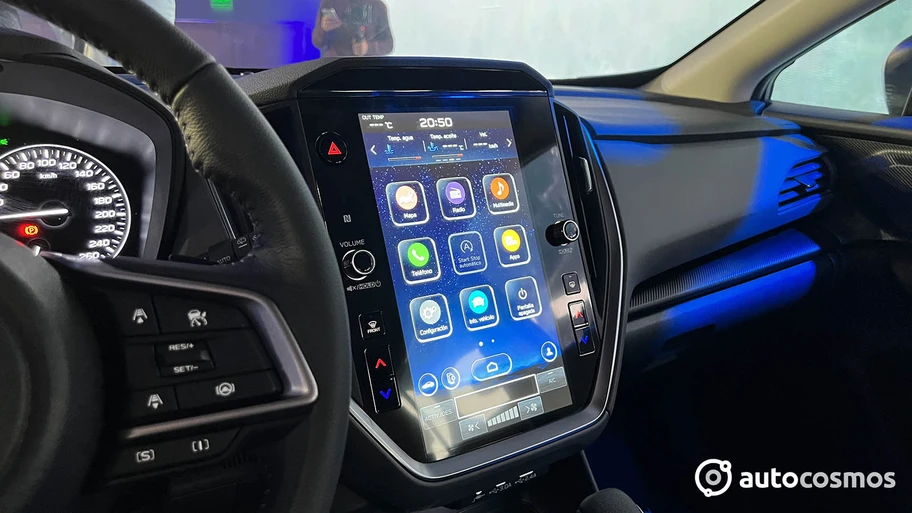 Then adds or modifies the dynamic version:
Steering Sensitive Light System (SRH)

Leather Steering Wheel and Knobs

11.6″ Starlink Multimedia System

adaptive cruise control
Finally the excursion version adds or modifies:
18″ wheels

sunroof

Mirror housing and roof bar in gray for the hybrid version

leather tapestry

power driver seat

GPS

aluminum pedal
Subaru Crosstrek: Safety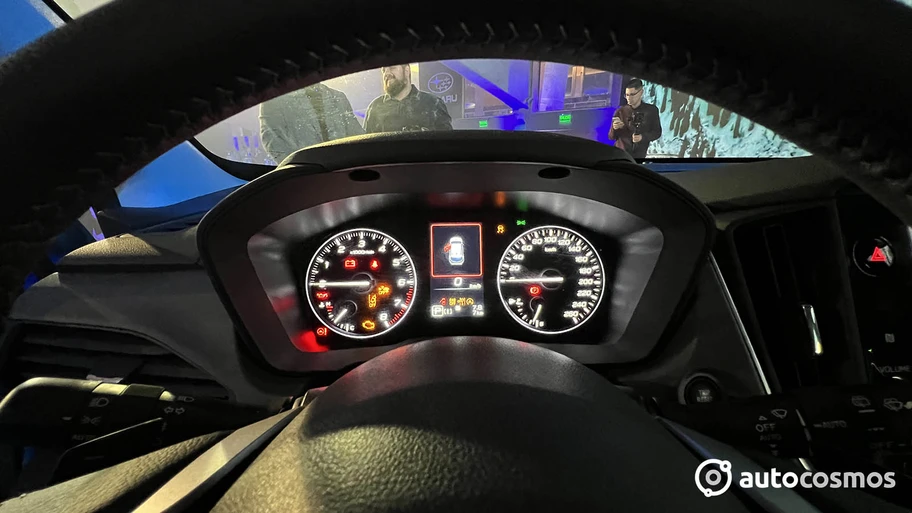 The safety standard is quite high, although of course, only the most equipped versions are left with most of the driving aids.
As standard, all Crosstreks offer
Four-wheel ventilated disc brakes with ABS and EBD

Dynamic Stability Control (VDC)

Active Torque Vectoring (ATV)

eight airbags

isofix

active front head restraints

Electronic parking brake with AVH
From Dynamic trims onwards, the Subaru iSight driving assistance package with stereoscopic cameras is offered. Thanks to the inclusion of a new camera, the system can also help with crash avoidance, aiding in evasive maneuvers if conditions allow it.
automatic braking in reverse

Rear Vehicle Detection System (SRVD)

blind spot monitor

lane change assist

cross traffic alert

Fourth Generation Subaru EyeSight ADAS System:

pre collision braking

pre-collision throttle management

forward vehicle start warning

Lane departure warning

lane sway warning
When the EyeSight system is paired with adaptive cruise control, the Crosstrek, like other Subaru models, can activate the Level 2 semi-autonomous driving system.
Finally, only the Touring model includes the intelligent high-beam system and intuitive center mirrors.
Subaru Crosstrek: Powertrain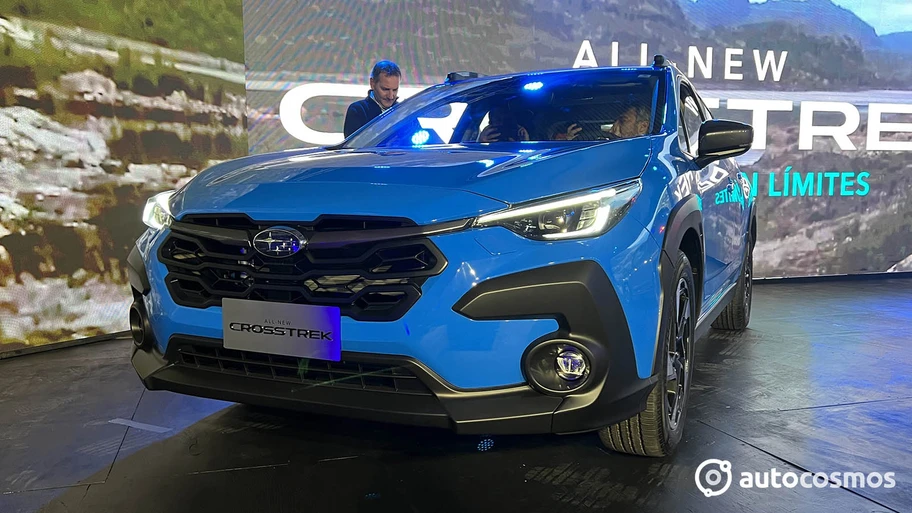 The same two-litre boxer engine has been carried over from the previous model. Since this is a Japan-made Crosstrek, there's no 2.5 option like in the US, but we didn't get the 1.8 turbo either.
FB20: 2 liter four cylinder boxer

dual avcs

direct injection

Makes 156 CV (154 HP) and 196 Nm of torque

198 km/h top speed

63 liters tank
The hybrid version retains the powertrain of the existing model based on the FB20, but with a few changes:
Makes 150 CV (148 HP) and 196 Nm of torque

199 km/h top speed

48 liters tank

12.3 kW 66 Nm Electric Motor

Lithium/ion battery located in the trunk
In both the cases an automatic CVT box is used. Conventional models have an 8-speed manual, while hybrid models only have 7 with a longer box.
Of course, the symmetric AWD system with active torque distribution is equipped as standard, in addition to the Subaru Intelligent Drive program (SI Drive with two driving modes) and the X-Mode traction system in the simple and advanced versions (Touring).
Dynamic improvements include a steering system with electric assist and double pinion, for more direct response, as well as the change of the hydraulic braking assistant to electric.
Subaru Crosstrek: Marketing
The prices are as follows:
2.0 AWD CVT: $24,990,000

2.0 AWD CVT Dynamic: $28,990,000

2.0 AWD CVT Touring: $30,990,000
On the way comes the hybrid version, which has yet to be defined prices but should exceed 33 million pesos.