Story
Teachers present social impact extension projects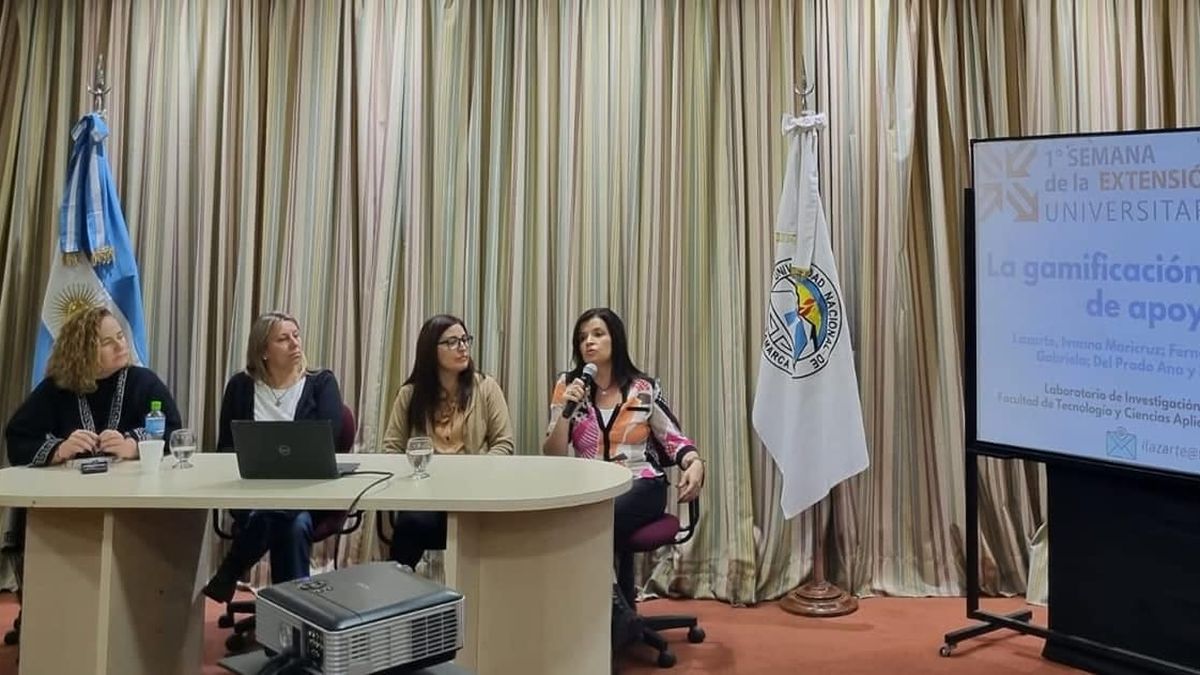 Teachers and researchers of the Faculty of Technology actively participate in the first week of University Extension, which is being developed at the National University of Catamarca with the slogan "The social role of the university in the context of extension" (Sometimes), organized by the secretary of university extension of the house of higher studies.
On Monday Dr. Ivana Maricruz, Mgr. Natalia Fernandez, manager Sofia Gabriela Gomez, manager Ana Maria del Prado and Lic. Daniela de los Angeles Lobos Anfuso, presented "Gamification as a School Support Strategy".
The main objective of the project is to design didactic strategies to support, strengthen and accompany the educational journey of children and adolescents by incorporating gamification into the teaching-learning process of various subjects supported by Information and Communication Technology (ICT). learning resources.
On the same day, "TICS and Robotics: a fun way to Learn", Ing. It was submitted by Paola Beltramini, Mgter. Natalia Fernandez, Oscar Arias, Juan Carlos Tapia, Jose Arganraj, Fernando Gallardo, Mathias Ocampo, Nadir Sousa, Selena Nieva, Axel Martinez, Micaela Aybar, Gabriel Nicolau, Martin Gomez, Bruno Ruartes and Solange Avila.
It includes recreational activities in schools that involve the use of programming and robotics as a motivational tool to encourage the development of skills in students and teachers to handle new Information and Communication Technologies (ICTs). It is about bringing the educational community closer to the world of programming and robotics in an engaging and fun way to facilitate the learning of new technologies.
"Integrating science for a better quality of life in Rincon, Pomán", was in charge of the license. Dr. Nancy Nieva, Lic. Guadalupe Ibanez, Lic. Miguel Nieva, LIC Celeste Luna, LIC Cecilia Pezzolo and students Gabriela Arroyo and Alejandro Castro.
Yesterday, meanwhile, focused on the "Open Access Institutional Repository (RIIA) of the Faculty of Technology and Applied Sciences" as a useful tool for the democratization of knowledge in detail. For this purpose, Megator. Maria Vanessa Doria, Manager. Carolina Flores, Dr. Ivana Lazart, Lic. Ana Maria del Prado, Manager. Maria Isabel Korzeniewski, Licens Daniela Lobos Anfuso and Johanna Ruth Nahir Cruz.
Build bridges and strengthen ties with society
The Dean of the said Academic Unit, Eng. Carlos Savio lists the first week of the University Expansion as "a favorable example to consolidate what is being done, deepen and enhance the aspects that are necessary and to establish a common basis for subsequent coordination and project". Let us establish the vision of working with the same social commitment".
Along the same lines, he added that "it is important to create conditions that allow an exchange of experiences and ideas that enrich projects and programs through which we can build bridges and relationships with society." reinforce the important social work of the university with concrete responses." for community setting".
In this sense, he saved the work of students, graduates, non-teachers, teachers and researchers from the Faculty of Technology and Applied Sciences, who are "protagonists and participants in projects and initiatives with serious, responsible and highly qualified work that contribute to the general welfare". Finally, he highlights that "from our faculty we apply tools and mechanisms to socialize knowledge, working jointly with the public and private sectors", he closed Did.
It should be noted that the National University of Catamarca has Community Extension Centers (CECOES) in different neighborhoods of the capital city. In addition, the faculties and schools dependent on UNCA carry out extension activities at various locations in the provincial region.
yesterday afternoon
Valle Viejo: Police officers put out a house fire
Election
Manzoor and Yunak will keep their candidatures until they receive a final decision from the judges
drug trafficking
Alanis' defense requests extension of investigation
it will be at the end of may
Jury Court rejects Palacios' discharge and arraignment will take place
Time
This Thursday the maximum temperature will be 27ºC
This is to comply with a national law
Direct contracts could be up to $216 million
shooting in the cristo ray neighborhood
Witnesses reported that "Cunino" Vera assaulted "Cachillo" Silva.