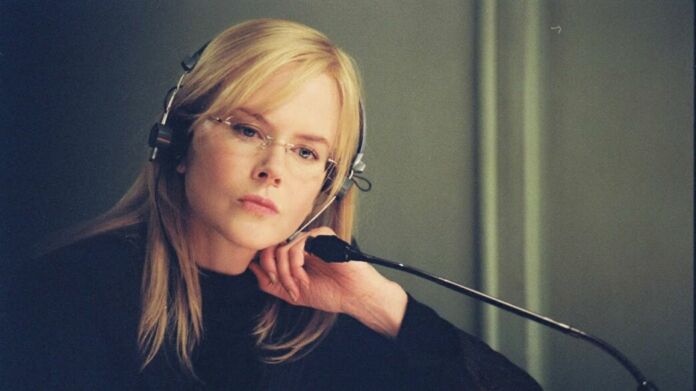 – Advertising –
The Interpreter on La7 Saturday 13 August at 9.15 pm the plot of the film with Sean Penn and Nicole Kidman
Tonight on TV Saturday 13 August on La7 the film will air The Interpreter with Nicole Kidman and Sean Penn, 2005 thriller directed by Sydney Pollack written by Steven Zillian and Scott Frank among others. This is Pollack's last film shot 3 years before his death. This is the first film to have been authorized to shoot in the United Nations headquarters in New York.
At the center of the film is the story of an interpreter who works for the UN and listens to a conversation in which a plan is prepared to kill a leader of a (fictional) African nation. The film was attacked for being anti-Zimbabwe with the state recognizing itself in the description of its leaders. Worldwide it grossed 162.9 million dollars, in Italy it reached 5.7 million euros.
The Interpreter the plot of the film tonight on tv
The Interpeter plot – The protagonist is Silvia Broome who works as an interpreter at the United Nations for the Democratic Republic of Matobo where she was born. The UN is considering indicting President Edmond Zuwanie on the occasion of his speech at the glass palace to wipe out the military regime that has ruled the nation for 20 years and has also carried out serious ethnic cleansing. One day Silvia overhears a conversation and discovers a plot against Zuwanie.
The secret services are involved, including agent Tobin Keller who, investigating Silvia's past, decides to take care of protecting her by establishing a deep bond with her.
Where can I find it in streaming
If you don't want to turn on the TV, you arrived late, or you don't have a television, The Interpreter is live streaming on La7 but will not remain on demand. It is also in the Prime Video, NOW and Sky On Demand catalog and is available for rental and / or purchase on Prime Video Store, Chili, Rakuten Tv, Apple Tv, Google Play / You Tube.
The trailer
The cast
Nicole Kidman: Silvia Broome
Sean Penn: Tobin Keller
Catherine Keener: Dot Woods
Jesper Christensen: Nils Lud
Yvan Attal: Philippe
Earl Cameron: Edmond Zuwanie
George Harris: Kuman-Kuman
Michael Wright: Marcus
Clyde Kusatsu: Chief of Police Lee Wu
Eric Keenleyside: Rory Robb
Hugo Speer: Simon Broome
Maz Jobrani: Mo
Yusuf Gatewood: Doug
Curtiss Cook: Ajene Xola
Byron Utley: Jean Gamba
Robert Clohessy: FBI agent King
Terry Serpico: FBI agent Lewis
Sydney Pollack: Jay Pettigrew
David Zayas: Charlie Russell
– Advertising –