Qhis 2022 will certainly be remembered as the year of the fairytale wedding between Jennifer Lopez and Ben Affleck twenty years after their first engagement. But they are not the only ones to have crowned their love story. Here are the weddings and dresses that made us dream
Who doesn't like weddings? Weddings have always been, in the collective imagination, the maximum emblem of the union between two people who are madly in love. In fact, the ceremonial seems to strengthen that "newly" created bond to the maximum. Just as if a magical touch covered the couple, at least for that day, with that illusion of "they all lived happily ever after" present in every fairy tale and which consoles from the ups and downs of everyday life.
If we then season everything with a pinch of celebrities, VIP guests and newlyweds, dream dresses (no-limits budget) and the social tam-tam, here we all become participants in a unique moment that makes us more positive towards life and towards the future, without fear of being disappointed. This is what happens whenever a celebrity decides to walk down the aisle.
Who are the protagonists of the VIP weddings that have filled with web and social gossip in this 2022?
Jennifer Lopez and Ben Affleck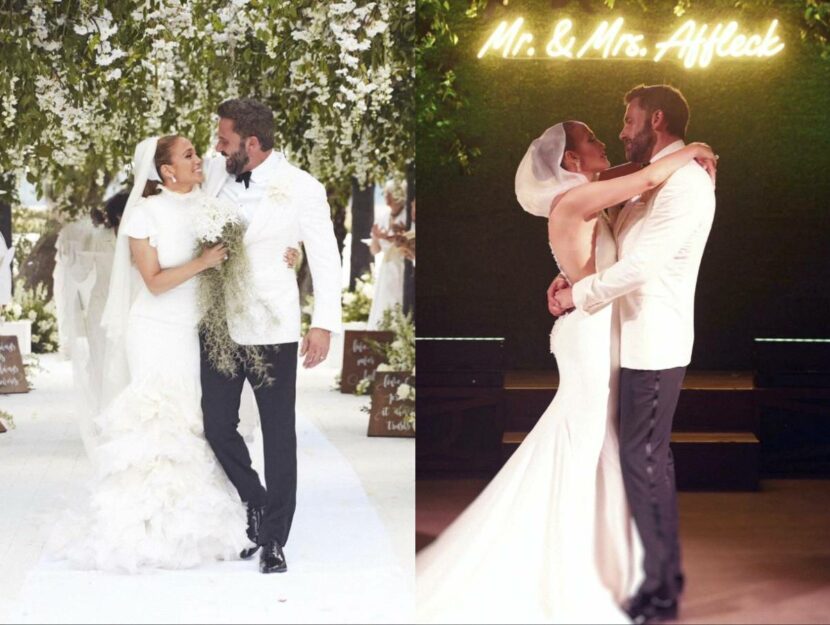 We cannot fail to start from wedding number one, in Nevada: it was very simple and very intimate. Jennifer Lopez and Ben Affleck, both dressed in white, had in fact married in secret on Saturday 16 July in the Little White Chapel in Las Vegas. And very few people attended the surprise ceremony.
The second "yes" was quite the opposite: a lavish three-day, $25 million Hollywood-style event with three outfit changes. All designed by Ralph Lauren: the first column and high neck with a voluminous and romantic skirt with an immense train. The whole is completed by a very long veil. For the reception, Jennifer Lopez wore a mermaid gown featuring a shower of cascading strands of pearls. The latest creation is another mermaid dress, super sexy with maxi neckline decorated with crystals and hood. In short, a real "vision in white", as the new husband declared at the time.
Federica Pellegrini and Matteo Giunta
With a very armored ceremony for 160 friends, the champion Federica Pellegrini and coach Matteo Giunta, together since 2018, have chosen the church of San Zaccaria in Laguna to swear eternal love. Extremely refined in milky white, Federica conquered everyone: without too many frills, enriched only by a giant white flower in her loose hair with soft waves (in Carrie Bradshaw style) and a long tulle veil with embroidery that even covered the train, her Nicole Cavallo size wedding dress has truly enchanted not only the guests but the entire Web.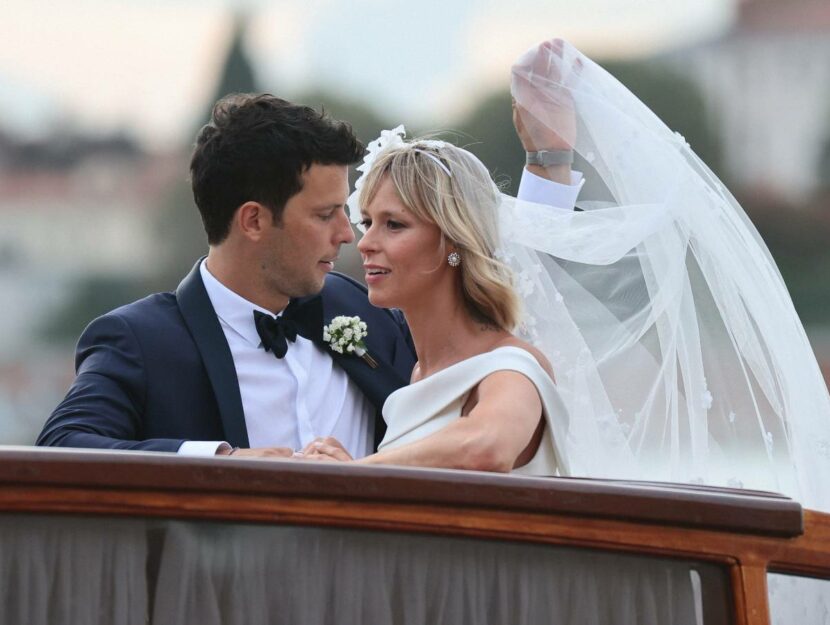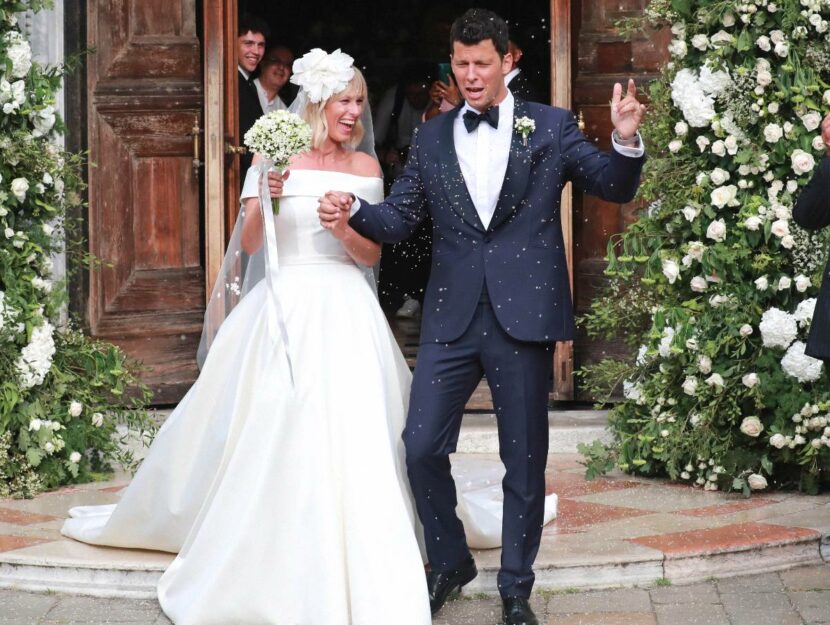 Andrea Pirlo and Valentina Baldini
Second wedding for the former Juventus player Andrea Pirlo, who civilly married his partner Valentina Baldini to the Municipality of Turin after eight years of love. Very elegant in a long white dress with a vintage flavor with a front slit and a bare back, the bride managed to bring tears even to the midfielder who was moved by her seeing her arrive accompanied by her two children.
Brooklyn Beckham and Nicola Peltz
To say yes to her Brooklyn Beckham, the beautiful model and heiress Nicola Peltz dreamed of a fairytale dress that would give her the unique allure of the unforgettable Brigitte Bardot and that modern twist of her lifelong idol Claudia Schiffer.
The mix of the two style icons has succeeded perfectly in the creation signed by Valentino Haute Couture that Peltz wore on April 9 at the family villa in Palm Beach to marry the son of David and Victoria Beckham.
Graziano Pelle and Viky Varga
On July 2, 2022, the former national team player Graziano Pelle he married his beautiful Viky Varga in a very romantic farmhouse in Ostuni made even more magical by the touch of the Wedding Planner Silvia Bettini and the floral arrangement signed by Vincenzo D'Ascanio, flower designer of the stars. The Hungarian model chose three dresses by Atelier Emé for her wedding and asked on social media «Which do you like more? Ceremony, first dance or cake cutting?». We really can't decide, can you?
Kourtney Kardashian and Travis Barker
Kourtney Kardashian and Travis Barker have chosen Sunday, May 22 to get married in Italy, in Portofino. The older sister of the more famous Kim and the musician said "I do" at L'Olivetta, the luxurious villa of the stylists Domenico Dolce and Stefano Gabbana, who also made the wedding dresses. Classic tuxedo for him, perfect Kardashian-style dress for her: Kourtney has chosen a mini dress with cathedral veil, with the image of the Virgin embroidered on it.
Taylor Lautner and Taylor Dome
The sex symbol actor, Taylor Lautnerknown as the werewolf Jacob of Twilightmarried his namesake Taylor Dome on Friday, November 11 in a private ceremony at the beautiful Californian vineyard Epoch Estate Wines.
Britney Spears and Sam Asghari
Britney Spears said "yes" for the third time to her personal trainer Sam Asghari. Together since 2016, the couple got married on June 9, 2022 with a restricted ceremony in the Californian villa of the diva in Thousand Oaks. Among the 60 invited Drew Barrymore, Paris Hilton, Madonna and Donatella Versace, who attended the ceremony…e designed the bride's dress!
Marcell Jacobs and Nicole Daza
The fastest Olympic champion in the world Marcell Jacobs she said "yes" to her Nicole Daza (influencer and model born in Ecuador) in Torre San Marco on Lake Garda. For him, a tuxedo and star sunglasses, for her a mermaid dress in white lace and nude tulle by Nicole Cavallo (the same choice by Federica Pellegrini) and a four-metre long train, symbol of their love story.