On Monday, the country's prime minister Mark Rutte called the recent riots in the Netherlands "pure violence" and called the aggressive demonstrators "idiots". – It was not related to the demonstration of their views – he said and announced that they would be held criminally responsible. Justice Minister Ferd Grapperhaus stressed that the government will not change its strategy to fight the coronavirus "under the influence of the street".
After Friday's riots in Rotterdam, the prime minister did not spare any strong words. – There is a lot of unrest in society, because we have been grappling with the misfortune of the epidemic for a long time. However, I will never accept idiots who use sheer violence just because they are unhappy, Mark Rutte told reporters.
In his opinion, the "sheer violence" faced by the Dutch in Rotterdam and other cities has nothing to do with demonstrating their views. According to the head of government, the police and the judiciary will do everything in their power to find the perpetrators.
WATCH TVN24 ON THE INTERNET ON TVN24 GO
The Minister of Justice Ferd Grapperhaus again referred to last week's riots, who on Sunday blamed the hooligans for the incidents. "The government will certainly not change its strategy to combat the pandemic under the influence of the street," he said on Monday.
Over the weekend, there were riots in many Dutch cities, during which there were clashes with the police. It began in Rotterdam on Friday, when an illegal demonstration by opponents of the government's COVID-19 policy turned into a regular battle with officials.
The police shot aggressive demonstrators. Four people were hospitalized with gunshot wounds. Over 50 protesters were arrested. In the following days, she was also restless in other large cities, where dozens of people were arrested.
A primary school and several cars were set on fire in Roosendaal. In The Hague, policemen were pelted with stones and fireworks. Attacks on officers also took place in Leeuwarden and Groningen in the north of the country.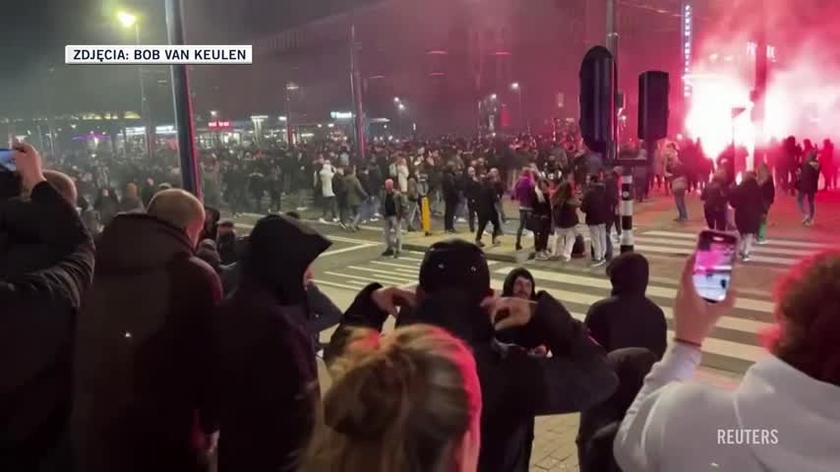 In the 17-million-strong Netherlands, 23,002 new cases of coronavirus infections were reported on Monday. In total, the infection was confirmed in 2 465 288 people in this country. 18,995 people with COVID-19 have died. More than 70 percent of the Dutch population is vaccinated.
Main photo source: PAP / EPA / Killian Lindenburg