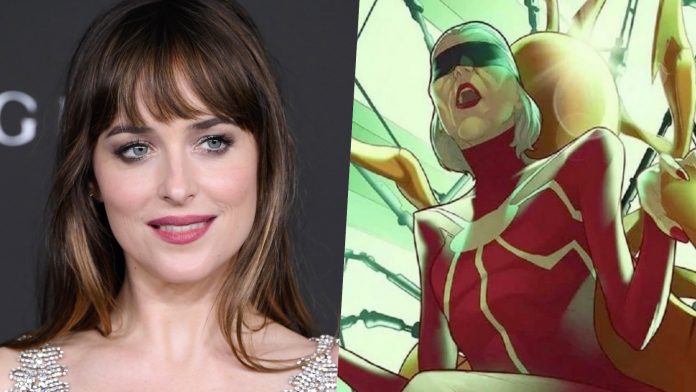 Filming continues unabated Madame Webthe awaited cinecomic of the Spider-Verse which will bring to the big screen for the first time the character created by Denny O'Neil and John Romita Jr. and appeared for the first time on the pages of comics Marvel in 1980. To interpret the protagonist, as announced for some time, will be Dakota Johnsonwhich is supposed to play not Cassandra Webb, but the second incarnation of the heroine Julia Carpenter – although this detail has not yet been officially confirmed.
And after taking a look at the protagonist with her characteristic red coat in the first images from the set, we return to Boston to admire the actress in the new shots that have landed on Twitter in the last few hours, where she can be seen intervening on the scene of a car accident dressed as a paramedic. A unexpected profession which was probably exclusively conceived for the cinematic Madame Web, considering that any of his comic book incarnations has ever done that job.
HERE IS DAKOTA JOHNSON IN PICTURES FROM THE SET
Madame Web will be directed by SJ Clarkson with the screenplay by the trio formed by Kerem Sanga, Matt Sazama and Burk Sharpless. Beyond Dakota Johnson in the role of the protagonist, in the cast of the film has also been confirmed Emma Roberts, which judging by the previous images stolen from the set could lend the face to none other than Jessica Drew aka Spider-Woman. Together with them there will also be Sydney Sweeney, Tahar Rahim, Celeste O'Connor, Isabella Merced, Mike Epps And Adam Scott in roles not yet confirmed at the moment.
Madame Web is only the latest of the projects put in the pipeline by Sony Pictures for its cinematic universe dedicated to the characters close to Spider-Man. Known as Sony's Spider-Man Universe, it has recently seen the release of the controversial Morbius with Jared Letopreceded in turn by the two films on Venom. Among the other titles currently in development there are also Kraven the Hunter and El Muerto.
Madame Web will hit theaters on October 6, 2023.
Photo: Getty Images – Marvel Comics
© REPRODUCTION RESERVED