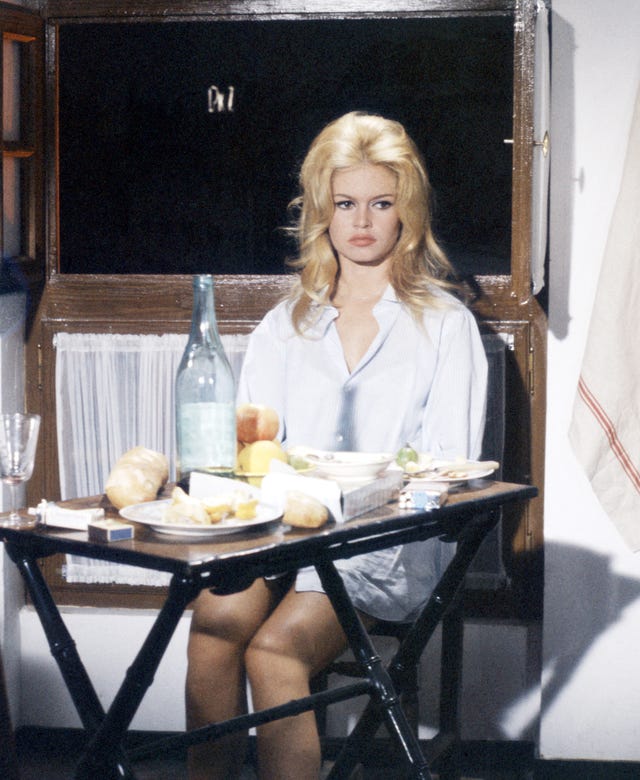 Silver Screen CollectionGetty Images
Now androgynous now sophisticated, at the same time synonymous with independence and boldness, code language of a genuine sensuality and must-have of a classic and timeless wardrobe: historically the prerogative of men of high society, worn by women the shirt button-down reveals a particular charm, which in a game of contradictions enhances its multifaceted, versatile and eternal character. But when did the men's shirt become an essential item of the women's wardrobe? And how many nuances is it able to communicate?
We are in England in the late nineteenth century. Aristocrats delight in playing polo, but there is a problem: the collars of their shirts move too much in the wind, compromising visibility. Thus was born the first shirt button-down of history, whose original design, as the name implies, includes a button to fix the tips of the neck. At the dawn of his existence, he was a purely masculine boss as well as elitist by nature. Wearing a white shirt, which requires a certain amount of care to maintain one's best, meant in fact automatically distancing oneself from the popular classes who certainly could not afford to wash their clothes so frequently. As with many other key pieces of fashion today, it was Coco Chanel who cleared the myth of the shirt button-down for women during the post-war period, when her priority was to create a more functional and practical fashion, looking at casual silhouettes and comfortable fabrics such as cotton and jersey. The same designer will then be portrayed in a white shirt with a masculine cut, combined with a cascade of necklaces for an eclectic touch.
Around the 1940s and 1950s, Hollywood was fascinated by the woman in a shirt and promoted a series of post-romantic heroines who were so self-confident as to reveal the thousand possible shades of such a garment. basic, infusing it with femininity. In the movie Key Largo (1948), Lauren Bacall wears a white shirt taken inside the wide high-waisted full skirt. Her is a sober elegance and at the same time irresistible as unusual: practically her look is the equivalent, revised and corrected according to gender norms, of her male counterpart Humphrey Bogart. Then there will be Ava Gardner who combines it with Bermuda shorts for an androgynous and refined marine style, Marlene Dietrich who gives it a severe charm, Katharine Hepburn who with her chic simplicity lays the foundations for that mixture of elegance and nonchalance that always is pursued in fashion. Basically, the films of this period contribute to forming three different narrative tropes in the collective imagination. On the one hand there is the free spirit, as impeccable in appearance as it is unpredictable in lifestyle: the reference icon is Audrey Hepburn who has infused the men's shirt with more meanings, now showing off a mix of sensuality and a flirtatious air when , still half sleepy in Breakfast at Tiffany's 1961, wanders around the house in a man's shirt and nothing else, implying an independent, nonconformist and aware character of her own femininity, so much so as to question it without it being undermined, now riding a Vespa on the cobblestones in Roman holidays ,1953, in a put emblematic of the fifties, with a straight-cut and slightly oversized white men's shirt plus a full skirt, a graceful and emblematic look of the fifties that, combined with a pinch of irony, forges the character of the respectable, sophisticated but also cheeky and full of life, even outside the box.
On the other hand, the male shirt takes on a more mischievous connotation: it is the cinematic device known as "sexy shirt switch", the one in which the next morning she wears his shirt, hinting – not so subtly – at the liaison just consumed. Not only a way to avoid censorship, but also to portray a new type of woman, free and libertine – at least apparently, because on closer inspection it is only a new form of fetishization of the female body that comes into play. If you look at the eighties advertisements of the men's shirt brand Van Heusen, whose slogan read "For a man to wear. And a woman to borrow", the objectification of women remains evident despite having fallen into the garment-symbol of authority and status. Yet this idea remains a cornerstone of cinema, fil rouge of many unforgettable moments lived on the big screen: Brigitte Bardot, with her wild hair and capricious air, accompanies a glass of wine with a cigarette dressed only in an oversized shirt with thin stripes in Private Deal 1961, Jacqueline Bisset steals James Bond's shirt in Casino Royale, 1967, from Pretty Woman, 1990, a Notting Hill, 1999, Julia Roberts makes it a cornerstone of her characters – strong, independent women, who yet do not entirely escape the male gaze –of course the myth of the post-sex shirt befits the lewd and decadent character of Eva Green in The Dreamers 2003, while in Mr. & Mrs Smith 2005, Angelina Jolie flaunts it with a super sensual simplicity.
There are also implications radical-chic: worn by a woman, the shirt button-down it does not necessarily imply a sexual meaning, at times it is instead linked to the sphere of the intellect. This is the case of Annie Hall in the 1977 film of the same name, where the heroine of Woody Allen created in the image and likeness of Diane Keaton, the actress who plays her, draws a lot from the male wardrobe: between oversized men's shirts, wide pants, vests tailoring and ties, her stylistic choices create the image of an intellectual, cultured and sagacious woman, able to intrigue the mind more than her ostentatious femininity. Another striking example is Uma Thurman's Mia Wallace in Pulp Fiction ,1994, which thanks to the disruptive personality and the air from bad girl has managed to make the simple white shirt and black trouser combo one of the most iconic looks ever. Moving on to the fashion world, Sante D'Orazio's shot that portrays a listless Kate Moss while reading a book in the bathtub wearing only a men's shirt is able on its own to evoke an entire imagination, encompassing all the nuances seen so far. . A versatile, fascinating garment that gives rise to multiple interpretations, even on the catwalk the men's shirt is revived every season, now in tailored looks, now with a more minimalist and street push, now imbued with a sensual connotation. In particular in the nineties it is the quintessence of an essential and spontaneous elegance: Kate Moss anticipates theaesthetic schoolgirl showing off her tailored shirt – buttoned up to the top, sometimes even accompanied by a tie – in the DKNY and Isaac Mizrahi fashion shows, Linda Evangelista for Chanel brings it over with a cascade of colorful necklaces and super tight cyclist-style Bermuda shorts, for Cindy Crawford becomes a kind of trademarkbetween everyday life and runway look signed Calvin Klein, Michael Kors and Ralph Lauren. The latter, together with Yves Saint Laurent, explores the potential of the tailoring feminine, proposing the classic button-down in androgynous, intriguing and sophisticated suits.
In the same years, the masculine cut shirt worn with jeans – even better if Levi's 501 – also became the uniform of choice for the perfect French girl and even eternal style icons such as Carolyn Bessette-Kennedy and Lady Diana have it more times incorporated into their everyday style, officially elevating them to the emblem ofeffortless chic.