Plot
Director: Taneli Mustonen
Cast: Teresa Palmer, Tristan Ruggeri, Toni Tikkanen, Steven Cree, Barbara Marten
Genre: Horror, Thriller, 2022
Duration: 109 minutes
Production: Finland, 2022
Distribution: Notorious Pictures
Release date: July 21, 2022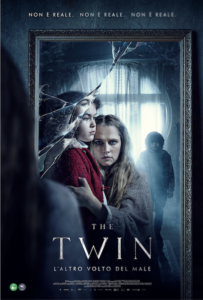 "The Twin: The Other Face of Evil" is a 2022 horror-thriller film directed by Taneli Mustonen, starring Teresa Palmer and Tristan Ruggeri, distributed theatrically by Notorious Pictures. The film tells a story about how denial can crush people and extreme protection of loved ones can end up hurting them more.
During the recording in Finland and Estonia, Teresa Palmer she was pregnant with her fourth child.
The Twin: The Other Face of Evil: the plot
"The Twin – The other face of evil" follows the story of Rachel And Anthony (Teresa Palmer and Steven Cree), a couple who lost one of their twin sons in a tragic accident. To numb the pain, the two decide to move to the other side of the world, and to think only of their surviving son, Elliott (Tristan Ruggeri), in order to somehow overcome the mourning and rebuild a new life. The place chosen for the occasion is the Scandinavian countryside, where initially the days seem to pass by peacefully and the isolation in nature seems to have healing effects on the whole family, favoring their recovery.
This newfound peace, however, is threatened by little Elliot, who seems possessed by an evil entity, bent on taking over his soul. Rachel tries to fight against these dark forces, who claim to be none other than her dead son, but that's how the woman will discover a horrible truth about the surviving twin …
Director's notes
"At its core, The Twin is a story about how living in denial can ultimately crush you. About how protecting loved ones can end up hurting them more. The most destructive prison is the one you build around yourself – yet, within it, you can still be happy. If this isn't pure horror, I don't know what is." Taneli Mustonen, Director and Screenwriter
Trailer