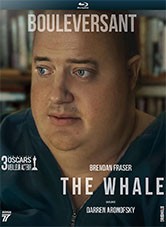 Year : 2022
Director: Darren Aronofsky
Cast: Brendan Fraser, Sadie Sink, Ty Simpkins
Publisher: Original Factory
comics: BD-50, 116′, area B
Gender : drama, colors
Prohibition: all public
Exit : 07/22/23
Price ind. : €19.99
Critical
Technical testing
Picture :
Her :
Bonuses:
Picture size
•
1.33
•
HD 1080p (AVC)
•
9/16
Soundtrack
•
French DTS‑HD Master Audio 5.1
•
English DTS‑HD Master Audio 5.1
Amazon
€19.99
Fnac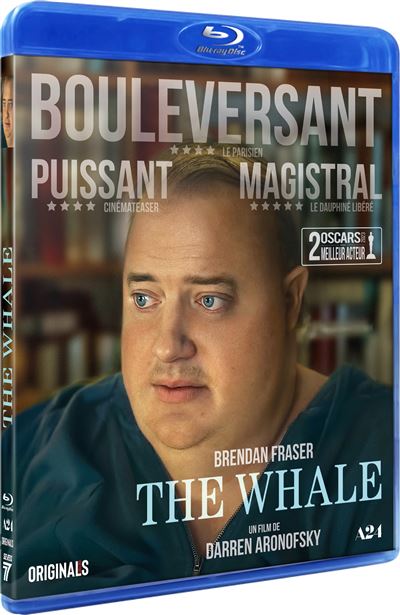 €19.99
Rakuten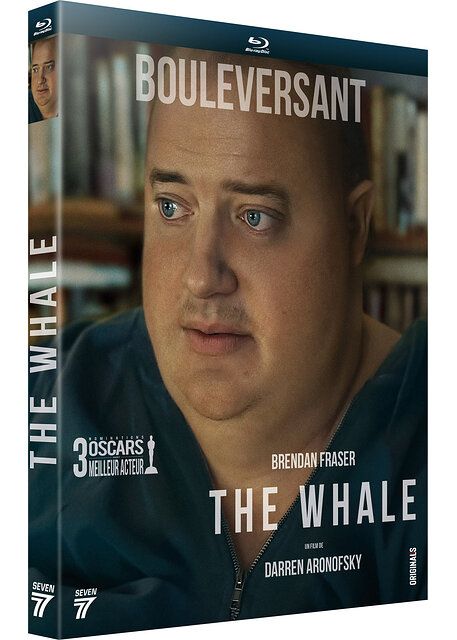 €19.99
Charlie, an English teacher suffering from morbid obesity syndrome and weighing more than 200 kilos, lives recluse at home. Trying to reconnect with his teenage daughter, whom he hasn't seen for a long time, for a final chance at redemption, he invites her to his home…
We might as well warn, we don't get out of a vision of The Whale intact. A film that we also advise you to watch focused and not slouched on your sofa, laptop in hand. Like most of Daren Aronofsky's achievements, it requires special attention from viewers. But usually they don't regret it.
It's quite successful!
The Whale is an experience and a sensory ordeal that will not leave you untouched. The director has chosen a 4/3 format and it is neither insignificant nor an authorist coquetry. No, it involves an even tighter framing of the oversized body (more than 200 kilos) of Charlie (Brenden Fraser) and in fact propels the viewer to the heart of his suffering. A suffering that can be felt even in the very pores of his skin. Without any delicacy, frontally, violently, the camera will seek the stigmata of his physical pain to better bring us into his mental suffering. But little by little, we come to empathize with the character, like his daughter Ellie (Sadie Sink), on the verge of grossophobia at the start of the film.
There is something Christlike in this suffering and this trajectory throughout the film for two hours, the camera will constantly magnify its hero with a halo of light, even if his refuge living room remains in the dark. Nothing is the result of chance in the realization, mastered from start to finish. The director of Requiem for a Dreamof black swan or even of Mother! masters his subject from start to finish and delivers a real lesson in cinema that is both touching, delicate and subtly violent.
A heavyweight actor
But what we will remember from The Whale, it is above all the performance of Brenden Fraser (a well-deserved Oscar). We are really very far from the saga The Mummy (so much the better). The actor, whom we had somewhat forgotten since this one, returns with force and especially in the foreground. It must be said that he was in total symbiosis with his role, both professionally and probably personally. In almost every shot, the actor is totally invested in his role as a depressed whale stranded in his chair. His performance alone is worth watching the film. All the staging is also at his service and his few other playing partners, too. The Whale revolves all around (in the way of possible) around Charlie.
For once, a film based on a play (written by Samuel D. Hunter, who also wrote the screenplay) does not suffer from filmed theater syndrome. On the contrary, this unity of place and this economy of characters reinforce Charlie's feeling of loneliness and imprisonment. The final scene of the film only becomes more touching.
Bonuses
| | |
| --- | --- |
| – | Making of (24′) |
| – | Music: Sound of the Sea (8′) |
In the making of, Samuel D. Hunter, the author of the original play, comes back to this story very close to him. He absolutely wanted to adapt this piece himself without adding anything for the needs of the film. Darren Aronofsky left him the field free. A work of almost ten years.
In the module on music, composer Rob Simonsen explains in particular why and how he used a rather rare instrument, the overtone flute.
Picture
A camera in chiaroscuro where subtle photography plays a major role, illuminating or not certain areas of the image or of Charlie's body. The atmosphere is heavy (it's raining constantly outside) and the tracking shots in the direction of Charlie are suffocating. The shades of brown tints add to the glaucousness which can however, against all expectations, be solar.
Her
Few characters, so a lot of dialogue. But it is above all the notes of Rob Simonsen that we remember, which seem borrowed from the marine universe, from the surf of the sea. A very immersive and bewitching undulation.