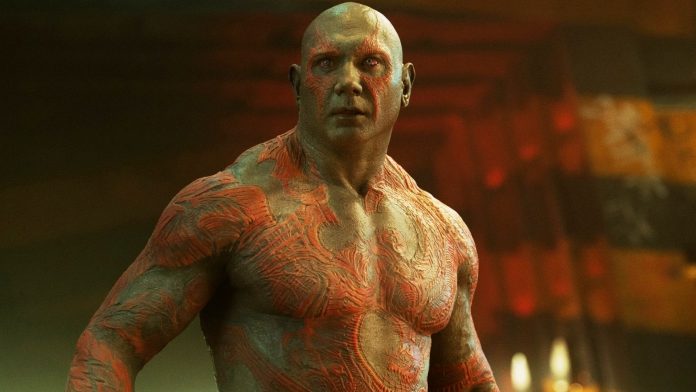 Just yesterday James Gunn revealed to fans that he had finished filming the third volume of Guardians of the Galaxy, proposing a really heartbreaking Twitter post. This is undoubtedly a particularly heartfelt situation, since this is supposed to be the last film with the team of heroes we know – so there is a certain end-of-an-era vibe to it. A sensation also picked up in these hours by the interpreter of Drax, Dave Bautistawho took advantage of social media to say goodbye to his character.
The actor entrusted Instagram with a truly moving post as a description of a photo in the company of some colleagues and the author of the feature film: "I still can't find the words. It ended so suddenly and I was on the set of my next movie that I couldn't process everything. The end of a journey that changed my life".
HERE THE STAR POST (You must be logged in to view it)
Obviously the fans immediately rushed to comment on his words, between those who limited themselves to compliment him and those who still can't believe that it really is the final chapter for the Guardians they met. "I can not wait to see it! I have always loved your character, it will be sad to see you all together for the last time»Writes one user, in the wake of the common sentiment among fans of the MCU.
Not too long ago too Zoe Saldana (interpreter of Gamora) took advantage of an interview to talk about the atmosphere that reigned during filming, reiterating how much fun it was to shoot but, at the same time, that it was a "bittersweet" moment because everyone was always well aware that it would be there. last time for that particular cast.
We remind you that Guardians of the Galaxy Vol. 3 should arrive in theaters in May 2023 and that we will find again in the cast Chris Pratt, Dave Bautista, Bradley Cooper, Vin Diesel, Zoe Saldana, Karen Gillian, Pom Klementieff, Sylvester Stallone And Sean Gunn. Before the final chapter, however, fans of the franchise will have the opportunity to review the team both in Thor: Love and Thunder (out next July 8) and in the Christmas special that will arrive on Disney + in December.
Photo: Marvel Studios
Read also: Guardians of the Galaxy, James Gunn shows fans the real raccoon Rocket is based on [FOTO]
© REPRODUCTION RESERVED