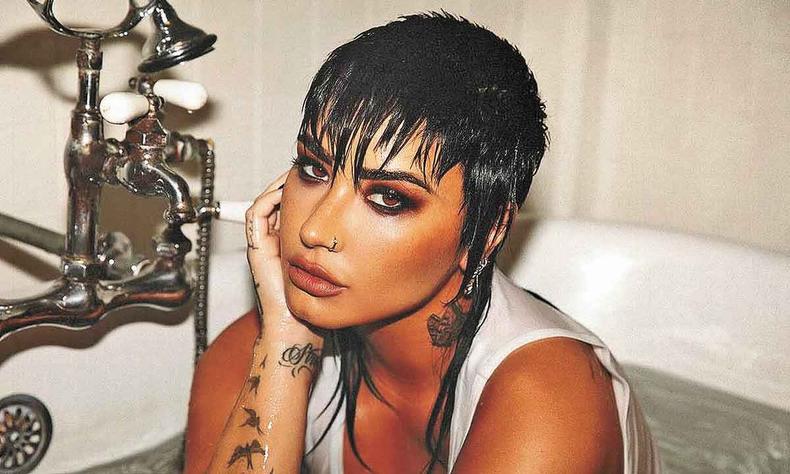 American singer Demi Lovato will perform in BH for the third time, on September 2, at Esplanada do Mineiro. Tickets go on sale this Monday (13/6) for Inter Mastercard customers, and on Wednesday (15/6) for the public, with prices starting at R$ 212.75.
Demi brings the "Holy Fvck" tour to Brazil, promoting her eighth studio album, which will be released in August. In addition to BH, the pop star will sing in So Paulo, on August 30, and in Rio de Janeiro, on September 4, as an attraction at Rock in Rio.
Her first performance in BH took place in 2012, on the "A special night with Demi Lovato" tour, right after the release of the album "Unbroken". In 2014, she returned to the capital of Minas Gerais during the "Neon lights tour", which promoted the album "Demi".
POP FUNERAL
This time, she bets on rock – she even announced, on Instagram, the "funeral" of her pop music, posing next to the manager and the Island Records team, all dressed in black.
The pop sound has marked the career of Demi, 29, since the age of 15, when she caught the eye in "Camp Rock" (2008), a Disney film.
Last Friday, the single "Skin of my teeth" arrived on the platforms. In the clip, she is threatened by a nasty stalker, whose "weapon" is a camcorder. Demi appears playing guitar, dressed in black leather.
Demi's latest album, "Dancing with the devil… the art of starting over", was released in 2021, accompanied by the documentary of the same name, which addresses difficult moments in her trajectory, such as involvement with drugs, overdose and the rape she suffered as a teenager. , when he was part of the Disney cast.
The singer classified the album "Holy Fvck" as "the best so far". She wrote on her Instagram account in May that she is proud of the new work: "It represents me a lot: where I started and who I am today."
In a message to fans when posting the song "Happy Ending", she said that even though she wrote the song in a dark moment, she feels "grateful" for not being "in that low, cold and lonely place". And she added: "I'm sure it doesn't matter what happens in my life. My happy ending will never have to fall into old habits again."
Almost a year after declaring herself a non-binary person, who does not identify with the female and male genders, Demi recently revealed that she accepts being addressed with female pronouns. On her Instagram, she warned that she responds in the same way when referring to her as "they", a neutral pronoun, and also "she" and "her" (she and her).
DONATE
The production of the tour said that each ticket sold will be donated US$ 33 (about R$ 160) to a charity chosen by the pop star.
"I'm very happy to be back on the road after four years without touring, especially since my last tour in South America," Demi said in a statement.
"We are working hard to deliver an incredible show to all my fans."
The tour starts on August 13th in Springfield, USA, and ends on November 6th in Irving, Texas.
So far, there are 31 shows in the US, Brazil, Colombia, Argentina, Chile and Canada. (with essay)
DEMI LOVATO
"Holy fvck tour". Show on September 2, at 8:30 pm, at Esplanada do Mineiro, in BH. Whole: R$ 745.50 and R$ 425.50, with half-price as required by law. Today (13/6) and tomorrow (14/6), pre-sale for Inter Mastercard customers, from 10 am, on the website www.eventim.com.br and at the official box office (Rua Alagoas, 1.314, store 20C , Savassi). Sales to the public starting this Wednesday (15/6), in the same locations. Tour information: www.livenation.lat.