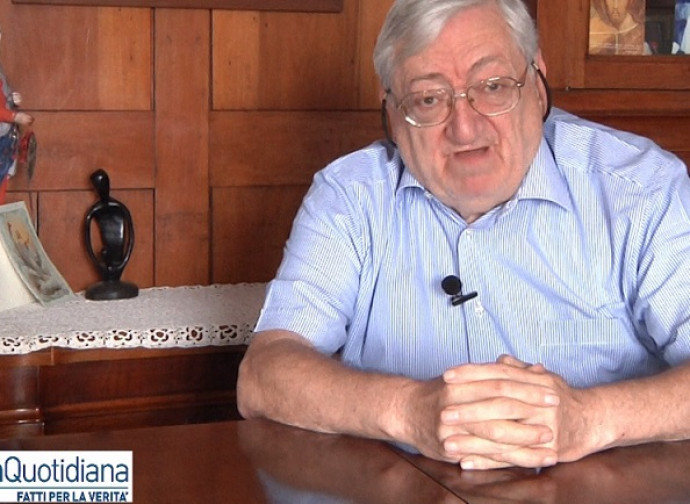 Leandro Aletti died yesterday on the day of the Assumption at the age of 77. The gynecologist was one of the main Italian activists in the field of the defense of nascent life. Born on 17 June 1945 and graduated in Medicine, since 1993 he has been professor at the Second Obstetrics and Gynecological Clinic of the University of Milan and hospital doctor at the Mangiagalli Obstetric Clinic in Milan. In 1999 Aletti became primary hospital at the Melegnano Hospital. The funeral will take place tomorrow at 11 in the church of Sant'Andrea in Milan. The memory of the compass in the words of Benedetta Frigerio.
I imagine you being welcomed on the threshold of Heaven from little Leandro ("In the world there is room for everyone", The New Daily Compass), so baptized by you, survived the abortion for a few hours and transported from the basket of a delivery room to a warm cradle where you had ordered it to be quenched until death. I think of you with him and surrounded by other unborn children, as you finally hug your son Stefano, sixth of eight, for whose premature death you have suffered so much.
But above all I rejoice, even with the tears of nostalgiaknowing that now you are face to face with the One you have wanted to serve without stopping or compromising throughout your life: "Come, blessed of my Father – says Jesus – inherit the kingdom prepared for you since the creation of the world, because I was hungry and you gave me food, I was thirsty and you gave me drink … ".
Never comfortable in this giving of yours, Leo, as someone who has nowhere to rest his head, if not on the breast of Mary, Our Lady, whom you loved so much, and your faithful wife who followed you with so much dedication, discretion and intelligence in your mission. Which was that, as you reminded me every time you phoned me or we saw each other, of "loving Jesus … is the most important thing in life " and that for you it coincided above all with the fight against abortion ("what do you want me to tell you, if God has put this goad inside me what can I do? "you reminded me when I complained if I felt lonely or not understood).
Never quiet Leo, a constant sign of contradiction, unpresentable to parlor Catholics who are unable to abandon the worldly logic of the so-called "lesser evil". What you taught me not to go along with, explaining that there are things, like life and death, that can never be put to a vote, and intrinsically evil things. It is from you that I learned the meaning of "non-negotiable principles", from you I understood that the Catholic Dat ("living will") does not exist, that assisted fertilization should not be supported even in a referendum in the name of the so-called "stakes" that should have stemmed the "far west": "Once we accept them, we admit that fertilization is somehow legitimate and so soon we will return to wild fertilization", you explained to me while you got angry because you were sure that the battle referendum conducted by the CEI would have led many Christians to believe that the "homologous test tube" was moral. You were the first one to think so but I knew you were right. And now reality proves it.
Man, the image of God, was not to be reduced by any power, for all this I have seen you stand up countless times. Not only when you came to the watch of the Sentinels against the Scalfarotto Bill, but also when you went to the square to pray for Christians persecuted in the Middle East: with Maria you took public transport and crossed Milan in any climatic condition just to recite a Rosary. , showing a younger heart than many young people.
I saw you get up at a convention organized by a woman who saved so many lives in her lap but who spoke of a necessary "correct application" of 194 without however fighting to abolish it: despite being her friend, you had the courage to tell her, in front of an audience that hailed her, that she was wrong. I don't know how much it cost you (HERE his video for the Compass)
I saw you leave to reach an Italian church who hosted Emma Bonino to talk about immigration (covering the tabernacle) only to tell her that the first welcome is that of children who come into the world. You chased her, showing that the King was naked, despite those present shouting at you to shut up. I have seen you say uncomfortable things in the midst of crowds of respectable Catholics, who, to get rid of the embarrassment, reduced your love for the Truth to bizarre. I've seen you raise discussions about death even within your beautiful family (which says so much about the man, husband and father you are).
I imagined you speaking against abortion to a determined woman to kill the fruit of her womb even knowing it would cost you your job or yet another trial. And when I once asked you if you were not tired, if the thought of your numerous offspring did not occur to you, like a child you answered me again: «And what should I do?», As if to say that you could not act otherwise. And I understood that you were not afraid (how many times have you repeated to me "do not fear …") because you were certain that "the truth unites".
In fact, in you the truth was always full of charity. You judged facts and deeds, like a sword you shared them by imitating your friend Chesterton, but never people. In your home, together with your wife you have always welcomed all sorts of sinners and needy people. I was one of them. And I consider myself privileged to have been so preferred by you and Maria, for having spent several years at the table (and what tables!) With you discussing our private and social life, for having often received yours phone calls in which you helped me to judge what was happening in the light of faith, sometimes, when I was suffering for something, you also made me pray.
I am also proud that you were one of the first people to take me in your arms, when together with my father, like you, a gynecologist and your partner in the first battles, you were present at my mother's birth. Just after my birth you left for the Vatican, where you handed Ratzinger together with dad the dossier with the studies on the Medjugorje seers conducted by him.
We haven't seen each other for years, then one day your call and your invitation to dinner, following the publication of one of my first articles as an apprentice journalist. Immediately after there was my personal encounter with Medjugorje, then my struggle for life. I like to think that your presence at birth is not a coincidence but the sign of your spiritual fatherhood and the piece of a mosaic that united us in the same battle (you repeated with Paul VI that "a non-Catholic thought will prevail in the Church, but a small flock will have the task of courageously witnessing the truth of the human being "). Only when I think that God has loved me through people like you can I believe that maybe I am worth more to him than I think.
In fact, go up to Heaven immediately after Amicone and Negri, two other warriors (dear friends of ours) who have marked my existence, although I can say without a shadow of a doubt that among the fathers that God has given me you are certainly the one who most touched my adult life, my profession, my vocation: if I hadn't met you again today I would not be who I am, nor would I write what I write. With you I understood that following the Church does not mean interrupting the use of reason, that in order to serve God one must suffer misunderstanding, but that it is worth it: I am reminded of the growing feeling of freedom I experienced as the number of people visiting your house increases. … slowly, slowly he helped me to lay down the burden of paralyzing clericalism.
You were a sight Leo, because you were free and you didn't have fear of your limits or of making mistakes. You were like that because you always looked at Jesus, literally like a child who is not afraid of defects and falls because he is certain of the constant presence and infinite love of his father. And so you gave me security too (I know you saw how much I needed it).
Finally, thank you for always acting as if you were defending the womb of the Madonnawhich "is my mom", as you wrote in your wonderful book Meat, Bones, Muscles and Tendons (to read and reread), and that he took you with him on the day of his assumption into heaven. Covid, your illnesses, those of my children, have prevented us from seeing each other, if not sporadically, in the last two years and also in these days, but as I was able to tell you a few days ago on the phone: "Thank you Leo for all that you did … for what you did for me, you are one of the most important people in my life, I am close to you praying ». You tried but you couldn't answer me, but Maria told me that you raised her arm and that I had to understand what you wanted to tell me. Your shape came in front of me that dozens of times raised her arm above her, saying to me: «Come on, come on …». "Okay Leo, I'm going ahead!" I shouted at you from the receiver. Go on with you, now by my side more than ever.