Rai 3 proposes the documentary D'Annunzio – the man who invented himself. On Rete 4 the latest episode of Dritto and Rovescio.
Tonight on TV on Thursday 23 June 2022. Rai 2 proposes the comedy film Copperman. On Italia 1 instead comes the new season of the show FBI: Most Wanted.
Tonight on TV on Thursday June 23 2022Rai programming
Rai 1, at 9:30 pm, it airs Don Matteo 12 with Terence Hill. In Honor your father and mother A man shows up in Spoleto who claims to be Natalina's father, whom she has never met. After the initial distrust Natalina becomes more and more fond of him. Don Matteo, however, is convinced that the newcomer is hiding something.
On Rai 2, at 9.15 pm, the 2019 drama film will be broadcast, Copperman with Luca Argentero. Anselmo is affected by autism and although he has now grown up, he continues to observe the world around him with the eyes of a child. One day he decides to transform into Copperman to eliminate all the bad things in the world. However, the undertaking will not be easy.
Rai 3, at 21.25, it broadcasts the documentary film of 2022 by Giordano Bruno Guerri, D'Annunzio- the man who invented himself. The political, literary and human history of Gabriele D'Annunzio, born in Pescara in 1863 and died in Gardone Riviera in 1938, is told through reconstructions and rare images.
Tonight on TV on Thursday June 9 2022Programs, Mediaset films
On Network 4at 21.20, the last episode of Obverse and Reverse. Paolo Del Debbio deals with the Di Maio affair and the split of the 5 Star Movement. But also rights of the LGBTQ + community and violence among young people. Among the guests Antonio Maria Rinaldi, Marta Collot, Barbara Lezzi, Daniela Santanché, Gianfranco Librandi and Monica Cirinnà.
Channel 5at 21.25, he sent the reply of Jokes asidewith Enrico Papi. Let's review the episode in which the victims of the joke were Elettra Lamborghini, Giorgio Mastrota, Rocco Siffredi and Elenoire Casalegno.
Italy 1at 21.25, the show is broadcast FBI: Most Wanted with Julian Mcmahon. In the episode Blind Anger FBI agents must stop two snipers who are wreaking havoc in the city. It is a boy who was orphaned by Covid who took his parents away and a man who lost everything due, always, to the pandemic.
In the episode Playerthe team must trace the true identity of a hacker who sent a car off the road killing the three people who were in the vehicle, managing to access its electronic control panel.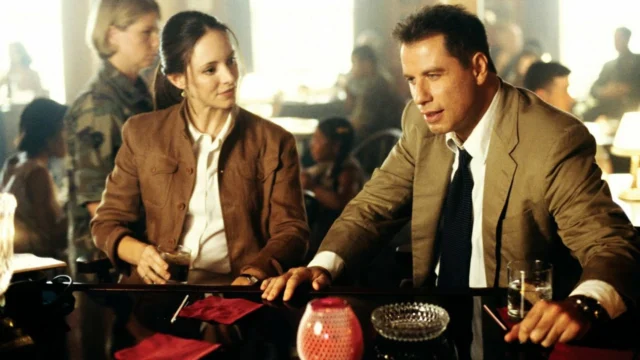 Tonight on TV, La7, Nine
On La7at 20.35, the 1999 thriller film airs, The general's daughter with John Travolta. NCO Brenne investigates the heinous murder of Captain Elizabeth Campbell, daughter of the well-known general "Fighting Joe". During the research he will be able to discover disturbing truths.
Nineat 21.25, broadcasts the comedy film of 2009, The hard truth with Gerard Butler. To improve the fortunes of her program, which risks closure, television producer Abby Richter finds herself forced to hire male chauvinist Mike Chadway. The two initially can't stand each other but will eventually fall in love.
The movies on tonight Iris, Rai Movie, Italy 2
Irisat 21.00, airs the film war of 2002, We were soldiers- Until the last man with Mel Gibson. Vietnam 1965. Colonel Moore follows his men into the war against the Vietcong in the La Drang Valley. However, many soldiers will lose their lives.
Rai Movie, at 21.00, broadcasts the 2013 thriller film, Killing Season with John Travolta. Benjamin Ford is a former soldier who retreated to the Appalachians in North America. One day he meets Emil, a European tourist. He does not know that the latter is hiding a secret.
Italy 2at 9.15 pm, instead proposes the horror film of 2007, The deaths of Ian Stone with Mike Vongel. One day the young Ian is attacked and falls on the tracks just moments before the train passes. But something unexpected happens. In fact, he wakes up in a new life to be killed once again.
Tonight on TV on Thursday June 23 2022film broadcast on Sky
Sky Cinema Oneat 9.15 pm, broadcasts the comedy film of 2022, The perfect dinner with Greta Scarano. Carmine has chosen to open a restaurant to launder the money of the Camorra. He hires young Consuelo as a chef, who is very dedicated to work. Both of their passion for cooking will help them redeem themselves.
Sky Cinema Due, at 9.15 pm, proposes the fantastic film of 2016, Seven minutes after midnight with Liam Neeson. Twelve-year-old Conor sees from his window every night a giant monster that he believes he has conjured up himself. The latter tells him daily fantastic stories that fascinate him.
On Sky Cinema Family, at 9.15 pm, the 2016 comedy film is scheduled, Suddenly Family – Instructions not included with Omar Sy. The life of bachelor Samuel is completely turned upside down when his ex decides to entrust him with her daughter. Over time he will discover that he has a strong paternal instinct.
On Sky Cinema Action, at 21.00, the 2005 detective film airs, Chaos with Jason Statham. Five criminals break into a bank taking employees and customers hostages. They only want to deal with Inspector Conners being called back to duty after being suspended.
Sky Cinema Suspance, finally, at 9.00 pm, he proposes the drama film of 2021, Behind the night with Roberta Giarrusso. Giulia, Elena, Bruno and Marta remain involved in a dangerous affair in a night that is destined to be full of twists and turns.