On Rai 1 the fiction Imma Tataranni- Deputy Prosecutor 2. On Canale 5 a new appointment of GF Vip 7 with Alfonso Signorini.
Tonight on TV on Thursday 6 October 2022. Rai 3 broadcasts the first episode of the miniseries Flesh and Blood. On Italy 1 instead the action film airs Red Sparrow with Jennifer Lawrence.
Tonight on TV on Thursday 6 October 2022Rai programming
Rai 1, at 9:30 pm, broadcast the fiction THEmma Tataranni – Deputy Prosecutor 2 with Vanessa Scalera. In the episode Angel or devil Romaniello decides to provide valuable information to Imma that can help her arrest the head of the Mazzocca clan. In return, however, he demands freedom. Meanwhile, Imma has to deal with a murder that took place in the nursing home where her mother lives. In fact, the body of a dear friend of Brunella's was found lifeless.
On Rai 2, at 9.15 pm, the 2020 comedy film will be broadcast, The kingdom with Stefano Fresi. Giacomo works as a driver and one day he learns that his father, with whom he broke off relations years earlier, bequeathed him the throne of a para-medieval kingdom. Giacomo thus finds himself at the head of this secret community where technology does not exist, where his own laws are in force and where his own money circulates.
Rai 3, at 21.25, it broadcasts the first episode of the miniseries Flesh and Blood with Francesca Annis. Vivien, widowed, falls madly in love with Mark. When she decides to let her children know Helen, Natalie and Jack, she is surprised by their reaction as they choose to welcome him into the family. But soon the three brothers begin to suspect that the man is only interested in his mother's inheritance.
Tonight on TV on Thursday 6 October 2022Programs, Mediaset films
On Network 4at 21.20, goes on the air Obverse and Reverse. Paolo Del Debbio it deals, among others, with the formation of the new Government and the future of the Citizenship Income. Guests Elisabetta Gardini, Anna Maria Bernini, Paola De Micheli, Luigi De Magistris, Augusta Montaruli, Silvia Sardone, Paolo Ferrero, Chiara Appendino and Marta Collot.
Channel 5at 21.25, broadcasts a new appointment of the reality show GF Vip 7 with Alfonso Signorini. The conductor deals with the dynamics that take place inside the most spied on house in Italy with the support of commentators Sonia Bruganelli and Orietta Berti.
Italy 1at 21.25, airs the action movie of 2018, Red Sparrow with Jennifer Lawrence. Russian dancer Dominika is forced to leave dance after an injury that no longer allows her to dance. Her uncle Ivan, an important member of the Russian secret services, slowly manages to convince her to become a spy who will work alongside her. After a long training Dominika will face a dangerous mission.
Tonight on TV, La7, Nine
La7at 20.35, broadcasts A clean sweep. Corrado Formigli continues to deal with the results of the election campaign and its repercussions. Space also for an analysis of the international crisis. The most relevant facts in politics and economics are commented by guests in the studio and in connection.
Nineat 21.25, broadcasts Only Fun- Comico Show. Elettra Lamborghini ei Panpers kick off the second edition of the program dedicated to comedy. On stage Dario Vergassola, Riccardo Rossi, Giovanni Vernia and many others.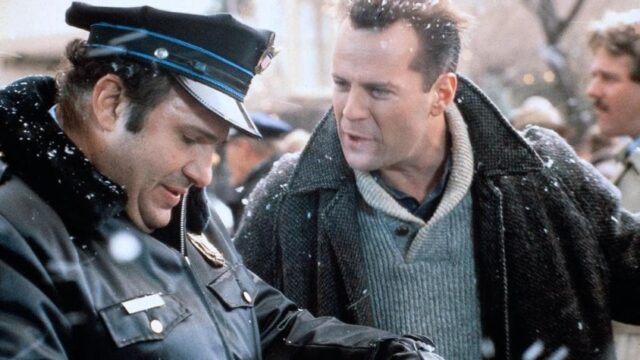 The movies on tonight Iris, Rai Movie, Cine34
Irisat 21.00, airs the 1990 action movie, 58 minutes to die with Bruce Willis. McLane is at the airport waiting for his wife to return from her trip. During the wait, however, he finds himself facing criminals who want to free a drug trafficker.
Rai Movie, at 21.00, broadcasts the 1969 western film, Butch Cassidy with Paul Newman. Butch and Sundance are two ruthless outlaws forced to leave the United States because some men from the Pinkerton agency are on their trail. When they arrive in South America they will resume stealing from banks but unexpected events will happen.
Cine34at 21.00, proposes the comedy film of 2019, But what does the brain tell us with Paola Cortellesi. Giovanna is a secret agent and is obliged to hide her true profession from everyone. During a reunion between former high school classmates, she decides to fight back against her bullies.
Tonight on TV on Thursday 6 October 2022film broadcast on Sky
Sky Cinema Oneat 9.15 pm, broadcasts the comedy film of 2019, If you love me with Claudio Bisio. Diego is a depressed lawyer who also attempted to take his own life. Everything changes when he meets Massimiliano who confides in him the solution to overcome his problems. He must do good to all his loved ones.
Sky Cinema Due, at 9.15 pm, proposes the thriller film of 1964, Marnie with Sean Connery. Rich Mark Rutland falls madly in love with his secretary Marnie who decides to become his wife. After the marriage, he realizes that the woman is suffering from psychiatric disorders. He will do everything to find out the causes.
On Sky Cinema Family, at 9.15 pm, the comedy film of 2003 is scheduled, A daydream with Sam Smith. London 50s. An 11 year old boy has a strong passion for criket. His new neighbors, who hail from Jamaica, are very skilled in the sport and decide to give him lessons.
On Sky Cinema Action, at 21.00, the 2004 thriller film airs, Collateral with Tom Cruise. A killer arrives in Los Angeles because he has been entrusted with the task of killing 5 people. Once he gets into a taxi, he forces the driver to be his guide. In the course of events, the roles of victim and executioner will end up getting confused.
Sky Cinema Suspance, finally, at 9.00 pm, he proposes the drama film of 2006, Perfume – Story of a murderer with B. Paris XVIII Century. Grenouille is gifted with an exceptional flair and for this reason he becomes an excellent perfumer apprentice. He's obsessed with distilling the essence of women. To do so, however, he is forced to kill them.