On Raiuno, the romantic film Pattini d'argento, with Fedor Fedotov, Sofja Priss. On Rete 4, current affairs with Zona Bianca, a program conducted by Giuseppe Brindisi.
Tonight on TV Tuesday January 3, 2023. Up Raitrethe comedy film Sister Act – A nut in nun dresswith Whoopi Goldberg. Up Iristhe western movie The Mud Maskwith Gary Cooper.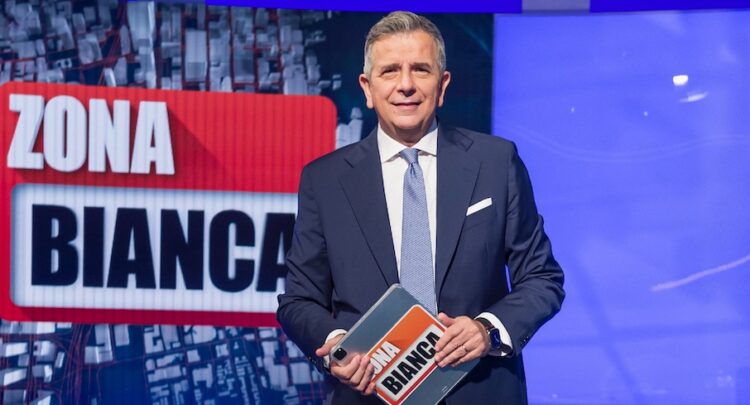 Mediaset programs, Real Time
Up Network 4at 21.20, the news with White area. First episode of 2023 for the program of Joseph Brindisi, which tonight reviews the hottest topics in politics and the economy that will characterize the Italian and international scene in the first months of the year. All while avoiding the too bright tones that characterize other talk shows.
Up real-timeat 21.20, the reality show First date. The new edition of the program is underway Flavio Montrucchio trying to make love strike on the first date. Among the singles in this episode there are Hugo and Asia, Mario and Lucia, Michael and Jade, Mauro and Laura.
Tonight on TV January 3, 2023 – the movies
Up Raiunoat 21.25, the romantic film of 2020, by Mikhail Loksin, Silver skateswith Fedor FedotovSofia Priss. Russia, 1899. Very skilled on skates, Matvej (Fedor Fedotov) works as a delivery boy but gets fired. Out of desperation, he then joins a gang of petty thieves, who use skates to escape after the thefts. But one day the boy meets Alisa (Sofia Priss), daughter of a minister, and falls in love.
Up Raidueat 21.20, the action film of 2019, by Elizabeth Banks, Charlie's Angelswith Elizabeth Banks, Kristen Stewart, Naomi Scott. Third film inspired by the famous TV series of the 70s and 80s, it tells the adventures of a new section of the Townsend detective agency, made up of three highly skilled agents: Sabina (Kristen Stewart), Jane (Ella Balinska) and Elena (Naomi Scott). Together they must foil an international conspiracy.
Up Raitreat 21.25, the 1992 comedy film, by Emile Ardolino, Sister Act – A nut in nun dresswith Whoopi Goldberg, Maggie Smith, Harvey Keitel. Singer Deloris Van Cartier (Whoopi Goldberg) sees her lover, Mafia boss Vince La Rocca, commit a murder. Threatened with death, she asks for help from the police, who push her to hide in a convent until the date of the trial. Thus Deloris becomes Sister Maria Claretta.
Up Rai 4at 21.20, the 2013 adventure film, by Brett Ratner, Hercules: the warriorwith Dwayne Johnson. The demi-god Hercules wants to end a bloody war and reign over Thrace again. But to realize his dream he will have to face a thousand dangers and villains of all sorts.
Up Rai 5at 21.15, the musical film of 2016, by Damien Chazelle, La La Landwith Ryan Gosling, Emma Stone. Sebastian, a jazz musician, and aspiring actress Mia meet in Los Angeles where they moved to seek their fortune. Love is born between them, but they have to deal with their ambitions.
Up Rai Movieat 21.10, the fantastic film of 2019, by Robert Rodríguez, Alita – Angel of battlewith Rosa Salazar. 2563. Doctor Ido repairs a cyborg with no memory of his past and names him Alita. While he tries to discover the truth about herself, Alita becomes a criminal hunter.
Up A7at 21.15, the 1994 action film, by James Cameron, True Lieswith Arnold Schwarzenegger, Jamie Lee Curtis. Helen thinks her husband Harry is a quiet salesman. In reality, the man is a spy for the CIA. Despite her, the woman will find herself involved in her husband's business.
Up Nineat 21.25, the 2014 spy film, by Roger Donaldson, The November manwith Pierce Brosnan. Former CIA agent Peter Deveraux has retired to Switzerland. one day he is called into action to protect Alice Fournier and he will have to deal with a former protégé of hers.
Up 20 Mediasetat 21.05, the 2010 thriller film, by Christopher Nolan, Inceptionwith Leonardo Dicaprio. Cobb, skilled at stealing secrets from deep within the human subconscious while he dreams, must plant an idea in the mind of a billionaire. But a dark enemy is lurking.
Up Irisat 21.00, the 1952 western film, by André De Toth, The Mud Maskwith Gary Cooper. Civil War. Union Major Kearny, disbarred for cowardice, joins a gang of horse thieves. In reality, he wants to redeem himself by infiltrating the southern lines.
Tonight on TV Tuesday 3 January 2023, films on Sky
Up Sky Cinema Two, at 21.15, the 1998 comedy film, by Joel Coen, The Big Lebowskiwith Jeff Bridges, John Goodman. Jeffrey Lebowski, unemployed with a passion for bowling, is hired by a billionaire of his same name to deliver the ransom demanded to free his young wife.
Up Sky Cinema Familyat 21.00, the 1996 comedy film, by Joe Pytka, Space Jamwith Michael Jordan. A gang of aliens must kidnap the Looney Tunes. To save themselves, Bugs Bunny offers them a game of basketball: if he loses, they'll all go with them. But alongside the rabbit is the great Michael Jordan.
Up Sky Cinema Actionat 21.00, the action film of 2021, by Ilya Naishuller, I am nobodywith Bob Odenkirk, Aleksey Serebryakov, Connie Nielsen. A violent episode unleashes in Hutch Mansell, neglected husband and underrated father, a long-suppressed anger: he will discover lethal abilities by bringing to light dark secrets,