Thursday 19 May 2022 – Television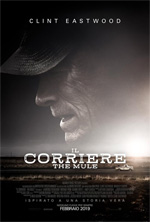 Directed by Clint Eastwood. A film with Clint Eastwood, Bradley Cooper, Laurence Fishburne, Michael Peña, Dianne Wiest, Andy Garcia, Eugene Cordero, Loren Dean, Katie Gill, Noel Gugliemi. Original title: The Mule. Drama genre – USA, 2018.
Earl Stone, a passionate flower grower from Illinois, specializes in the culture of an ephemeral flower that lives only one day. He sacrificed his life and family to that flower, which he now does not want to know about. In the Midwest, bent by deindustrialization, trade collapses and Earl is forced to sell the house. The only asset he has left is the pick-up with which he reached 41 out of 50 states without ever taking a fine. His driving attitude attracts the attention of a stranger, who offers him a profitable job. An unconventional cartel of Mexican drug traffickers, led by a hedonist and gourmand boss, would like to transport large shipments of drugs from Texas to Chicago. Earl agrees without question, loading into a garage and delivering to a motel. His ripe old age makes him unsuspected and undetectable to the DEA. A war veteran converted into a 'mule', Earl forgets the principles of a proud defender of the country For a Few Dollars More. But the road is long.
GO TO THE COMPLETE CARD