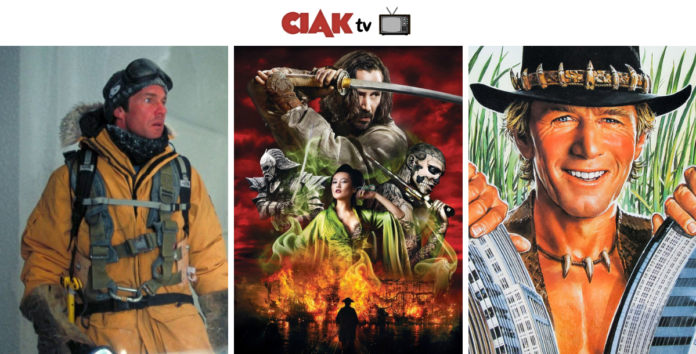 THE DAY AFTER TOMORROW – THE DAWN OF THE DAY AFTER
21:30 – Italy 1
Direction: Roland Emmerich. Interpreters: Dennis Quaid, Jake Gyllenhaal, Emmy Rossum, Dash Mihok, Jay O. Sanders, Sela Ward, Austin Nichols, Ian Holm, Rick Hoffman, Adrian Lester. Genre: Catastrophic – USA, 2004.
The paleo-climatologist Jack Hall, after returning from an Antarctic core, makes an appeal to the world, in particular to the president of the United States who pays little attention to him. Jack found that the continuous release of fresh water into the oceans caused by the progressive thawing of the poles could cause the currents to reverse, and set the conditions for a new glaciation on earth. The news is ignored and catastrophes soon occur: hailstones the size of a pineapple scourge Tokyo, hurricanes of unprecedented violence hit Hawaii, New Delhi is buried in snow, and Los Angeles is swept by a series of devastating tornadoes. As they all flee south, Jack must be able to reach New York in freezing cold to save his son Sam who is in the Manhattan Public Library.
THE ICE-EYED TEXAN
21:00 – Iris
Direction: Clint Eastwood. Interpreters: Clint Eastwood, Sondra Locke, Chief Dan George, Bill McKinney, John Vernon, Paula Trueman, Sam Bottoms, Frank Schofield, Will Sampson, John Russell. Original title: The Outlaw – Josey Wales. Genre: Western – USA, 1976.
Josey Wales is a quiet Missouri farmer whose wife and son have been murdered by a gang of Northern vigilantes. Enlisted in the ranks of the southerners, at the end of the Secession war he refuses to lay down his arms and crosses the country from east to west to find and execute those who have destroyed his loved ones. Along the way, he collects some drifters – the Indian, his grandmother, his granddaughter, some Mexicans and a dog – who become his new family, despite his resistance.
MR. CROCODILE DUNDEE
21:10 – Twentyseven
Direction: Peter Faiman. Interpreters: Paul Hogan, Linda Kozlowski, Mark Blum, David Gulpilil, Michael Lombard, John Meillon. Original title: Crocodile Dundee. Genre: Adventure – USA, 1986
In the Australian savannah, the hunter and crocodile expert Mick Dundee, during one of his adventures in the river, miraculously survives the attack by one of his most beloved animals. Despite this, together with his trusted friend Wally Reilly, he opens an agency for adventure experiences, through which he meets the American journalist Sue. Notice her resourcefulness and success with the agency, Sue invites the now nicknamed "Mr. Crocodile Dundee "in New York for what, only at the beginning, will be an important interview.
47 RONIN
21:05 – Mediaset 20
Direction: Carl Rinsch. Interpreters: Rinko Kikuchi, Keanu Reeves, Hiroyuki Sanada, Tadanobu Asano. Genre: Action – USA, 2013
Kai is a half-breed with an unclear nature, unwanted by all but popular with the local lord, Asano. Before his eyes there will be a struggle between human and inhuman whose first victim will be Asano, accused of attempted murder of the shogun and therefore forced to commit suicide to repair his honor. The man was actually possessed by a demon plotting in the shadows. The 47 samurai who were orphaned of their master (and therefore "ronin") will decide to take revenge against the shogun and all the demonic court that revolves around him, well aware that this will mean a death sentence. Kai, who has been secretly in love with Asano's daughter for years, can only join them despite the initial reluctance.