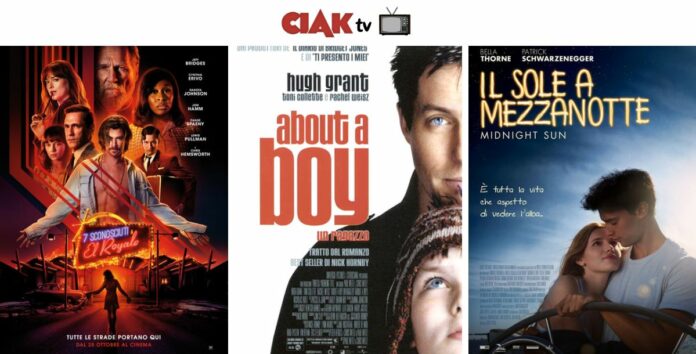 7 UNKNOWN IN EL ROYALE
Rai 4 at 21:19
Directed by Drew Goddard. With Jeff Bridges, Cynthia Erivo, Dakota Johnson, Chris Hemsworth. Genre: detective, dramatic, thriller. USA, 2018
Seven strangers, each with a secret to bury, meet at El Royale, a dilapidated hotel with a dark past on Lake Lahoe. Over the course of a fateful night, everyone will have one last chance for redemption… before everything goes to hell.
CURIOSITY
The El Royale hotel, built from the ground up on a stage with much of the furniture and furnishings custom made, is inspired by the famous Cal Neva Resort and Casino that was once owned by Frank Sinatra. The film was shot on real film without traditional set lighting. Chris Hemsworth had to lose about 12 kg of muscle weight immediately after finishing Avengers: Infinity War (2018) to star in this film. Let a Tom Holland that a Russell Crowe a role had been offered, but they both declined.
PAPILLON 2017
Rai Movie at 21:10
Directed by Michael Noer. With Charlie Hunnam, Damijan Oklopdzic, Christopher Fairbank. Genre: adventure, biopic, detective. USA, Serbia, Montenegro, Malta, 2017
Henri Charriere, wrongly convicted of murder, develops an unlikely relationship with eccentric forger inmate Louis Dega, in an attempt to escape from the Devil's Island prison colony.
CURIOSITY
The film is based on the 1969 autobiography of the French inmate Henri Charrière and on the 1973 historical dramatic feature film directed by Franklin J. Schaffnerwith Steve McQueen in the role of Henri Charrière e Dustin Hoffman as Louis Dega. Papillon means "Butterfly" and was Henri Charrière's nickname due to the butterfly tattoo he had on his chest. When the guards in the film yell the names of the prisoners as they step off the boat, one of them names Hoffman, possibly a reference to Dustin Hoffman, who played Louis Dega in the original 1973 version.
THE MIDNIGHT SUN – MIDNIGHT SUN
Sky Cinema Romance at 21:00
Directed by Scott Speer. With Bella Thorne, Patrick Schwarzenegger, Rob Riggle. Genre: dramatic, sentimental. USA, 2018
Katie, a 17-year-old suffering from a disease that prevents her from being out in the sun, confined to her home since childhood, one day meets Charlie and the two begin a summer romance.
Curiosity
The film is based on the children's novel of the same name by Trish Cook. TO Bella Thorne she had been diagnosed with dyslexia in first grade and was actually home schooled. Also, her father died in a car accident like Katie's mother in the film. Patrick Schwarzenegger is the son of Arnold Schwarzenegger And Maria Shriver. Through his mother, he is related to the Kennedy familyis a great-grandson of US President John F. Kennedy, as well as US Senators Robert F. Kennedy and Ted Kennedy.
ABOUT A BOY-A BOY
TWENTYSEVEN at 21:10
Directed by Chris Weitz And Paul Weitz. With Hugh Grant, Nicholas Hoult, Toni Collette. Genre: comedy, drama, sentimental. UK, USA, France, Germany, 2002
Will, a cynical, lonely, immature man who lives on a profit, learns a life lesson when Marcus, a teenager struggling with his mother's depression. A very special bond of friendship will be born between them that will change the lives of both.
CURIOSITY
The film is based on the novel of the same name by Nick Hornby. The book is set in 1993-94 and the story culminates with the boys learning of the singer's suicide Kurt Cobain. The title of the story is an allusion to the song of the Nirvana "About A Girl". Brad Pitt he turned down the lead role of Will Freeman, but appears on the cover of an issue of "Esquire" magazine that Grant he reads in his apartment in the film. The quote "No man is an island" that Will jokingly attributes to Jon Bon Jovi it was actually written by John Donne in 1624, in his work "Meditation XVII".