Johnny Depp made a remarkable appearance in Boston on July 28. The actor performed with his group called Hollywood Vampires. Johnny Depp, on guitar, and his acolytes, performed their titles live to the delight of their loyal audience. However, images of the star surprise some Internet users. Indeed, Johnny Depp revives a look of yesteryear, long hair and trimmed mustache. But it is above all the cane on which he relies to walk that appeals to his fans. The 60-year-old actor, who uses this accessory to move, arouses the concern of his fans. While some feel that it " does not age well ", many are those to step up to defend it: " Despite his injury, he makes time for his fans », « He lives his life without getting botoxed, without taking Ozempic to meet aging standards. He likes to do comedy. He loves his group. He looks happy. How cool! ". The use of this cane could be explained by an incident that occurred last May which he shared with his fans.
Also to discover: Johnny Depp, unrecognizable: his face surprises his fans… Clean-shaven, beardless, he brings Jack Sparrow back to life
A wound
In a post shared on instagramJohnny Depp announced to his fans a setback due to an injury: " My dear friends, I'm sorry to let you know that I broke my ankle, which is problematic! Initially it was a sprain, but (…) it got worse instead of better. »
Johnny Depp explains that he is forced to rest and avoid unnecessary movement: " Several medical professionals have strongly advised me to avoid any activity at this time and I am therefore unfortunately unable to travel at this time. Johnny Depp remains optimistic and promises to return to form and with an incredible show, later in the summer, in order to find the spectators who had bought tickets to see him on stage with the members of his group.
Johnny Depp, 60, seen using cane at Boston gig after injuring ankle https://t.co/U4odapLh32pic.twitter.com/m52c2FzYj6

—Page Six (@PageSix) July 29, 2023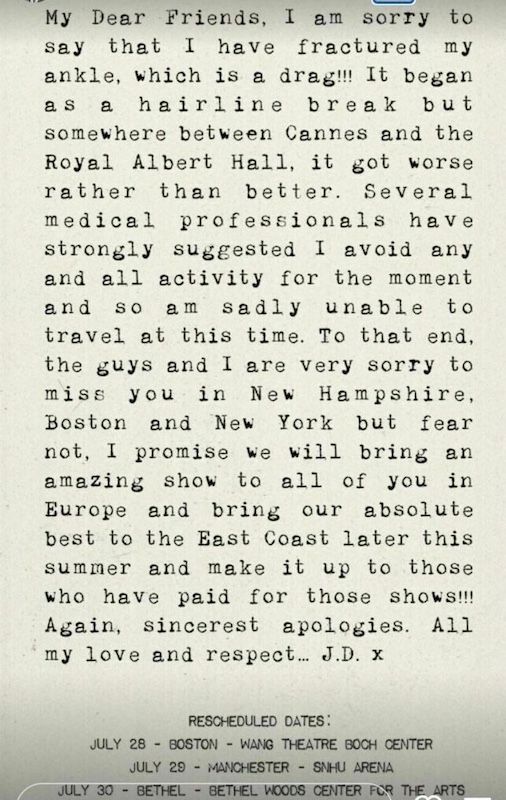 Johnny Depp announces that he is injured and cannot perform his planned concerts ©Instagram