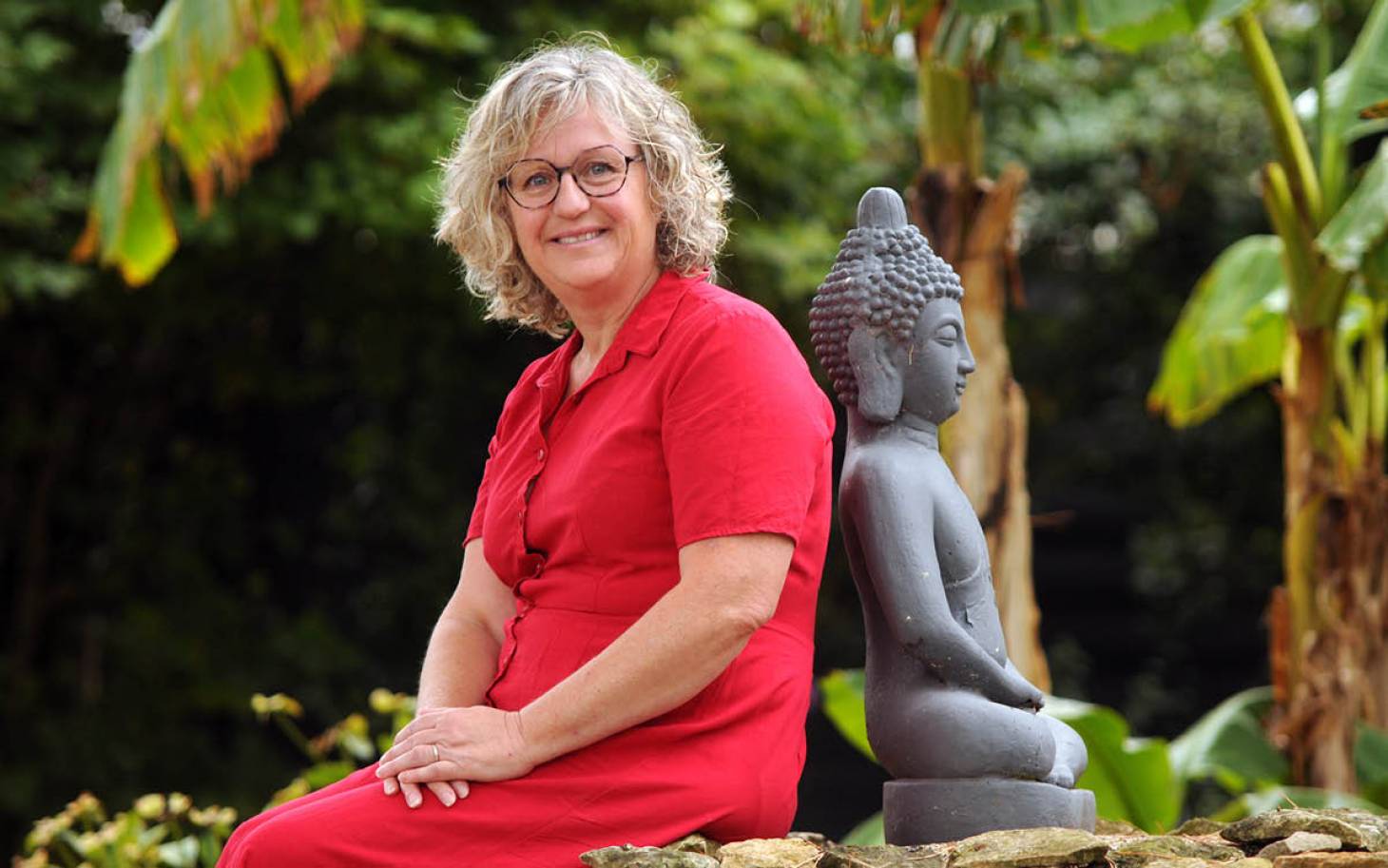 Valerie Hadey. 50 years. Published in the spring La foi du coeur, a book-testimony eleven years after her breast cancer. This resident of Vendeuvre tells her story openly, from the medical verdict to remission, from recurring pain to small family joys. Special sign: works a lot on instinct.
From her cream leather sofa, Valérie Hadey has a breathtaking view of the adjoining garden, a small stone waterfall surrounded by palm trees, banana trees and bamboo. A Buddha sits in a prominent place, a sort of Zen lookout for a house where the disease appeared more than a decade ago. "This garden soothes me. I spent a lot of time looking at it when I couldn't move.", testifies the hostess. We are far from these almost idyllic holidays in the Dominican Republic, in March 2012, where the first signs of fatigue were invited to the party. The rest takes place under the sign of cancer, of the breast, of the brutal announcement of vital treatment, of ablation to the return to life, of family valves to the creation of the association Au sein des fées…
"At the nerve"
The mother of Anaé (19 years old) and Léna (16 and a half years old) recorded everything in Faith of the hearta 250-page book, "a laying bare" Literally as figuratively. "I show myself as I am, without hiding anything about what I have experienced, about my emotions. I have never read, never written, but this book was essential to close a chapter in my life. »La Vendeuvraise put her ailments on paper in eleven days flat, the fruit of an irrepressible desire to say, "with (my) words" . Three months of corrections "with Véronique" -met in a meditation session- were necessary for the project to take root in the 15x10cm format. "To the nerve", Valerie has "invited his entire phone book" at home, 1er April 2023. Absolute first hit. "My neighbor, who I didn't know very well, read it in the night, she came back to me in tears the next day…"
The native of Latillé with a damaged childhood multiplies her thanks, "moved"of the reception given to it at the association festival at the book fair (in Chauvigny, where it won the prize for the most beautiful cover). She will also be godmother of Pink October in her town, at the suggestion of Mayor Henri Renaudot. Of Jocelyne, support assistant at the Polyclinic, she says this: "Jocelyne does her work with heart and kindness, with an incredible professional conscience, a radiant joy in helping others…" Even the most complicated episodes of his life take a "light" turn. Like his reunion with his father in 2015, after twenty years of estrangement due to alcoholism. It was in Pamproux and her sixth sense guided her to him, literally. The former SNCF agent even attended the remarriage of his daughter with Pascal. Valerie calls these moments "miracles of life".
Constantly on a thread, the "Hypersensitive care bears"accomplished "always his dreams, big and small". And even at the height of the storm, she found the energy to reach out to others. With Au sein des fées, other women affected by breast cancer found themselves, supported… The association lived, its president tired of "losing friends along the way". She cannot suppress a sob at the mention of some of them.
Forgiveness and acceptance
Today, the traces of the crab – pain, reduced respiratory capacity – prevent him from returning to professional activity after experiences in sales and commerce. The holder of a CAP in hairdressing is not sitting still, busy planting a few seeds of happiness in her environment. Valérie dreams of raising funds for four associations which"take to heart" already knows that there will be"a second book"anticipates future signing sessions, with Pascal at his side."He plays the handpan and I meet the readers! He is a very calm, Cartesian person, who always says good things about others. Pascal is essential to me. »It is one of all the photo albums that Valérie, a lover of life, prepares with unfeigned greed. He was also there, already, in the gynecologist's office where the ax fell, chilling, with words devoid of empathy. In retrospect, Valerie forgave because acceptance was one of her cardinal values. It's written in black and white, like a mantra for the rest of his life. Sacred exposure.