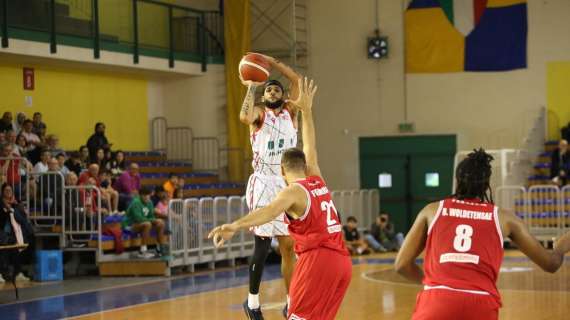 Ball for two in Parma at 17:00 where Unahotels Reggiana and Varese Basketball go on the pitch for third place in the Matteo Bertolazzi Memorial. The two teams come from yesterday's meetings with Dolomiti Energia Trentino and Germani Brescia respectively.
The pre-season of UNAHOTELS Reggio Emilia ends with a defeat: in the "final" of the Bertolazzi Memorial the red and white are beaten by Openjobmetis Varese with a score of 107-89. For the formation of coach Menetti four men in double figures: top scorer Robertson with 19 points.
First quarter all from Varese: with an excellent 5/9 from three points (three of which from captain Ferrero) the team of coach Brase flies to +15 after the first 10 'of the race, closing at 30-15.
UNAHOTELS reacts at the beginning of the second quarter with a couple of Hopkins blazes, managing in a couple of circumstances to get up to -5 (43-37). However, Openjobmetis's streak rekindles in the last minutes before the break: this leads to 58-44 of the long break. In the third quarter the music does not change: Varese also reaches +22 against a UNAHOTELS that is really struggling in the defensive phase to contain the guns of Openjobmetis. It goes to the last interval on 84-67. At the beginning of the last quarter, the young Stefanini and Cipolla, together with Robertson's long-range baskets, allow Reggio to get back under the double figure of disadvantage, but it is only the last blaze of the red and white match.
We then arrive at the final score of 107-89 for the Openjobmetis Varese.
UNAHOTELS REGGIO EMILIA – OPENJOBMETIS VARESE 89-107
(15-30; 44-58; 67-84)
UNAHOTELS: Robertson 19, Anim 8, Reuvers 7, Suljanovic ne, Hopkins 10, Cipolla 2, Belloni ne, Faye ne, Vitali 10, Stefanini 10, Cinciarini 16, Diouf 7. Coach: Menetti.
OPENJOBMETIS: Ross 12, Woldetensae 22, De Nicolao 6, Reyes 17, Librizzi, Virginio 6, Ferrero 12, Brown 18, N'guessan, Caruso 10, Owens 4. Coach: Brase.
Referees: Tirozzi, Terranova, Tallon.