That's all from Pier Luigi Penzo, a good continuation of the evening.22:45
On the second day, Javorcic is expected from the former match at Sudtirol while Blessin's team will face Benevento.22:45
VAR at the photo finish, the rossoblu win a vibrant match dictated by a proud reaction of the orange and green in the second fraction: Johnsen responds to Portanova, Joronen overtakes Gudmundsson and Portanova but capitulates a few minutes from expiring on a close header by Yeboah. In recovery, Johnsen still touches the brace, Crnigoj makes Penzo explode in the fray but Irrati strangles the scream of the home crowd by not validating for offside.22:44
90 '+ 7'
OVER! Venice-Genoa 1-2, triple whistle by Irrati.22:38
90 '+ 7'
Irrati does not validate Crnigoj's offside goal.22:37
90 '+ 6'
WARNED Crnigoj for excess of exultation.22:44
90 '+ 5'
GOAL CANCELED VENICE! Punishment by Fiordilino, Martinez's miracle on Ceccaroni's close paw, Crnigoj reiterates on the net.22:47
90 '+ 4'
WARNED Bani for protests.22:36
90 '+ 4'
Pajac wastes time, Irrati adds a minute of recovery.22:34
90 '+ 3'
Zampano enters the area, Johnsen touches his head from an excellent position.22:33
90 '+ 1'
OPPORTUNITY VENICE! Johnsen focuses from the left, seats Bani and unloads the right, Martinez punches us.22:32
90 '
Four minutes of recovery.22:31
90 '
LATEST GENOA CHANGE. Blessin Cover Up: Longing for Gudmundsson.22:31
88 '
LAST CHANGE VENICE. Javorcic plays the Connolly card, Pierini comes out.22:29
87 '
GOAL! Venice-GENOA 1-2! Yeboah Network. Gudmundsson breaks through in the area and calibrates for Yeboah who jumps higher than Haps and scores with a header.
See the player's profile Kelvin Yeboah22:28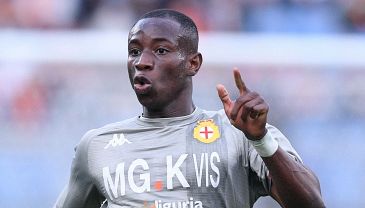 86 '
Zampano snaps on the wing, Novakovich does not get his head.22:27
84 '
Novakovich calls the one-two to Pierini, the return pass is too long.22:25
82 '
From corner, Bani's header, not very high.22:22
82 '
Yeboah reaches the bottom, gaining angle.22:22
81 '
GENOA REPLACEMENT. Fresh energy in the median: Ilsanker for Frendrup.22:24
81 '
GENOA REPLACEMENT. Blessin renounces Coda, clip for Jagiello.22:21
79 '
WARNED Ceccaroni, held on Yeboah.22:20
78 '
Badelj on the fly from 20 meters, flip side.22:18
77 '
Coda seeks space to the limit, doubled, does not pass.22:17
75 '
Pierini's punishment, whistled foul in attack on Novakovich.22:15
74 '
Fiordilino on the ground, game stopped.22:14
72 '
GENOA REPLACEMENT. Relay attack between Ekuban and Yeboah.22:13
72 '
GENOA REPLACEMENT. Blessin calls Portanova, Yalcin enters.22:13
71 '
GENOA OPPORTUNITY! Ekuban breaks through on the right, Gudmundsson scores from the edge, Joronen blocks in two halves.22:12
69 '
REPLACEMENT VENICE. Busio's race ends, Andersen enters.22:10
69 '
REPLACEMENT VENICE. Tessmann leaves the field in favor of Crnigoj.22:10
68 '
GOAL! VENICE-Genoa 1-1! Johnsen network. Violent punishment by Pierini, Martinez does not hold back, Johnsen is the quickest to bag the tap-in.
Look at the player's profile Dennis Johnsen22:08
66 '
Pierini exchanges with Novakovich, Pajac knocks him out at the edge of the area, punishment for the orange and green.22:07
63 '
GENOA OPPORTUNITY! Gudmundsson manages to free Portanova in front of the goalkeeper, excellent timing for Joronen.22:04
62 '
Ekuban from a tight angle, his cross shot crosses the whole area without finding deviations.22:03
61 '
WARNED Busio, tactical foul on Portanova.22:02
60 '
From a corner, Ekuban's overturned into Joronen's arms.22:00
59 '
Back pass busted by Zampano, corner given to the rossoblu.21:59
58 '
WARNED Zampano, late on Gudmundsson.21:58
57 '
Novakovich falls in the area on Bani's pressure, Irrati pushes on.21:59
56 '
OPPORTUNITY VENICE! Corner by Busio, Johnsen free at the far post sends to the side from two steps.21:56
55 '
Johnsen serves the overlap of Haps, Hefti sweeps into the corner.21:56
54 '
Pierini frees himself to the limit, left weak and central, easy prey for Martinez.21:55
54 '
WARNED Gudmundsson, tactical foul on Busio.21:54
51 '
Johnsen crosses from the left, Martinez careful in the low exit.21:52
50 '
Cross of Zampano, Badelj anticipates Fiordilino.21:51
48 '
The arancioneroverdi try to raise the center of gravity but the maneuver languishes.21:50
46 '
THE SHOOTING BEGINS. Venice-Genoa 0-1, maneuver of the orange-blacks.21:45
46 '
REPLACEMENT VENICE. Zabala remains in the locker room, Javorcic enters Johnsen.21:45
Javorcic needs to study alternatives to increase maneuvering brilliance and fine-tune dead balls; Blessin must avoid drops in concentration.21:33
Rhythms not particularly high, the rossoblu dominate possession, arancioneroverdi late in condition give the advantage of a free-kick in favor: Badelj launches Portanova who shoots totally undisturbed and deposits on the net.21:31
45 '
END OF FIRST HALF. Venice-Genoa 0-1, unlocks Portanova.21:30
45 '
Ceccaroni in depth for Haps, Martinez arrives first.21:30
43 '
Portanova low cross, Wisniewski is well located.21:28
41 '
The orange and green are struggling to react, rossoblu under management.21:27
39 '
Busio in the corridor for Zampano, Dragusin intercepts.21:25
37 '
GOAL! Venice-GENOA 0-1! Portanova network. From a free-kick by Busio, a completely unguarded defense, Badelj triggers Portanova in the open field that overtakes Joronen and deposits on the net.
Look at the card of the player Manolo Portanova21:24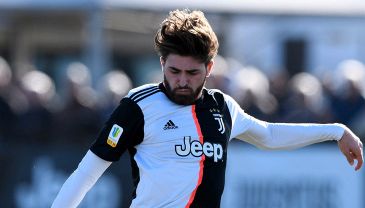 35 '
Bani on the ground, game stopped for a few moments.21:20
34 '
Hefti goes down on the wing, Haps contains him.21:19
33 '
Punishment of Pajac, Ekuban with the shoulder does not frame the goal.21:17
31 '
Punishment of Busio, his right does not go down.21:16
30 '
Gudmundsson from the flag, Coda swerves with his body over the crossbar.21:14
29 '
Frendrup again from the corner, left raised over the crossbar by Ceccaroni.21:14
29 '
From a corner, Frendrup's right, dampened for a corner by Zampano.21:13
28 '
Launch for Ekuban, stopped in a corner by Wisniewski.21:12
26 '
Prolonged phrasing of the rossoblu, the arancioneroverdi wait in their own half.21:12
24 '
Badelj's mistake, Novakovich triggers Haps, a cross too high for Pierini.21:08
23 '
Launch for Coda, caught offside.21:07
21 '
OPPORTUNITY VENICE! Busio's punishment, the ball slips between heads and legs, Martinez instinctively rejects.21:06
19 '
From corner, ball to the limit for Badelj, high right.21:03
18 '
GENOA OPPORTUNITY! Head extension tail for Ekuban, Joronen manages to close the mirror with his body.21:03
17 '
Coda looks for space in the area, Ceccaroni gets his head over the crossbar.21:01
15 '
GENOA OPPORTUNITY! Portanova crosses from the right, Ekuban shoots up from two steps.21:03
13 '
Zampano hits from the back, Novakovich misses the link in the area.20:58
12 '
Haps tries to restart but does not understand Tessmann and the action fades.20:57
10 '
Gudmundsson along the line for Coda, taken offside.20:55
8 '
Ball round of the rossoblu, high pressing of the arancioneroverdi.20:53
6 '
Unrealistic attempt by Zampano, ball on the bottom.20:51
4 '
Launch for Coda, Ceccaroni concedes the first corner of the race.20:48
3 '
Phases of study at the start, the two teams face each other on the median.20:48
1 '
START Venice-Genoa, ball to the rossoblu.20:45
The warm-up phases are over, soon the start of the race directed by Irrati.20:25
Blessin confirms ten elevenths of the team that beat Benevento in the Italian Cup: Pajac in place of Sabelli, the only novelty. Front Coda supported by Portanova-Ekuban-Gudmundsson.20:25
Javorcic climbs Haps in the trident completed by Pierini and Novakovich with Zabala full back. Fiordilino flanks Busio and Tessmann in the median.20:09
4-2-3-1 for Genoa: Martinez – Hefti, Bani, Dragusin, Pajac – Frendrup, Badelj – Portanova, Ekuban, Gudmundsson – Coda. Available: Semper, Vodisek, Cassata, Czyborra, Sabelli, Vogliacco, Galdames, Ilsanker, Jagiello, Melegoni, Yalcin, Yeboah.20:29
Here are the formations. Venice with 4-3-3: Joronen – Zampano, Wisniewski, Ceccaroni, Zabala – Fiordilino, Busio, Tessmann – Pierini, Novakovich, Haps. Available: Maenpaa, Bertinato, Modolo, Svoboda, Ullmann, Andersen, Crnigoj, Leal, Johnsen, Hasanbegovic, Mikaelsson, Connolly.20:10
Inaugural match between two fresh relegated from Serie A: the orange and green, with a problematic preparation due to Covid, test the potential of a young and quality team but with a renewed and still incomplete attack in the presence of the rossoblu strong of the continuity on the bench of Blessin and the purchase of Coda, the undisputed bomber in the category.16:43
At Pier Luigi Penzo everything is ready for Venice-Genoa, first day of Serie B.16:21