Story
Visa, LaLiga and Liga F break the glass ceiling of the future with the ball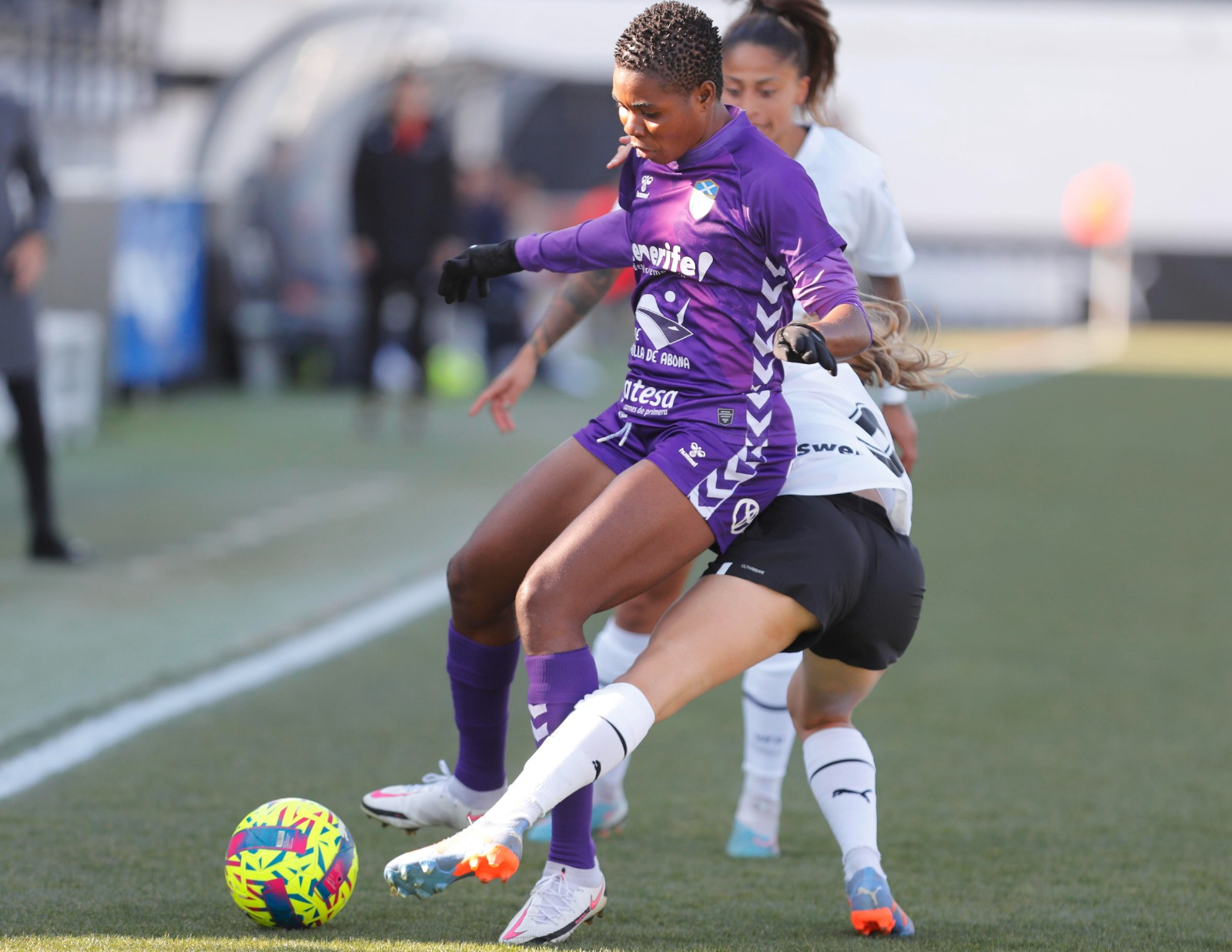 The formation of the F League in June 2022 after women's football was classified as a sport in Spain has strengthened the current pool of footballers. but what about you future beyond grass, The day after tomorrow becomes difficult for someone who has focused his attention on training sessions and matches for many years. Orienting to that future is a fundamental concern for Visa, one of the world's leading digital payments companies, which is affiliated with LaLiga through its education division, LaLiga Business School; and to promote the second edition of Liga F. Second quarter,
the other half is a professional development program Focused on helping soccer players and former soccer players develop their careers off the pitch. And it is part of Visa's wider commitment to promoting equality, acceptance and inclusion in all aspects of society, where sport plays a particularly relevant role. Lever to empower women On personal and professional level.
Visa's commitment is based on the same rules as Liga F with Spanish professional women's football. as he explains Bea Larregle, Visa's Regional Managing Director for Southern Europe, "Our support for the women's game stems from our vision of promoting acceptance. We want a more diverse and inclusive society where we believe sport is the right vehicle to drive positive change in this direction. "We believe that LaLiga is the right partnerSince we share with them the mission of promoting, giving more space and recognition to women's football in Spain and we believe that we have common values ​​such as equality, teamwork and the spirit of winning", he stressed.
Program in association with LaLiga Business School
Following the success of the first edition launched in Spain in September 2021, where more than twenty players and former players from ten clubs in the highest division were registered, Second quarter Returns from the hands of Visa and Liga F help players To apply the skills and knowledge acquired as footballers during their active periods on the pitch in other professional areas. This help will be implemented through training, as the program is carried out in collaboration with LaLiga Education Department, LaLiga Business SchoolIn areas such as financial education, professional career planning, personal branding, communication or leadership skills, among others.
Second half The Spanish look to guide the day after football for the professionals (Photo: LaLiga)
LaLiga Business School's experience since such an initiative he already flags global player program For LaLiga players and former players, this makes it the most suitable channel. Its director, José Moya, explains that "we have experience and we want to help players pursue their curiosity by training them during and after their careers. It is our intention to give. 360 degree vision of the sports industry And try to add value to the industry itself. We are glad that we are able to help provide the necessary training to F League football players. A football player's life is relatively short and they have to be ready for the next day.
Represents essential support for the work of the initiative f league that highlights her President, Beatriz Alvarez: "This program is very important at the moment, because we can bring players from the professional project of Liga F, in which we have been for ten months. Professionalism is not a word, it is a challenge that we continue to work on. And one of the future big challenges after football turns professional is that players can join other fields professionally.
"The Hard Way"
In short, the President of Liga F reiterates the values ​​of sport that can be applied to professional life and, in particular, that which distinguishes women: "All the values ​​inherent in sport must be used: brotherhood, superiority. Will, commitment… but above all, courage, is what can set us women apart and we must keep that in mind. we've traveled a more difficult road And it takes a special ability to transcend, to know how to rise through an innate power. The degree of commitment is even higher, because there are so many women who love football and we have had to give up more.
He Visa's commitment to equality is a faithful exponent in Second quarter, although it is also realized through sponsorship of women's sports. The firm is a global partner of the Women's World Cup and its Team Visa program, established in 2000, with the aim of providing athletes with the tools, resources and support they need to thrive in their sporting careers, Regardless of its origins or origins. , And that is, according to the report women who giggle on and off the pitch Powered by VISA, 61% of female executives who play team sports cite this factor have a positive impact in your business.
Bea Laregal in this redound, Visa's Regional Managing Director for Southern Europe, ensuring "Women's football is contributing a lot to progress towards equality An example of this is that the federation's licensing statistics show that the sport is on the rise among women in Spain. However, we recognize that there is still a long way to go to bring equality to all possible places in society, both on and off the field. As a company at Visa we try to lead by example, a to develop internal culture that supports inclusion and fighting prejudice, and promoting female leadership inside and outside the organization".
The event is in its second edition after the success of the first one (Photo: LaLiga).
A similar approach is taken by José Moya, director of LaLiga Business School: "Sports and football help, but they are not the only things. education is importantEven with work and mindset though. At the political level, we must exert all our might. We are going to do our best to seek equality.
soccer players associated with Second quarter
Some of the main characters of this fight are: Soccer players. And they are the only ones who can make it to the best champions. That's why they welcome such initiatives Second quarter Which can clear your professional future. good test Adriana Martin, RCD Espanyol de Barcelona player, A graduate of Physical Activity and Sports Science, she didn't even think about it when the prospect of enrolling came up: "I think it's an incredible idea, I'm sure I was the fastest to sign up and I miss class." No. I love training and it's a great initiative while I'm still active, because then the transition isn't easy.
A few years ago Adriana would not have even imagined this type of project: "It would have seemed crazy to me. Prior to this, the folded player would do this with one hand forward and one back. It serves to stay oriented to the future and is a way of knowing where to go. is one Evidence of LaLiga's commitment And Liga F, and for us it is a privilege, because you also share it with colleagues and brilliant people from sport and industry.
expressed in synonyms Marta Caro, Valencia CF playerwho says that "it's a resource for life after football, they give you the tools for a hitherto unknown world. What he told us about facing a comeback impressed me a lot. We Never stop studying, because now the league is becoming truly professional, and these initiatives give you a background that can open many doors for you.
"We footballers have worked for this for many years. This is further evidence of the commercialization of women's football. it is very valuable Because you go to the market without experience. And the values ​​of the game teach you to transfer them to the company", he added.
Patricia Gavira, player of UD Granadilla Tenerife, can present an example of the book of a footballer who has combined training and sport to the maximum. A graduate in teaching and physical activity and sports science, she appreciates the importance of projects such as Second quarter For the next day: "Retirement is getting closer and what attracts our attention the most is the vision they give us about the experience of moving to another job. they help you with communicationLeadership, the digital sector… I'm a teacher but right now, with football, I can't practice and that helps me keep an open mind to other options."
Applying the values ​​of sport to future work is a fundamental foundation Second quarter (Photo: LaLiga).
"Before It Was Alive"
"Earlier some football was professional and you had to prove twice. Now it's leveling up. The goal is to have opportunities for everyone. had to live before, That's why I want to train and sow", explains Patricia, who elaborates on the role of Visa, Liga F and LaLiga in this way: "Such initiatives give more quality and value to work. We feel more heroes. They are appreciated and we have to take advantage of them, because all training is always good."
Through weekly sessions and in an online format, players and former players dive into the knowledge of the sports industry, seeking with respect to the values ​​they have learned inside the field. So that the day regulation football time ends, they can start a new professional match with all guarantees.