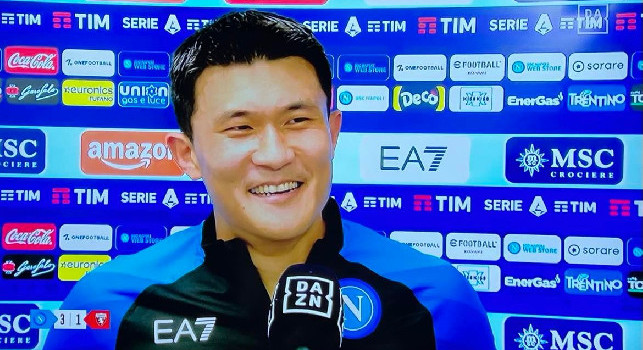 Min Jae Kim
Interview with the Korean defender of Napoli Min Jae Kim
Kim Min-Jae he is one of the revelation players of this Napoli that wins and convinces in Italy as in Europe. The Korean defender bought from Fenerbahce in the summer, for almost 20 million euros, has replaced Kalidou Koulibaly in style and has become the new defensive leader of the team under Spalletti's orders.
Interview with Min Jae Kim
Latest news. Today Min-Jae Kim gave a long interview to the newspaper The Republic. We offer you an excerpt.
On his arrival in Naples and the quick adaptation, Kim admits: "It was my big break and I jumped at it, after having made a stop in Turkey. The offer that came to me in the summer from the blue club was the best and I didn't hesitate for a moment to accept it, but not even I expected to experience such a dizzying and exhilarating escalation: we are first in Serie A and in our Champions League group, in three months reality has far exceeded my most imaginative expectations".
And on the objectives he seems to have clear ideas: "But our goal is to rewrite the history of Napoli and the 12 successes in a row tell us that we are on the right track. I know that the city has been waiting for the title for more than thirty years and I am sure that at the end of the championship we will win the Scudetto, if we are able to always play like this. In the Champions League, on the other hand, you have to live for the day, with the minimum aim of losing as late as possible, if it is inevitable to raise the white flag".
Meanwhile, he enjoys his first personal trophy, the award for best player of the month of September in Serie A: "They told me that I am only the second defender to have won this award in the league and I must admit that I did not expect it, even though I am doing my best to adapt to Italian football and do what Spalletti asks of me. I have a lot to learn".
"Winning a title here would be really cool", Kim concludes, but he is keen to clarify:"The team I want to defeat is Juve. I know that the Neapolitan fans don't love her so much …".
CalcioNapoli24.it has been selected by the new Google service, if you want to be always updated on the latest news follow us on Google News