Although Billie Eilish is only 19 years old, she is already one of the most popular artists who took show business by storm. The singer has won millions of fans around the world not only due to her impressive vocal, but also due to her unique and consistent image. Her trademark is loose hair in different colors, a bored face and hip-hop clothes too large by several sizes.
As she emphasizes, clothes define her character and personality. Recently, the artist changed her characteristic neon hairstyle to dye blonde and took part in a sensual session for British Vogue. Is this the beginning of a completely different, new image?
Oversized hoodies

Voluminous hoodies are a garment that Billie rarely part with. The artist focuses on comfort and convenience, which is why she most often chooses oversized sweatshirts with eye-catching print that almost reaches her knees. Billie likes to play with fashion, which can be seen in her stylizations. A red sweatshirt and a neon green hat? Why not.
Hip hop pants

Regardless of whether it is long or short, the artist usually chooses spacious pants. As she claims, thanks to the clothes that are several sizes too large, she feels safe. Thanks to them, it is also not exposed to criticism regarding body size. Nowadays, when Instagram sets artificial canons, and on it perfect bodies in skimpy outfits, Billie's decision to style her was also a kind of expression of the artist's rebellion.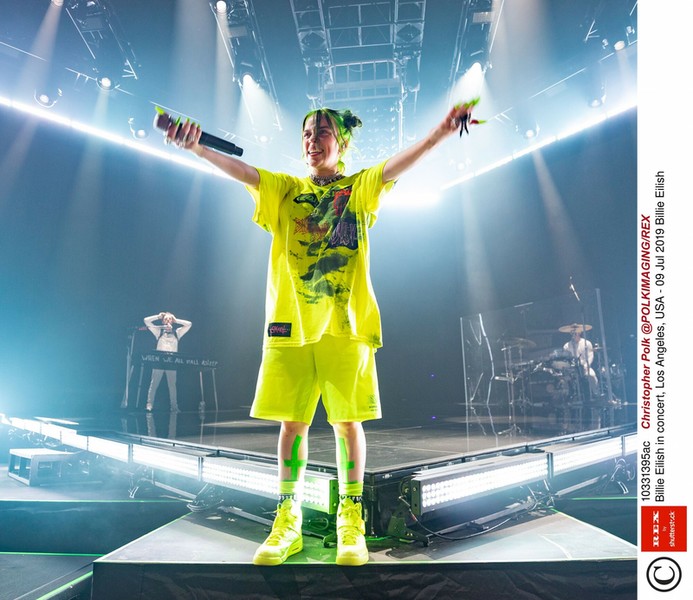 Billie Eilish has created a bold and very eccentric style

Photo: Rex Features / East News / Christopher Polk @ POLKIMAGING / REX / East News

Voluminous T-shirts

Another element of the clothing that the artist wears most often are long T-shirts in bold colors and interesting, bright prints. It is easy to deduce that Billie likes comics and anime because often such graphics appear on her clothes. In one of the interviews, the artist stated that her style was also influenced by the fact that she borrowed most of the clothes from her older brother, so they were too big for her.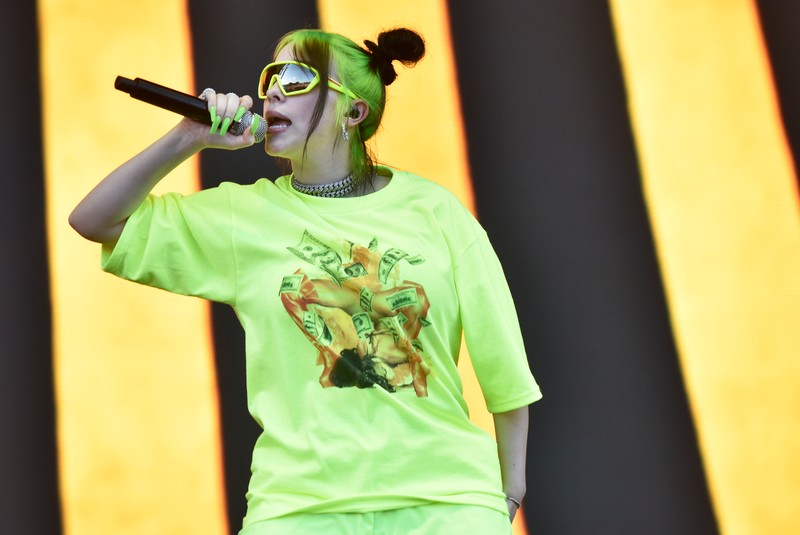 To wear like Billie Eilish – her casual style sets trends

Photo: Tim Mosenfelder / Contributor / Getty Images

Neon sneakers like from Billie Eilish's wardrobe

The most frequently worn footwear by Billie are sneakers. The artist usually chooses shoes in bold, glowing colors, with high soles, which perfectly match with wide trousers and oversized hoodies. When choosing them, it is best to follow the principle the stranger the better.
Billie Eilish style accessories

The artist focuses on bold accessories. Thick chains, enormous pendants and lots of heavy bracelets are Billie's way of chic, even if she's drowning in oversized pants. Thanks to the accessories, the artist breaks her styling and looks deadly every time. Let's also not forget about neon, space glasses and a bucket hat. Without these characteristic accessories, our styling can be boring, so it's worth going wild when choosing them.
See also: Awaken your strength! The trainer advises on how to find motivation to start exercising after the winter