order secret
for bbc hindi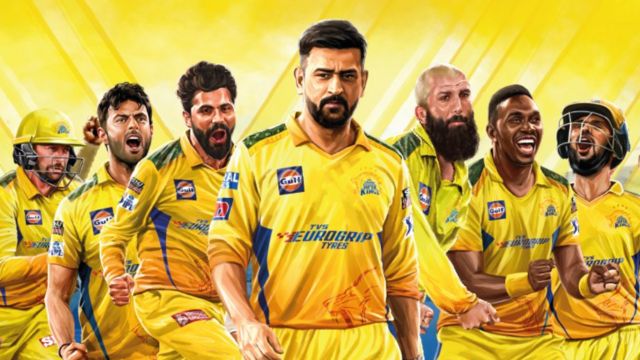 The matches of IPL 2022 are going on in full swing these days and the ten teams divided into two groups are also trying hard to win every match, but surprisingly, the previous and overall four-time champions. Chennai Super Kings have lost their first three matches in a row and hit a hat-trick of defeat. Apart from Chennai, five-time champion Mumbai Indians have also lost two consecutive matches.
His fans and cricket pundits are also surprised by his disappointing performance in the initial phase.
It is also true that after the auction of this season, there were many changes in both the teams and some of their players went to other teams and some new and old players joined the team as a change but till now both the teams are confident of winning. But has not come true.
Chennai's new captain Ravindra Jadeja worries
Before the start of this season, Mahendra Singh Dhoni, who took Chennai Super Kings to the heights of success, surprised everyone along with the Chennai team by suddenly announcing his decision to quit the captaincy. After that, in a hurry, the team management handed over the command of the team to the very experienced and most successful all-rounder of Chennai Ravindra Jadeja.
Later Ravindra Jadeja also admitted that after leaving the captaincy of Dhoni, the team administration had a lot of talks with him about taking over the captaincy. That is, this time Ravindra Jadeja got time to mature his mindset as a captain before landing to play in the IPL, but his team is not getting any benefit from it.
Chennai has so far lost to Kolkata Knight Riders and Lucknow Supergiants by six wickets each and Punjab Kings by 54 runs. Jadeja, annoyed by three consecutive losses, admitted with honesty that "T20 cricket is all about finding a rhythm, after which the winning streak starts."
It is clear that Chennai is not yet seen in its familiar rhythm.
By the way, cricket critic Vijay Lokapally says about Chennai's three consecutive defeats, "The team's opening pair is not working. Rituraj Gaikwad, who scored runs in almost every match last year, and after that there was a voice from all sides that he was included in Team India. Runs are not being scored by them. Earlier, Chennai used to get a big start. From number one to number five, everyone used to score runs which is not happening now. Ravindra Jadeja is in a new role in which he is not able to succeed "
The simple performance of the Chennai batsmen proves the point of cricket critic Vijay Lokapally.
Opener Rituraj Gaikwad has been able to score only 0-1-1 runs in three matches. Against Kolkata, his partner Devon Conway could score three runs. After this, Robin Uthappa, who came out to bat in his place, scored 50 runs against Lucknow but he could score 13 runs in the next match against Punjab. Although he scored 28 runs against Kolkata at number three. This shows that he could not convert a good start into a big score.
Same was the case with the later batsmen Ambati Rayudu and Ravindra Jadeja. Shivam Dube scored 49 runs against Lucknow and 57 runs against Punjab Kings in 30 balls. On the other hand, Mahendra Singh Dhoni scored 50 runs against Kolkata, but it was all his lonely efforts that failed to win the team.
The opinion of former India batsman, selector and member of IPL's advisory committee, Ashok Malhotra, is also similar to Vijay Lokpally's opinion regarding such condition of Chennai.
He says, "In the first match opener Devon Conway flopped, then Robin Uthappa failed in his place as an opener. Rituraj Gaikwad's absence is also proving to be very expensive."
Both Ashok Malhotra and Vijay Lokapally also believe that the team's bowling has been weakened due to the absence of fast bowler Deepak Chahar. In the first power play, he used to take a few wickets in two or three overs. His absence is a big blow as no bowler is seen taking two early wickets and stopping runs in the power play.
Moeen Ali and Ravindra Jadeja are yet to be set in the batting. Dhoni is also still playing his style which takes the match till the last over when the run average reaches 16-17 runs. It's all messed up.
Ashok Malhotra further says that Shivam Dube did a wonderful job in the last match. Dhoni was supporting him, but he was not supporting him with the bat, he was giving only with words, and matches are not won by words, these matches are won with the bat.
On the question of sending Bravo too far behind in the batting, another swashbuckling player from Chennai, Ashok Malhotra says, "Look, it is not a matter of age. Bravo plays at number nine. Pretorius plays at number ten, that is, on paper." Batting till the end but no one is performing. Bravo and Pretorius can be fed upstairs but the problem is which number to feed them. Dhoni is batting at number 7. He should play only at number four or five because he is the kind of player who can change the course of the match, especially when the top order is not going on.
Jadeja captaining under Dhoni's shadow
Ashok Malhotra says about the burden of captaincy that came on Ravindra Jadeja's shoulders after Dhoni left the captaincy, "Dhoni has a little to say but has not left the captaincy. He is still the captain while Jadeja is the name of the captain. If Jadeja is to be If given the captaincy then trust him also. Give him advice but also let him decide. Dhoni is doing all the captaincy because Jadeja is standing on log on log off. So I don't understand that actually Chennai's Who is the captain. That's a big question mark."
The condition of Mumbai Indians is also bad.
At the same time, Rohit Sharma is the most successful captain of Mumbai Indians but he is also struggling to win.
Mumbai has lost to Delhi by four wickets and to Rajasthan by 23 runs. Regarding his performance, Ashok Malhotra says, "Mumbai's bowling is looking very weak. They are missing spinner Krunal Pandya. Whom Mumbai is defending is not understood because Jasprit Bumrah is bowling well. But there is no Trent Boult in the team. Tymal Mills and Daniel Samus have taken two good bowlers but they are not able to fill the shortage of Trent Boult. Rohit Sharma will have to score runs in the batting. Suryakumar Yadav's not playing proved to be very expensive. It is happening because he is the kind of player who can hold the middle order and increase the pace of runs, not even losing wickets.
Now how to return to Chennai and Mumbai?
Regarding this, Ashok Malhotra says, "Chennai will have to bring a change. The team of Chennai is like old wine in a new bottle. Moeen Ali, Bravo, Robin Uthappa are all old players in the team and Mumbai is missing good spinners. Australian spinners are fine there but they are not able to run on Indian pitches. Bumrah and Mills need spinner's support and then batsmen also put big scores on the scoreboard. Suryakumar Yadav returns to the team, Rohit Sharma and Ishan Kishan play big innings then it will be a matter "
Now Mumbai Indians will play against Kolkata Knight Riders on Wednesday 6th and Chennai Super Kings on 9th against Sunrisers Hyderabad and the result of those matches will tell their condition and direction.