The conductor visits Vipiteno to show its peculiarities. He also dedicates space to the properties of silver quartzite, which is extracted in Val di Vizze.
A new episode of White Line. The appointment, as usual, is at 15:20 on Rai 1. On every trip Massimiliano Ossini is flanked by Giulia Capocchi and the ski guide Lino Zani.
Seven days ago the conductor searched the Sibillini Mountains, in the Umbria-Marche Apennines. Today, however, he returns to Trentino Alto Adige to reach Sterzing, the northernmost city of Italy.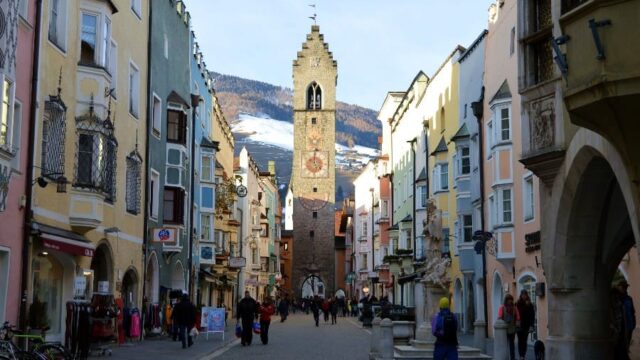 White Line, 12 March, Vipiteno
In the episode of March 12 Massimiliano Ossini reaches Trentino Alto Adige to visit Vipiteno, in the Pearl of the Isarco Valley. It has nearly 7,000 inhabitants and is considered one of the Most beautiful villages in Italy.
The village of medieval origin is characterized by numerous colored houses sequentially. The Vipiteno symbol it is instead the Tower of the Twelve, which dates back to 1472. It divides the historic center into two areas. In Vipiteno, tourists can also visit some castles. It is about Castel Pietra, Castel Palù, Castel Guelfo and Castel Tasso.
The conductor, a mountain guide and the ski guide Lino Zani together they reach the Sasso di Mareta peak, in Stubai Alps. Its peak reaches 2,192 meters above sea level.
Subsequently Ossini moves away from the city center for meet the safety officer of the ski resorts. The latter tells the potential of the structures and the offer addressed to visitors to the Monte Cavallo ski area.
It is made up of almost 10 kilometers of track and with a difference in altitude of almost 900 meters. It is possible to carry out the descent with the sled on its expansive route which is considered the longest in Italy. Each section of the track is also perfectly illuminated and covered with snow.
Linea Bianca, sustainability and nature
In the episode of March 12, Massimiliano Ossini also wants dealing with the future and sustainability. In fact, it shows viewers how the first electric powered snowmobile. It is considered a world record entirely branded Made in Italy.
TO Sterzing it is also often used in beneficial treatments the Silver Quartzite. It's about a silica stone that comes obtained from a small quarry in Val di Vizze. It is scientifically proven that its use, combined with relaxation techniques and not only, activates the body's self-healing powers. The treatments are able to promote the psycho-physical wellbeingremoving the negativity.
The conductor also dedicates space to animal care and agricultural activities. Meet in fact Karl and Ulli. I'm a couple who have been working together for more than 40 years.
They use details technologies which are aimed at development in harmony with nature. Finally, Ossini also tells the story of the "ancestral" farm Pretzhof. The property remained for approx two hundred years owned by the same family, inherited from generation to generation.