Among the stops of the conductor in Piedmont Punta d'Arbola, the Morasco dam, Lake Kastel. Guest Laura Trentani.
Saturday 26 February back up Rai 1 Massimiliano Ossini with a new installment of White Line. The appointment, as usual, is at 15:20. On each trip the conductor is joined by Giulia Capocchi and the ski guide Lino Zani.
Seven days ago Massimiliano Ossini explored theEmilian Apennines with Alberto Tomba. Today, however, it reaches Piedmont, in particular the Val Formazza.
White Line February 26, Piedmont, Val Formazza
In the February 26 episode of Linea Bianca Massimiliano Ossini arrives in Piedmont. Explore the Val Formazza which is located in the territory of Ossola Valleyin the northern part of the region.
The ski conductor and ski guide Lino Zani they reach the summit of Punta d'Arbola, which reaches 3,200 meters above sea level. Represents the symbol of Val Formazza and is located along the border line between Switzerland and Italy.
In the next stage Ossini meets Erwin Deinione of the last guardians of the dam of the Toce waterfall. Later riding the fatbike (or snow bike) explore the territory of Val Formazza, between gullies, frozen lakes but also snow dunes in an evocative setting.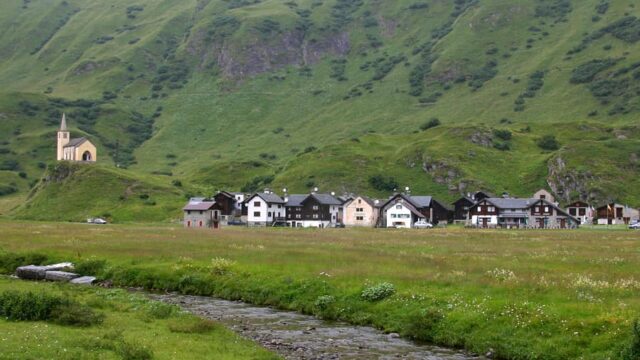 White Line, Riale
Another destination of the trip to Piedmont is Riale, which reaches 1730 meters above sea level. AND' one of the first settlements of the Walser populationsOf Germanic origin. They reached the Ossola Valley from the Canton of Valais via the Gries Pass.
The territory is characterized by small houses made of wood and local stone. Tourists here can also visit theOratory of Sant'Anna. It is a small church which is the symbol of the village; built in memory of Sant'Anna and San Lorenzo del old town of Morasco. Between the Thirties and Forties it was submerged by the waters of the hydroelectric basin.
In Riale it is also possible to follow some itineraries that can be traveled on foot or by bike.
The Kastel lake
The last leg of the trip to Piedmont is Kastel lake, which is surrounded by the high peaks of the mountains that surround it. In some parts of the lake there are still the remains of a dam.
In the Twenties of the twentieth century in fact, an attempt was made to build a dam which must have had the function of containing the waters of the lake. It though it collapsed only 3 years later. A another attempt which turned out once again bankruptcy. So it was decided to abandon the idea of ​​building a third one.
Massimiliano Ossini meets then Laura Trentani, who in an interview tells about their records and successes. It's a'extreme running athlete which has managed to achieve a important milestone.
It is in fact the only woman to have crossed the finish line in the Canadian ice competition. He covered almost 700 km in 10 and a half days, facing very cold temperatures below freezing.