The Hollywood couple confessed that "marriage cannot be a prison for them" and opened a relationship. They emphasize that they had sexual relations with other people during their marriage. How does an open relationship work and can it do any good for a relationship? Commenting on sexologist Dr. Robert Kowalczyk.
The open marriage of the Smiths

Will Smith and Jada Pinkett Smith form one of the most popular American marriages. The Hollywood couple got married in 1997 and have two children – a 23-year-old I go on and 20-year-old Willow. Last year, the media circled the information that the duo may be in an unusual relationship when the rapper August Alsina he said he was in a relationship with Jada with Will's permission.
Initially, the couple skipped rumors, but on the agenda Red Table Talk run by a woman, both admitted to an open relationship. The actor recently explored the topic in an interview with GQ. He admitted that although their marriage was monogamous, they decided to open it up.
"Jada never believed in conventional marriage," explains Will Smith. "We had important, endless discussions about what an ideal relationship is, what is the perfect way to interact as a couple. […] We gave each other confidence and freedom, believing that everyone must find their own way. And marriage cannot be a prison for us. I am not proposing our way to anyone. But giving myself freedom and unconditional support is the highest definition of love for me. "
Is going beyond schematic thinking about relationships a good idea for a healthy relationship?
You have to talk it over

We are talking about the topic with Dr. Robert Kowalczyk, a clinical sexologist and psychotherapist who also works with couples. How does an "open relationship" work and can it be worked out?
– In sexology, we immediately think about partner standards. This means that every couple should, as a rule, work out them, which is, however, different. If we think strictly about sexual behavior, it can be discussed on many levels. Some "open relationships" will rely on mutual relations with an additional person or persons, others will be based on completely opposite principles and their norm will be to sleep with others only separately – explains.
See also: Why is One Woman Not Enough? Conversation with a polyamorist
However, the expansion of the relationship does not have to rely only on the sexual relationship. As with Jada and Will, you can also agree to openly affectionately. – There are couples who develop a parallel relationship also on an emotional basis. Other people, in turn, will tell the partner that the relationship is to be purely sexual, and even to exclude potential involvement, it should be a one-time meeting with a given person – says the sexologist. So the key is to agree on all the rules of this system.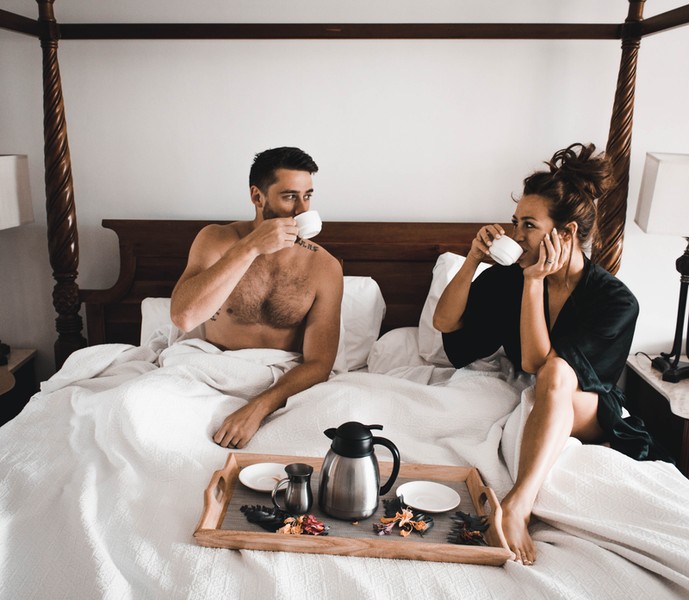 First of all, set the rules of the game! / Jeremy Banks, Unsplash

Photo: unsplash

Is it a betrayal?

Many people can catch their heads when thinking about this type of marriage. After all, it goes beyond the standard we know. Anyway, if you think it is so easy, you are wrong! Establishing the norms in this type of relationship is a long job that requires asking many questions in order to avoid misunderstandings. – In the declarations, various things look neat, but as a society we are largely socialized as a couple. We often don't have the resources to open up relationships. On the cognitive level, it may be so, but on the emotional level it turns out to be too difficult – the expert suggests.
– Discussing the norms with a sexologist allows you to look at them from different perspectives. In my experience, couples continue to believe that opening a relationship is automatically linked to the loss of a relationship. There are couples who decide to open the dyad, but there are mutual grudges.
There are people who put limits on sexual activity. For example, a kiss is only a matter of the relationship to maintain the feeling that something remains exclusive to the relationship.
– he explains, referring to psychotherapy conducted in his office. She notes that some are afraid to say that such a relationship is not for them. – Bringing an emotional thread into conversations about opening a relationship can be difficult. This is often the result of the belief that we will be accused of not being very progressive.
See also: "My boyfriend offered me an open relationship" [list]
Women decide today

Non-monogamous relationships or other norms distant from those to whom we were brought up are not new. However, the perspective changes.
– Let's look at the nineteenth century, when having a suit with a mistress was almost synonymous with success. Only then there was no discussion of an open relationship as it is today. Nowadays, this topic can be brought into the relationship and the woman has her own opinion in it. In the past, it was often faced with the fact – says Dr. Robert Kowalczyk.
If your partner is anxious to have sex or an emotional relationship with another person and you don't want to, but you are afraid he will cheat on you, don't be too quick to start the relationship. – In my opinion, an open relationship should not be a prophylaxis of betrayal. After all, they also happen in open relationships. It would be a bit like extinguishing the fire with gasoline. Betrayal is, first of all, breaking the partnership norm and it can have various reasons. For someone, a betrayal will be emotional involvement with another person, and for someone it will be physical contact. Some even take revenge on their partners or manipulate them through betrayal. It's not necessarily about sex, explains Dr. Kowalczyk.
Who knows, maybe this is the type of relationship that will suit you? Remember, however, that you have a long work to do if you want no one in this arrangement to get hurt, including yourself. Opening a relationship is not for everyone.
See also: Every third cheater believes that betrayal can have a positive effect on relationships