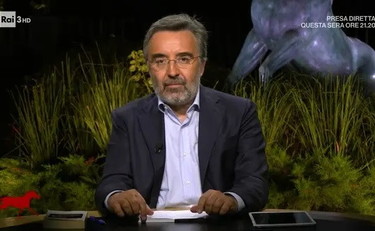 One day all this will be yours, Carlo Fuortes must have told him when Marco Damilano signed the succulent contract with Rai. A door had closed, the classic door opened. The protagonist of yet another slip in Rai was unemployed for a few days. For 21 years he worked at Espresso, of which he was also director. One morning he took pen and paper and resigned "to defend democracy." Did he already have the agreement in his pocket with Viale Mazzini? Now nisciuno is foolish.
The mission in defense of "democracy" has decided to bring it to Rai. Before, the Espresso readers paid for it, now the Italian citizens who pay the fee into their bills. The rumors inside tell of the red parachute that was immediately found for Damilano, things that happen to the most fortunate and "left-wing" journalists. From this point of view the most sensitive ears are precisely those of Fuortes, who the right uses it only at the table for lunch.
Thinking about it, it is difficult to find in circulation journalists forced to resign from a weekly, biased but authoritative. Generally a decent quarantine is served. Not him, he immediately found a place. And what a place, well paid. Nobody gave him an account of how much he misses from retirement, nor did they invite him to scale back his economic claims. Salvini was probably also referring to him when he spoke to Pontida about the Rai super salaries. For Damilano there are tales of 200 thousand euros a year. One thousand episodes for a broadcast that lasts about ten minutes. What do we do today? Militancy income. But maybe the stars also fall on Rai, if even Usigrai spernacchia. A very high Rai executive speaks of friendly fire and he is right. Damilano is also ditched by his comrades, the envious ones.
The red union note – redder than him? – is dipped in poison: "And to think that the conductor, chosen outside the company despite the fact that he could count among almost 2000 internal profiles, was presented by the CEO Carlo Fuortes as" the most suitable journalist "to" inform, provide cognitive tools, remaining faithful to the open and pluralist system of values ​​that our country and Europe have been able to develop in recent decades ". We wonder – say the journalists – where was the pluralism in Monday's episode ». But now, in his curriculum Da Milano he can also add the weight of the words of the president of the RAI parliamentary supervisory commission, Barachini, who clearly gave him his incapacity: "Not only was he unable to stem the verbal violence of his guest, but it has contributed to the distortion of the debate with its premise and with tendentious questions ». Amen. Badly, he has a friend left, Carlo De Benedetti, who has him in his heart and in his wallet. The newspaper Domani has a new monthly reference, edited by Damilano himself. But where does the time find it?