Junior Matos/Arese News Agency
Three years ago, in 2020, the Legislative Assembly of the State of Sergipe (Arese) approved State Law No. 8,656 establishing a "Youth Week" in the state of Sergipe. The author is a deputy Ph.D. According to Samuel Carvalho (Citizenship), the event is celebrated each year during the week that alludes to World Youth Day, which is celebrated on August 12th. This date was established by the United Nations (UN).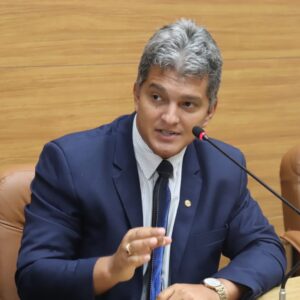 Dr. Samuel is expected to develop themes related to youth and civil rights throughout the week. "This law aims to stimulate and motivate public and private organizations to promote, realize and disseminate events that result in improved activities related to youth," the deputy explained.
He also stressed the need to promote socialization and civil rights activities aimed at integrating young people into the communities in which they live. In this light, next Wednesday (16th), an event will be held at the Arese Plenary, alluding to the State Youth Week.
Youth political participation
Youth participation in politics can begin in adolescence. Their effective adherence to elections and electoral political debates should be encouraged, with the aim of involving multiple people in debates and political decisions.
According to High Electoral Court (TSE) data, the average voter turnout among young people aged 16-17 increased by 52.3% from 2018 to 2022. Her more than 2.1 million voters in this age group were eligible to vote. Of those, 1.7 million went to vote. In 2018, this segment of the electorate (voting is optional) was 1.4 million young people. The average number of visitors that year was 1.1 million.
Emphasizing the role of women in this process: The average number of 16- and 17-year-olds who voted in the 2022 election was 489,000 female voters, while the same range of 387,000 male voters voted.
historic
International Youth Day is celebrated on August 12th each year and its main purpose is to focus on educating and raising awareness among young people about their responsibilities as future representatives of the planet. This date was established by the United Nations (UN) in 1999 after the World Youth Ministerial Conference held in Lisbon, Portugal the previous year.
Since that moment, each year the United Nations selects topics to discuss with young people, including health, education, employment and social stability, in addition to the challenges they face. The United Nations believes that young people need to be at the forefront of innovation and global change if the world is to succeed in sustainable development for the next generation.
International Youth Day became even more relevant in 2010 when it was chosen as the International Year of Youth by the United Nations under the theme of 'Dialogue and Mutual Understanding'.
Young people building a better society
The world is witnessing the growing power of youth to build a better society. In the streets, in their communities, and in public forums, they are defending their own and the rights of their societies, mobilizing people, and holding governments around the world to their responsibility to respect, protect and enforce human rights.
Young people have always played an important role in social movements, taking leadership positions in protests around the world, organizing demonstrations and occupying public spaces in response to social, political, economic and cultural demands. I've been Streets, communities, social media and the internet in general.
But precisely because they are at the forefront, demanding from local and global leaders for a more just and supportive world, and are the voices of social misfits, young people also suffer the most from violence. I am one of the people.
Young people, especially young blacks, are one of the most vulnerable groups in Brazil and around the world. And this vulnerability is easily evidenced by the high mortality rate. In Brazil, mostly young blacks from her 15 to her 18 years old are affected by violent deaths.
High Mortality Among Brazilian Youth
According to UNICEF data, 16 young people die every day in Brazil as victims of homicide. DataSus reveals that the juvenile homicide rate is about 35 per 100,000 inhabitants, while the general population homicide rate is 27 he per 100,000.
According to information from Oxfam Brazil and TSE
Cover photo: Idealist