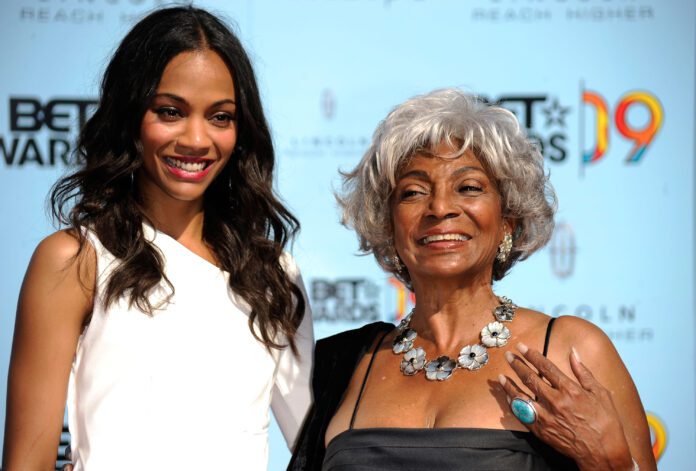 The emotional wave following the disappearance of is not interrupted Nichelle Nicholsthe historian Lieutenant Nyota Uhurafirst black woman of the USS Enterprise space crew, who became an icon thanks to the original series of Star Trekin 1966. And that could only be the actress who succeeded her in the role Zoe Saldana who today remembers her in a long post on Instagram and confesses: "It convinced me to believe that anything was possible … it made me feel safe".
READ ALSO: Nichelle Nichols, Uhura from Star Trek, died 89 years old
It landed in the big family of trekkers in 2009, thanks to the first chapter of franchise rebooted from the movie JJ AbramsZoe Saldana (here all the news and updates concerning her) then reprized the character also in the following one Into Darkness – Star Trek of 2013 and in Star Trek Beyond in 2016, as well as giving her voice to Uhura in the 2013 Namco video game.
This is Zoe Saldana's post:
I am saddened to hear of Nichelle Nichols' death. We lost a real star – a unique artist who was always ahead of his time. She is an icon, an activist and, above all, an extraordinary woman – who has paved a path that has shown many how to see women of color in a different light. The struggle for her equality was constant.
Meeting Nichelle was truly a very special moment in my life. Her energy was contagious whenever I was in her presence. She convinced me to believe that everything was achievable, if you put your heart into it. I mean, she inspired Mae Jemison to follow her dreams of becoming an astronaut and that's exactly what Mae did.
I knew I had big shoes to fill when I was cast to play Uhura, and Nichelle made me feel confident, told me to play her with all the confidence in the world. My hope is to continue to keep her memory alive by celebrating her extraordinary body of work and spreading the message of peace and equality among all people. She has lived a long and impactful life and not only has she grown, but she has also helped so many others to grow.
Maya Angelou once said, "People will forget what you said, people will forget what you did, but people will never forget how you made them feel." I agree with this statement, with the exception of Nichelle Nichols. It will be hard to forget what she said and what she did, and it will surely be impossible to forget how she made us feel.
REST IN THE POWER OF QUEEN NICHELLE